We Bid Farewell to 2018 with a Look Back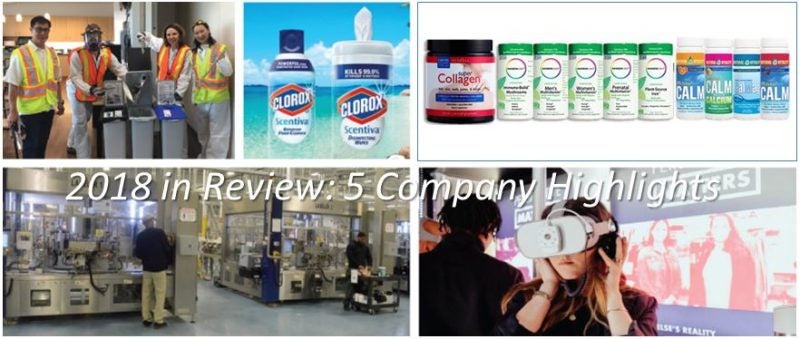 As we bid farewell to 2018, we want to take a moment to recognize five company highlights from the past year.
Here, in chronological order, are the best of Clorox People, Places and Products for 2018.
Innovation
Whether we're delivering breakthrough technology, improved operational processes, marketing messages or support to our communities, innovation is at the core of everything we do at Clorox.
Across the portfolio, from Burt's Bees® cosmetics to low-tracking Fresh Step® litter to new lines of RenewLife® probiotics and digestive aids to an eco-friendly Kingsford lighter fluid, we delivered some great product innovations in2018. And you can read about more of our great innovation beyond products in our 2018 Annual Report.
New Atlanta West Home Care plant reaches full production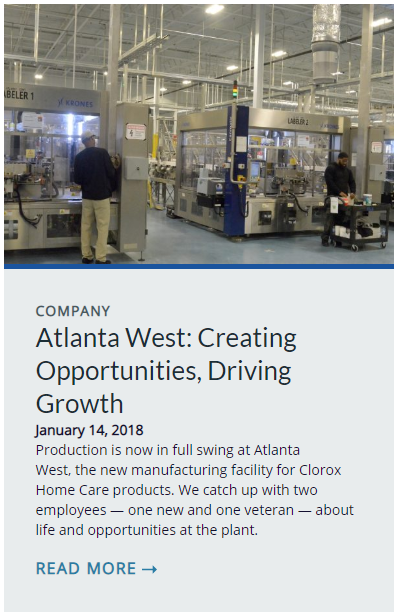 In 2018, our new Atlanta West Home Care plant achieved full production, helping meet demand for home care products, including Clorox® disinfecting wipes
We purchased Nutranext, a leader in nutritional supplements
We also augmented our Health & Wellness offerings with the April 2 acquisition of Nutranext, a portfolio of leading vitamin and supplement brands.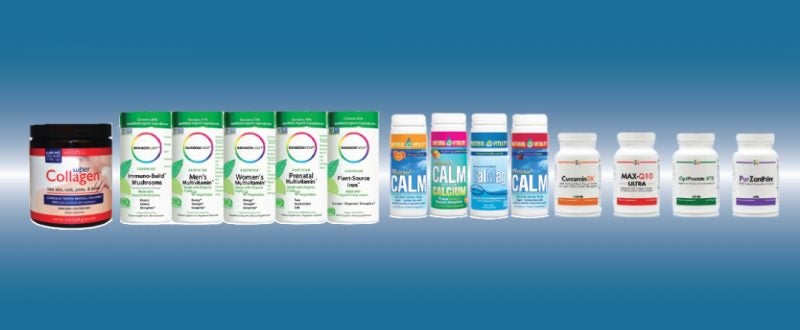 Inclusion & Diversity
We made great strides on Inclusion & Diversity in 2018. We refreshed our I&D strategy, our employee resource groups built deeper relationships with the businesses and the year closed with a Day of Understanding on Dec. 7 — an event held simultaneously at more than 150 companies across the U.S. in support of the CEO Action Pledge for Diversity & Inclusion.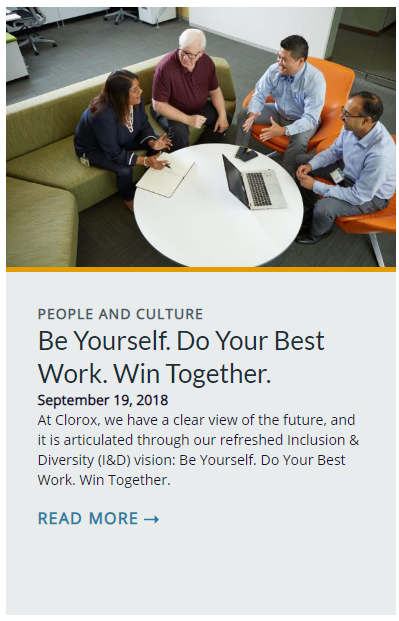 We met our Zero-Waste-to-Landfill goal two years early
Our Glad plant in Conghua, China, became the 10th Clorox facility to be certified Zero Waste to Landfill, meeting our 2020 sustainability goal two years early. It followed on the heels of other Clorox sites in Mexico, Illinois, Virginia and Canada, which were also certified Zero Waste to Landfill in 2018. Other Clorox sites are taking steps to become certified Zero Waste to Landfill, and we continue to make good progress on our other 2020 sustainability commitments.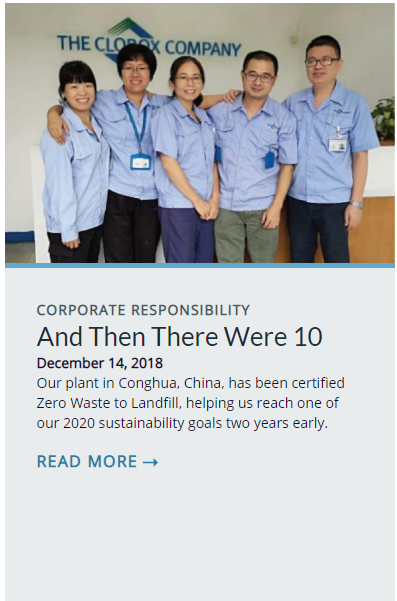 And now, bring on 2019! We look forward to delivering another year of innovation consumers value, continued progress on our sustainability goals and a strong focus on good growth — growth that's profitable, sustainable and responsible.