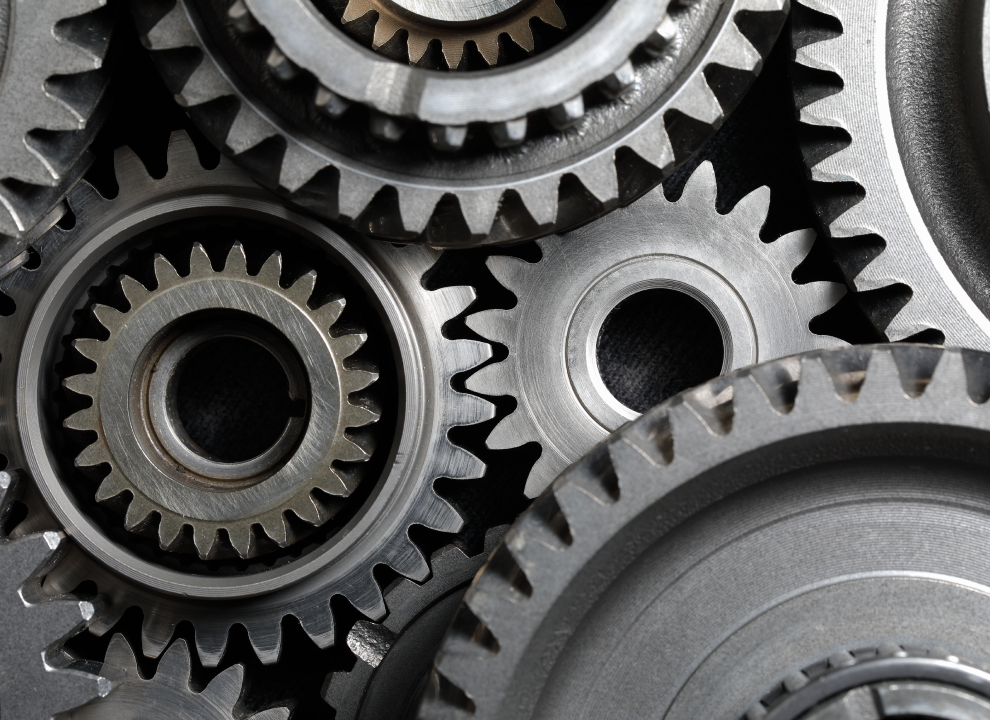 Stakeholder engagement
Stakeholder engagement
We proactively engage our stakeholders because doing so enables us to understand and prioritize the topics that impact our business as well as the health of people, our communities and our planet. Using stakeholder feedback, we prioritize our environmental, social and governance (ESG) activities based on issues that are most relevant to our business and on which we can have a meaningful impact.
How we engage
How we engage
We regularly engage with a wide range of stakeholders. For example:
We inform our stockholders and the broader investment community about our company strategy, financial and ESG performance and business growth objectives through quarterly conference calls, analyst meetings, stockholder annual meetings, our annual report, 10-K and other SEC-required filings, and the Investor and Responsibility sections of our company website.
We conduct regular employee engagement surveys to measure how committed our employees are relative to prior years and benchmark our scores against other leading companies. We also hold quarterly global town halls and other departmental meetings to share company information and invite employees to ask questions and share their thoughts.
We talk to consumers through in-home studies, online focus groups and surveys to better understand how we can continue to deliver high-quality products that address their needs and improve their health and well-being.
We meet with nongovernmental organizations on a variety of issues, including sustainability, product safety and disaster relief.
We engage with government agencies and the political process to support responsible policy aligned with our corporate purpose, mission and objectives. Learn more.
We engage with our industry and business partners on a wide range of business topics, including packaging and responsible sourcing, to learn from each other and collaborate on solutions that help protect the planet and respect human rights. Learn more.
We participate in a number of public health organizations because we believe our disinfecting capabilities can help make a positive difference in issues such as infection control. Examples of those organizations include: Association for Professionals in Infection Control and Epidemiology (APIC), Society for Healthcare Epidemiology of America (SHEA), Association for the Healthcare Environment (AHE), The C Diff Foundation, and ISSA — The Worldwide Cleaning Industry Association.
We participate in organizations and initiatives focused on creating a more inclusive world. For example, we work with a number of organizations to drive diversity in recruiting, such as Out & Equal, Management Leadership for Tomorrow, Hispanic Scholarship Fund, Out 4 Undergrad, and ASCEND. We also partner with the Hispanic Advisory Council, Minority Corporate Counsel Association, Out & Equal Workplace Advocates, and the National Minority Supplier Development Council.
We contribute to the health of our communities through The Clorox Company Foundation and direct corporate financial and product donations. Among supporting other causes, we provide financial aid and donate trash bags, bleach, and other disinfecting products to help with clean-up efforts and sanitization needs in times of disaster. Learn more.
As leaders in the consumer packaged goods industry, we participate in trade associations and other organizations that represent a wide variety of views on industry and policy matters. Purpose and clarity of mission are important to us, and we consider our participation in these organizations by their ability to effectively address the issues of concern to our businesses and, on balance, serve the long-term interests of our brands and stockholders. A few of those organizations include the American Cleaning Institute, Council for Responsible Nutrition, Consumer Brands Association, Household & Commercial Products Association, National Association of Manufacturers, Personal Care Products Council. While we don't necessarily agree with all the views or positions of these groups or their affiliates, nor do we necessarily agree with our industry peers, we do believe in and are committed to collaborative problem-solving. We think involvement in these associations is the best way to identify and address concerns, have the greatest impact and arrive at good outcomes.
ESG Priorities
ESG Priorities
We are committed to focusing on ESG topics that are most important to our business and our stakeholders, so we conducted a formal materiality assessment in fiscal year 2021 to verify our priorities. While we conducted an abbreviated materiality assessment when we developed our IGNITE ESG goals in 2019 and a full materiality assessment in 2015, we felt it was appropriate to step back and ensure we are directing our resources in the best way possible, given how quickly the ESG space and stakeholder expectations are evolving. 
Our approach was thorough. We considered inputs such as corporate strategic choices, ESG reporting frameworks, ESG raters, peer ESG efforts and insights gained from digital listening to traditional and social media. We developed an initial prioritized list of topics, then conducted interviews with nearly three dozen internal and external stakeholders to share their perspectives and validate our findings. The list was refined based on their input, resulting in a prioritization of "High," "Higher" and "Highest" ESG topics.
In the U.S., the term "materiality" is often related to key financial information that can impact investment decisions. For the purposes of our ESG materiality assessment, we took a broader view to understand which topics would significantly impact our ESG performance and stakeholder assessments of our ESG work. Key ESG priorities may include, but are not limited to, topics that could have a significant financial impact on the organization.
ESG Materiality Process
ESG Materiality Process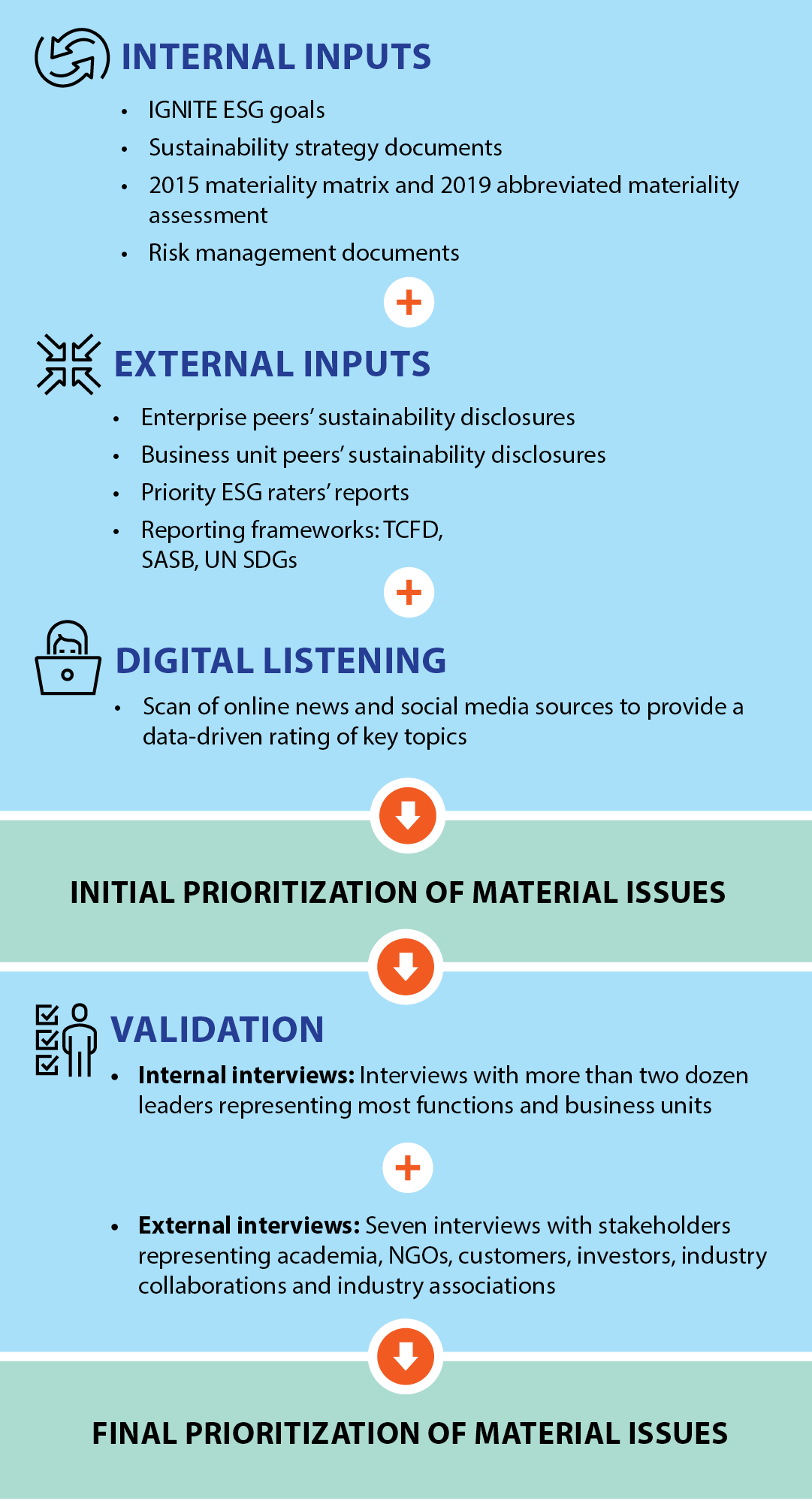 Clorox's Overall ESG Issues Prioritization
Clorox's Overall ESG Issues Prioritization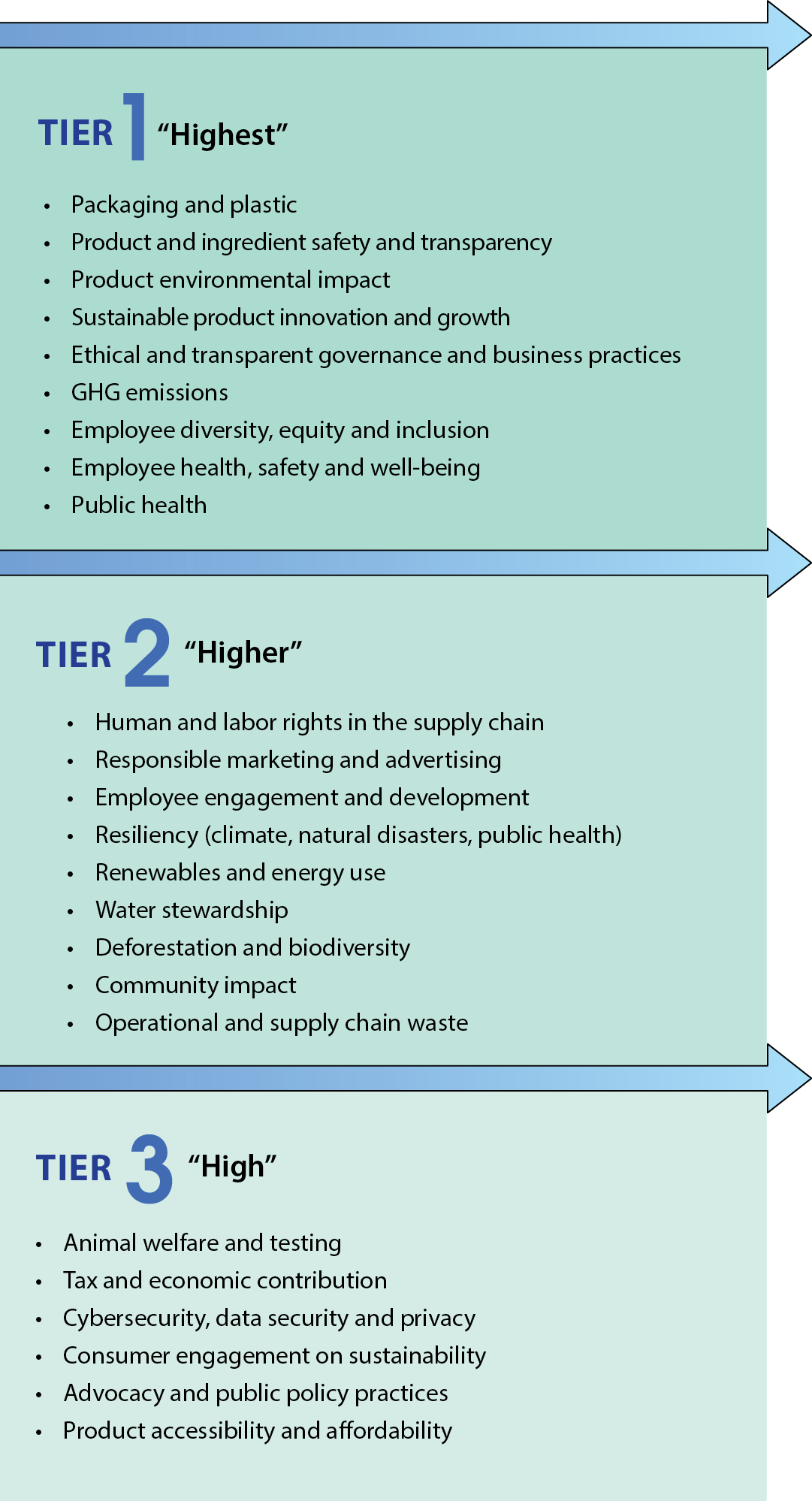 Recognizing that topics are not isolated and are often interdependent, we dug a level deeper to identify themes and interconnectivity among individual topics.
ESG Materiality Themes
ESG Materiality Themes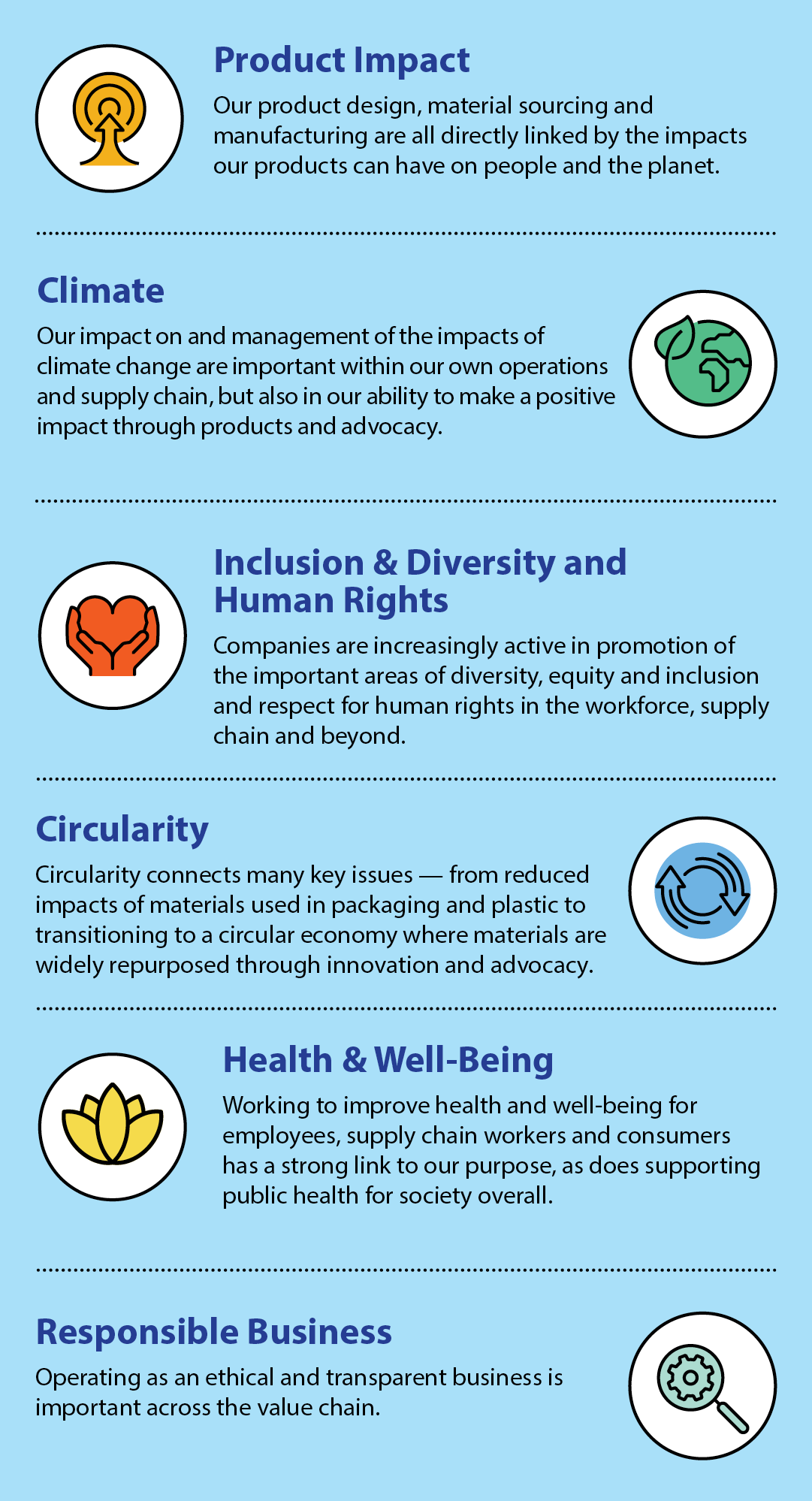 We then referenced these findings with our existing ESG priorities to understand if any adjustments to our work were necessary. This process assured us that we are addressing the most relevant ESG topics. At the same time, it also provided some insights that we will consider as our work evolves. For example, we are enhancing our disclosures by adding additional metrics to our SASB table. Also, while managing product environmental and social impacts has long been a high priority for us, seeing that our top four topics were all product-related reinforced how important it is for us to remain focused on this area.
As stakeholder priorities continue to evolve, we are committed to ongoing dialog and will remain anchored to our IGNITE strategy to ensure we are focusing on the areas that will have the most meaningful outcomes.
Healthy lives

Healthy lives

Improving people's health and well-being.

LEARN MORE

Clean world

Clean world

Fighting climate change and eliminating plastic and other waste.

LEARN MORE

Thriving communities

Thriving communities

Investing in our people and communities to contribute to a more equitable world.

LEARN MORE