Atlanta West: Creating Opportunities, Driving Growth
By: Paul Unitas, Director of Manufacturing and plant manager of Atlanta Main and Atlanta West
Production is now in full swing at Atlanta West, Clorox's new manufacturing facility for Home Care products.  
The plant, built to respond to increased demand for Clorox Home Care products, officially opened Nov. 28, 2017.  
Atlanta West spans 258,000 square feet and is adjacent to the company's existing manufacturing facility, called Atlanta Main. It boasts state-of-the-art equipment that's poised to increase productivity and support long-term Clorox growth.  
Opening Atlanta West created about 100 jobs in Clayton County — from managers to engineers to production associates.  
Here, we caught up with two Atlanta West employees: 
Nic Hamby, a five-year veteran of Atlanta Main, discusses how his responsibilities have expanded at Atlanta West. Amber Turner, a new member of the Clorox family, shares details about her typical day, why she wanted to work for Clorox and how her experience at Atlanta West will help develop her career path.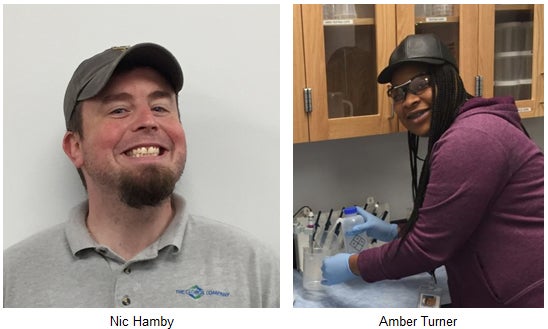 How has your job changed since moving to Atlanta West?  
Nic: I was Crew Lead for Process at Atlanta Main, where I managed a number of employees to ensure all products were manufactured in a timely manner and met Clorox standards.   
Now, I wear many hats at Atlanta West. In addition to my main role as Scheduler, I'm also the local material data master, inventory control specialist, daily operations pillar lead, housekeeping lead, supporting material coordinator and safety facilitator.  
Give me a brief rundown of your job. 
Nic: As the Scheduler, I receive orders from Sales planners in our corporate office in Alpharetta, Georgia, and convert them into production orders specific to our facility to determine how much product we need to make.  
What are some lessons you learned during your time at Atlanta Main that you're incorporating into your work at Atlanta West?  
Nic: Atlanta Main has many senior employees who are familiar with Clorox, its policies and practices. As a senior employee at a new facility, I'm working on establishing a culture and atmosphere from the ground up, with a focus on safety. Here at Atlanta West, we view each other as family, and I am trying to help maintain that mindset moving forward. 
Amber, what's your job at Atlanta West? 
Amber: I'm a Process Operator. I receive raw materials and create batches of our finished products before they go into packaging. I make sure all raw and finished materials meet the high quality standards Clorox requires.  
What piqued your interest about working for Clorox at this new manufacturing facility? 
Amber: I was excited about the opportunity to develop my career further. Before joining Clorox, I was a mail processing clerk for the U.S. Postal Service. I wanted a job that was more hands-on and with more responsibility. Working at Atlanta West will help me improve my leadership and technical skills so I can advance my career in manufacturing. I love the idea of being able to grow individually alongside the company.  
What's your favorite part about your job? 
Amber: Clorox gives me an opportunity to learn something new every day. I now know how to unload materials from tanker trucks, make batches of disinfectant base and test these bases with lab equipment. I also love the ever-changing manufacturing environment and how we're taught to perform our jobs safely. I'm learning from the best with my fellow new employees by my side.