Glad Amherst Journeys to Zero Waste to Landfill
By Steve Clarke, Environmental & Sustainability Client Manager
You may have heard about Clorox's Goal of 10 locations becoming Zero Waste to Landfill (ZWTL) by 2020. You may have also read about some of our successes getting there through dumpster dives, waste diversion projects and facility audits. What you may not know is that Clorox now has nine official ZWTL locations.
This is the story of how our Glad plant in Amherst, Virginia, became the eighth Clorox location to achieve this milestone.
Setting the goal was just the beginning
Glad Amherst's journey started almost two years ago, when plant management and the Eco team led by Janet Gainey decided to work toward Zero-Waste-to-Landfill. 
The plant had some challenges right off the bat: It's in a rural area with few recycling resources, and the nearest waste-to-energy (WtE) plant was almost 150 miles away. 
"Not only was there the usual challenge to change the recycling culture; we also found over 400 waste cans throughout the plant during an internal audit," said Janet, Plant Quality Manager. "That's almost one trash can per employee. We knew we had some real work ahead of us to improve recycling and reduce our waste." 
Amherst's Eco Warriors set about reorganizing the plant's sustainability program. It brought in color-coded cans, placing them in strategic locations and removing any extra containers in each area. 
"Having the support of plant leadership was a big help," said Charlie Brown, Plant Engineering Manager. "Supervisors became responsible for recycling in their areas, and that improved our recycling performance."
Improving recycling rates was just part of the battle. The plant also found a new recycling vendor and purchased a road-worthy compactor for transporting waste to the WtE plant.
Unique problems get unique solutions
Amherst developed several plant-specific approaches for its Zero Waste program. 
"In addition to minimizing the waste we produced, we also located containers where waste was being generated to make it easy for the plant staff to recycle," said Janet. The plant also identified centralized Recycling Stations where various materials could be aggregated. 
"And we chose to use Gaylords and metal bins to collect the loose material and transport it to compactors instead of using balers so we wouldn't need to train staff on the safe use of baling equipment."
Amherst Plant overcame every challenge and successfully passed a corporate audit in May with an impressive 98 percent diversion rate. 
Amherst joins the three other Glad North American locations as ZWtL facilities. (They are: Glad Rogers, Glad Willowbrook and Glad Canada.) Amherst achieved this milestone with management support and the hard work and dedication of Clorox employees with a passion for sustainability.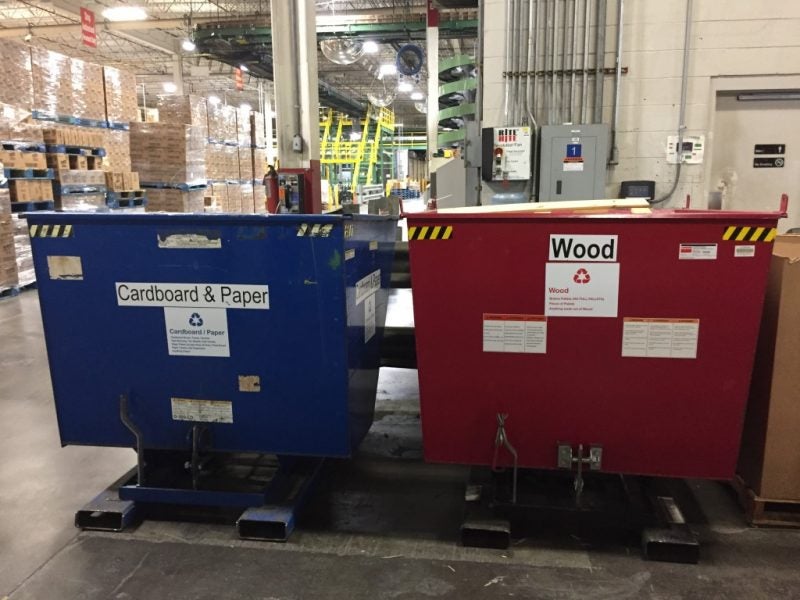 Look out for the next Clorox News Article on Clorox of Canada's Biscayne Office's Zero-Waste-to-Landfill journey.