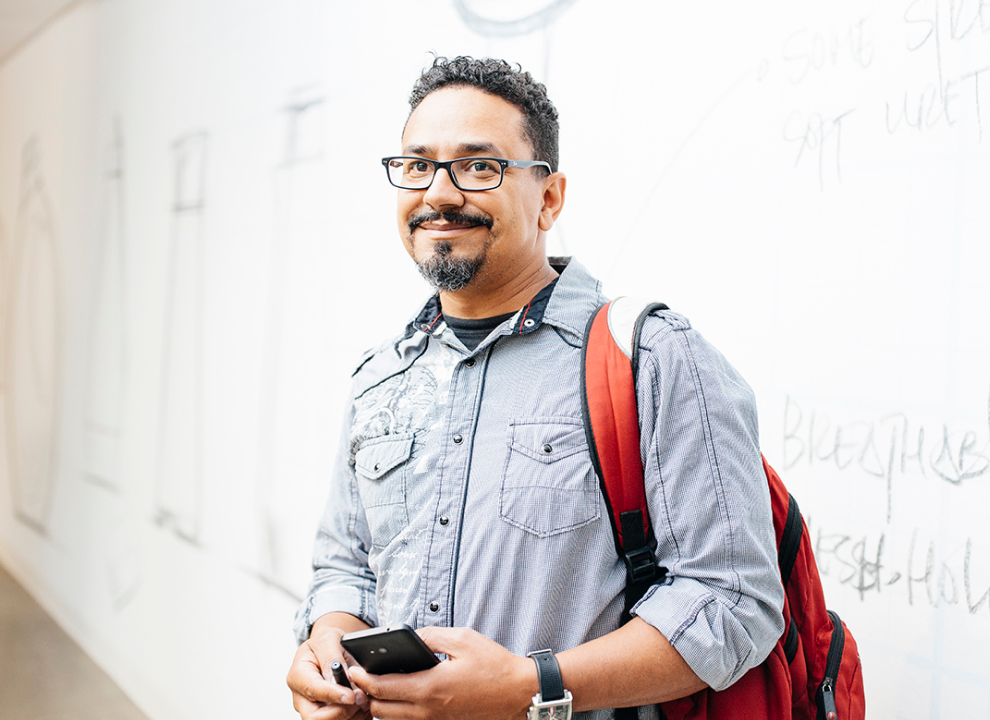 Healthy lives
Employee safety & well-being
Employee safety & well-being
We prioritize the safety and well-being of our teammates and their families. Our benefits, program and resources are designed to support their physical, mental and financial well-being.
Respecting workers' rights and fostering safety
Respecting workers' rights and fostering safety
Employee safety, health and human rights are foundational to how we operate. In addition to complying with government regulations around the world, we have systems to help us identify, track, report and improve workplace issues and minimize hazardous conditions. We have mandatory training on business ethics and on employee safety, health, and the environment. This includes hazard awareness, ergonomics, personal harassment and other compliance programs.
We have an enterprise-wide crisis management program to support emergency response, employee and community safety, disaster recovery and business continuity. And we have workgroup-based plans to help us resume disrupted operations, emergency response teams to directly address certain emergencies, and corporate emergency operations centers to coordinate and allocate resources in a time of crisis.
Clorox prohibits the use of forced, bonded or otherwise illegal labor. We meet, and often exceed, wage requirements and local family leave laws worldwide. We recognize workers' freedom to associate with each other and organize. We encourage constructive communications among team members at all levels, without fear of reprisal, regarding issues that impact their jobs or the company. Anyone can report suspected illegal, unethical or unsafe activity confidentially and anonymously through an independently operated compliance hotline.
Clorox teammates are welcome to engage in political activities and we offer paid time to support their right to vote. In personal civic and political affairs, however, employees must be clear that their views and actions are their own and not those of Clorox.
Promoting safety at work every day
Promoting safety at work every day
We put people at the center of everything we do, which is why safety is a value for us. We encourage all team members to identify, control or eliminate physical risk and we reinforce this with internal safety audits conducted at all our facilities every two years.
Our values-based, process-oriented approach to safety has helped us achieve a fiscal year 2021 recordable incident rate well below our goal of 1.0 and an average 3.3 RIR for goods-producing manufacturing companies.
Our ongoing focus on employee safety, including our IGNITE safety goal, is led by every employee in our company including our Global Safety and Environmental Team with executive oversight by our Senior Vice President – Chief Product Supply Officer.
With everyone's continued leadership, ownership and commitment to safety, we believe we can achieve a zero-incident workplace where everyone goes home safe, every day.
Enhancing total employee well-being
Enhancing total employee well-being
As we continue to navigate through uncertainty, one of the things our people can count on is we'll continue to support their well-being journey. We know everyone's needs change, and we're always looking for ways to evolve our programs and benefits to help our people and their loved ones be well and thrive.
Since 2005, our salary-based health insurance premiums have helped keep medical coverage affordable. Essentially, Clorox pays proportionally more of the premiums for those in lower salary bands. We also offer tailored online wellness programs that encourage employees to adopt healthy habits while earning quarterly financial rewards.
Mental health is more important than ever.
We offer a range of app-based resources — such as mindfulness training, 1:1 coaching, and concierge services for finding therapists or counselors — that meet people where they are and help them manage stress, anxiety, and depression.
Our Employee Assistance Program (EAP) provides supportive resources, including a number of no-cost sessions per year with counselors and trained clinicians who can help with managing personal, family, legal, financial and work issues.
We also think it's important to break down the stigma and support mental health conversations at work (and society at large). Our Mental Health Champions employee resource group (ERG) provide resources and support and host events to raise awareness and help people manage, understand and nurture their mental health.
Sometimes the best way to reset is to have some quiet time, so we schedule quiet days and focus weeks. These are "no meetings, no email" days that help people have focused heads-down, thinking and work time.

We recognize that giving to others and supporting important causes brings joy. That's why Clorox matches U.S. and Canada employee donations up to $2,500 a year. Learn more about how we support communities on our

Supporting Healthy Communities

page.
Having a sense of financial security — or a plan to get there — is another piece in the well-being puzzle.
We're proud to offer an above-market U.S. and Puerto Rico 401(k) plan, with a 4% bi-weekly match and 6% annual contribution. With a 95% employee participation rate, we feel good helping our people plan ahead for their retirement.
We offer free financial planning services to U.S. employees.
We also provide paid parental leave (12 weeks in the U.S.), subsidized caregiving support for children and adult dependents, and up to $3,000 for adoption costs.
To support our employees during the COVID-19 pandemic, we provided:
80 hours of additional emergency paid time off
COVID testing and treatment covered at 100%
Virtual medical visits, including mental well-being, covered at 100%
60 hours of subsidized back-up childcare and online resources
Health & safety seminars
More than $1 million in employee emergency relief for COVID-related costs, including incremental childcare expenses for our on-site employees
Enhanced on-site safety protocols
OUR OTHER ESG PILLARS

Clean world

Clean world

Taking climate action and reducing plastic and other waste.

LEARN MORE

Thriving communities

Thriving communities

Investing in our people and communities to contribute to a more equitable world.

LEARN MORE