Product Safety
At Clorox, your safety and that of your family, your pets and the environment is a top priority. Our scientists and others from our Global Stewardship and Product Safety and Regulatory Compliance departments evaluate every product's safety, efficacy and regulatory compliance before it makes it to store shelves. Our safety assessments begin with analysis of each of the materials that go into making the product. This includes consideration of short-term and long-term impact from all types of exposures, including incidental or accidental, and routes of exposure such as skin, eye, ingestion and inhalation. Another key component of safety is ensuring consumers understand how to safely use, store, and dispose of a product and its packaging. Our labels include clear directions for use, precautionary statements, first-aid measures, and storage and disposal. Additional safeguards such as child-resistant packaging are incorporated for certain products.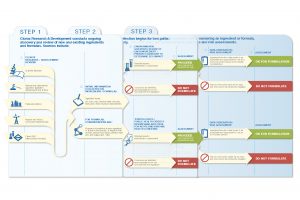 Product Safety Steps – PDF
Regulatory compliance
All products manufactured and distributed in the U.S. are subject to local, state and federal regulations. To comply, we perform safety testing, meet labeling guidelines of regulatory agencies, and adhere to applicable regulations for all ingredients and ingredient formulations that make up our products. Products classified as antimicrobials, such as disinfectants or sanitizers, which represent approximately 27 percent of our U.S. product portfolio, are subject to registration with the U.S. Environmental Protection Agency. These formulations undergo detailed EPA review of the chemistry, efficacy and toxicology aspects of the formulation before approval for market. Labeling and packaging of these products are strictly governed by the EPA with predetermined criteria based on the nature of the product.
More on Product Safety
Fragrances, dyes, preservatives and mixtures
Our safety evaluation also includes the assessment of fragrances, dyes, preservatives and other proprietary ingredients in our formulations. In cases where information is proprietary to our suppliers, such as with some fragrances, dyes and preservatives, specific components in those ingredients are not listed. This approach is intended to protect proprietary formulas, consistent with the listing of cosmetic ingredients under federal regulations.Ingredients purchased as a mixture from third-party suppliers list components identified on supplier Safety Data Sheets and Ingredient Fact/Data Sheets that have a technical effect in the production composition. Proprietary ingredients, including undisclosed components of mixtures, are listed using the chemical family name that identifies their role in our products.
Fragrance ingredients
Clorox requires that all fragrances we purchase from third-party suppliers comply with Research Institute for Fragrance Materials, Inc. (RIFM) guidelines and recommendations, as well as International Fragrance Association (IFRA) standards, which define safe use levels of individual fragrance ingredients. This practice, combined with our comprehensive safety evaluation, has resulted in never having had a confirmed sensitization in consumer use of our products. Additionally, as part of our Ingredients Inside program, we now voluntarily disclose the presence of all fragrance components identified as potential allergens by the Scientific Committee on Consumer Safety, an advisory board to the European Union, when they are present in a product at a concentration of 0.01 percent or greater.
Preservatives
Some Clorox products require the use of preservatives to help prevent the growth of microorganisms in product formulas. Clorox products containing preservatives have preservative levels that are well below the threshold for skin sensitization. In any given Clorox product, a preservative is used at levels approved by the U.S. Environmental Protection Agency and typically does not exceed a range of 0.1 percent to 0.2 percent.
Screening our ingredients
We know that what's not in our products can be just as important as what goes into them, so Clorox has established principles and guidelines to ensure new and existing formulations in our retail products restrict the usage of ingredients scientifically proven to negatively impact human and environmental health, including, but not limited to, Alkylphenol (APs) or Alkylphenol Ethoxylates (APEs), phosphates and phthalates. We also participate in the U.S. Environmental Protection Agency Safer Choice program*, and Clorox product safety specialists work with ingredient suppliers to help identify and avoid possible contaminants such as those identified on California's Proposition 65 and SARA Title III lists.
*The U.S. Environmental Protection Agency Safer Choice Program aims to reduce risk to people and the environment by preventing pollution. Review teams screen product ingredients to ensure they pose the least concern among chemicals in their class.
Committed to a future without animal testing
As part of our commitment to the welfare of animals, we do not conduct or ask third parties to conduct any animal testing on our products, raw materials, or components of finished products unless required by regulatory authorities or when we all other efforts to establish a product's safety profile have been exhausted. Animal testing is a rare exception, and all such exceptions require senior management approval, certifying there is no other way to proceed. In those instances, appropriate safety testing will be conducted at an independent laboratory accredited by the Association for Assessment and Accreditation of Laboratory Animal Care International. AAALAC promotes standards of animal welfare that exceed federal law and conducts regular inspections of its accredited laboratories.
Since 1987, Clorox has been actively working toward a future where animal testing has no role in product development. We believe we should be able to use existing data and alternative tests so animals are not involved in product-safety testing. Through engagement with regulators, we're encouraging them to join our efforts to identify and implement innovative solutions, such as in vitro (cell-based) methods, that eliminate the existing requirements to conduct animal testing without compromising product safety.
We are also on the Board of the Center for Alternatives to Animal Testing (CAAT) at Johns Hopkins' School of Public Health. As a board member of CAAT, we work with a community of academics, industry scientists and government toward the creation, development and validation of alternatives to proving product safety.