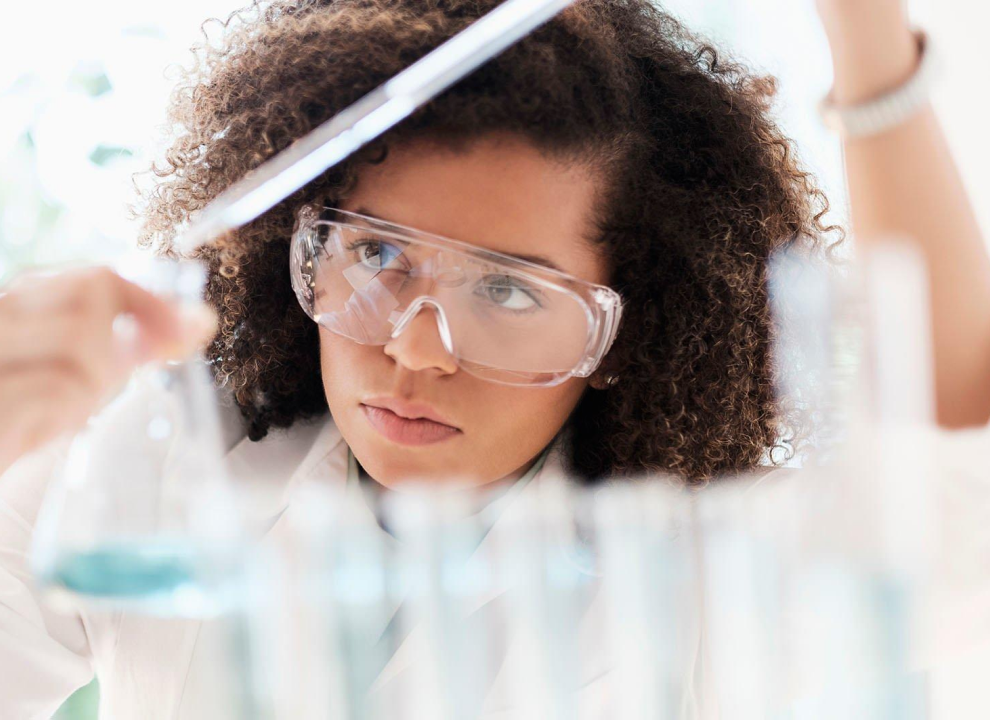 Healthy lives
Product stewardship
Product stewardship
We know what goes into our products is important to our consumers, which is why using ingredients that are both effective and safe is a top priority for us. We continue to be a leading voice in the consumer packaged goods industry through initiatives in product safety and ingredient transparency.
To this end, our IGNITE strategy includes ambitious environmental, social and governance goals to advance our progress in this area. These goals call for us to demonstrate leadership in responsible product stewardship with a focus on progressive actions to enhance the practices of our company and the CPG industry overall.
Our product stewardship work is led by our vice president of global stewardship with executive oversight by our chief R&D Officer. When appropriate, we escalate product stewardship issues, including product safety, to the board of directors.
Ingredient management and transparency
Ingredient management and transparency
More than a decade ago, we became the first consumer packaged goods company to voluntarily disclose ingredients in our U.S. and Canadian retail and professional cleaning, disinfecting and laundry products. Over the years, we strengthened our transparency efforts by adding mobile access and fragrance information, as well as providing greater visibility into what is in and not in our products. At Clorox, we'll continue to be on the front lines of ingredient transparency — and not just because it's required or because it's good for business. We do it because you have a right to know what's in the products you bring into your home.
Chemical footprint project
Chemical footprint project
In support of our public commitment to reduce the chemical footprint of our cleaning products, in 2021 we began participating in the Chemical Footprint Project to evaluate both our retail and professional products cleaning product portfolio. The Chemical Footprint Project is an initiative that helps companies measure and disclose data related to the chemistries used in their products. We are using their benchmarking tool to assess and manage our retail and professional cleaning products' chemical footprints, while evaluating expansion to other product categories. We have set a goal to improve the Chemical Footprint Project score for our domestic cleaning portfolio 50% by 2030 with an interim target of 35% by 2025.
SmartLabel and Ingredients Inside
SmartLabel and Ingredients Inside
United States
As consumer demand for ingredient transparency grew, we helped to develop an industry wide labeling tool to give consumers an easy way to access detailed information on a wide range of food, beverage, supplement, household, pet care, personal care and over-the-counter U.S. retail products in a single place, using a consistent digital format.
SmartLabel launched in 2016, and today it's a one-stop shop for information on ingredients and more for about 80,000 products, including over 1,000 brands from more than 60 different companies.
Ingredient listings for more than 500 Clorox products sold in the U.S. can now be found on SmartLabel. Whether you're in the store, at home or at work, SmartLabel is easily accessible through any of the following options:
Scan the UPC barcode of your product with the SmartLabel app to automatically launch the product's SmartLabel page on your device. (Download the SmartLabel app from the app store on your mobile device.)
Click on a logo below to access product listings for that brand on www.smartlabel.org.
Go directly to www.smartlabel.org then select the brand from the pulldown menus. You can also type in the product name to search for it.
For questions, refer to the contact information on the product label or the SmartLabel product page. Information on the date of manufacture of a designated product may be obtained by calling 800-227-1860.
Certifications and product transparency affiliations
Certifications and product transparency affiliations
We're aiming to increase products with targeted certifications and product transparency affiliations. One of the ways we're accomplishing that is by developing cleaning products that earn third-party certifications from the U.S. EPA's Safer Choice and Design for the Environment programs.
Before gaining these certifications, all products must go through a rigorous third-party review process to ensure ingredients satisfy program standards. Presence of the Safer Choice logo on a product is intended to help consumers, businesses and other purchasers identify cleaning and disinfecting products that meet performance standards and contain ingredients that are safer for human health and the environment. The Design for the Environment logo helps identify antimicrobial products, such as disinfectants and sanitizers, that have been reviewed by the EPA and found to meet both pesticide registration requirements and the agency's Safer Choice Standard. Learn more about Safer Choice and Design for the Environment, and search for Clorox products that meet the Safer Choice or Design for the Environment standards.
Clorox has been named a Safer Choice Partner of the Year five times — in 2016, 2017, 2020, 2021 and 2022. Additionally, we received a special award in 2022 for our efforts in design and implementation of the new Design for the Environment logo.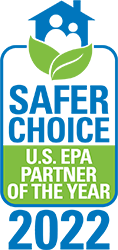 . Safer Choice and Design for the Environment program disclosures
Preservatives
Preservatives
Preservatives are present in some Clorox products to prevent the growth of micro-organisms. When used, preservatives are included at levels well below the threshold for causing skin allergenicity (sensitization). These levels are approved by the U.S. Environmental Protection Agency and typically do not exceed a range of 0.1% to 0.2%.
Fragrances
Fragrances
Since 2014, we've been listing fragrances in our consumer and professional cleaning, laundry and disinfecting products that have been identified as potential allergens. Today, those fragrance allergen listings for U.S. products can be found on SmartLabel, and we voluntarily disclose them for Canadian products through Ingredients Inside. We have expanded our disclosure of fragrance ingredients beyond allergens, with information for U.S. products available on SmartLabel.
We've also been collaborating with our industry peers to give you access to even more detailed information about fragrances and fragrance ingredients.
The Fragrance Conservatory
was launched in 2019 by the
Fragrance Creators Association
as a go-to resource on the safety profile, benefits, sustainability, history and more about specific fragrances. The tool is being expanded to encompass hundreds of additional ingredients and key topics.
Prioritizing product safety
Prioritizing product safety
At Clorox, your safety and the safety of your family, your pets and the environment is a top priority. We thoroughly evaluate every product's safety, efficacy and regulatory compliance before it ever makes it to store shelves.</p>
Our safety assessments begin with analysis of each of the materials that goes into making the product. This includes consideration of potential short-term and long-term impact from all types of exposures, including incidental or accidental, and routes of exposure such as skin, eye, ingestion and inhalation. We currently have a focus on selecting ingredients with lower hazard potential, as exemplified by our recognition by the U.S. EPA Safer Choice program. Another key component of product safety is ensuring consumers understand how to safely use, store and dispose of a product and its packaging. Our labels include clear directions for use, precautionary statements, first-aid measures, and storage and disposal. Additional safeguards such as child-resistant packaging are incorporated for certain products.
The chart below illustrates the process used by our product safety team to review ingredients and formulas for new and existing products. Considerations in this review process include public and environmental health and safety impacts.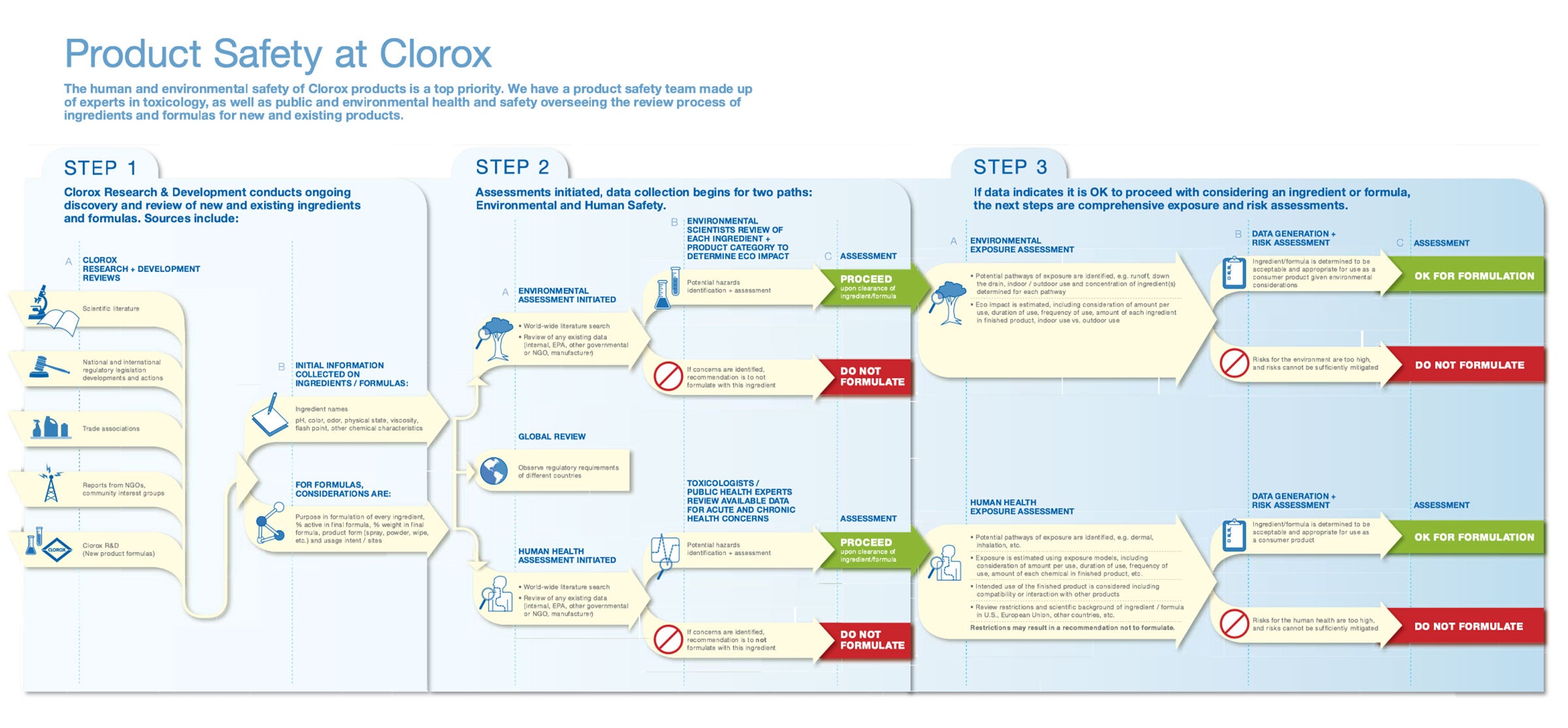 All products manufactured and distributed in the U.S. are subject to state and federal regulations. To comply, we perform safety testing and analyses, ensure that products contain appropriate labeling, and use only approved ingredients or formulations. For example, products classified as antimicrobials, such as disinfectants or sanitizers, are regulated by the U.S. Environmental Protection Agency, requiring every aspect of these products — including formulation, labeling and packaging — to undergo detailed review against predetermined criteria before approval for market.
Once a product is in the marketplace, we are committed to quickly addressing regulatory and public health agency inquiries regarding the product. We use a globally consistent approach of convening cross-functional teams of experts to identify, contain and remediate product issues that may arise at any point in the value chain. When appropriate, we involve senior management and recall products from the marketplace or take other corrective measures. As needed, we engage our consumers and other potentially impacted stakeholders.
Product advocacy
Product advocacy
We collaborate with key stakeholders to advance the science behind alternative approaches to animal testing. Our vision for our industry is to eliminate such testing currently required by the U.S. Environmental Protection Agency for disinfecting products and replace these tests with non-animal alternatives.
Clorox does not conduct or ask third parties to conduct on its behalf any animal testing on products or ingredients within the Clorox product portfolio unless that testing is required by law and there is no available alternative. When the law requires such tests, Clorox selects highly qualified contract research facilities that comply with all applicable animal welfare standards. When legal requirements allow alternative methods, including the use of in vitro testing, Clorox will use alternative methods.
We have brands in our portfolio that ensure none of their products or ingredients are ever subject to animal testing by suppliers or regulatory authorities. For example, Burt's Bees products are Leaping Bunny Certified, which means we do not test our formulas on animals or ask anyone to do so on our behalf.
We are committed to ending animal testing in our industry. We are and will continue to be relentless in our efforts to replace such testing by using existing data and alternative tests in all aspects of product safety testing. We will continue to be active leaders in the creation, development and validation of alternative methods to proving product safety.
Our other ESG pillars
Clean world

Clean world

Taking climate action and reducing plastic and other waste.

LEARN MORE

Thriving communities

Thriving communities

Enabling people to be the best version of themselves.

LEARN MORE