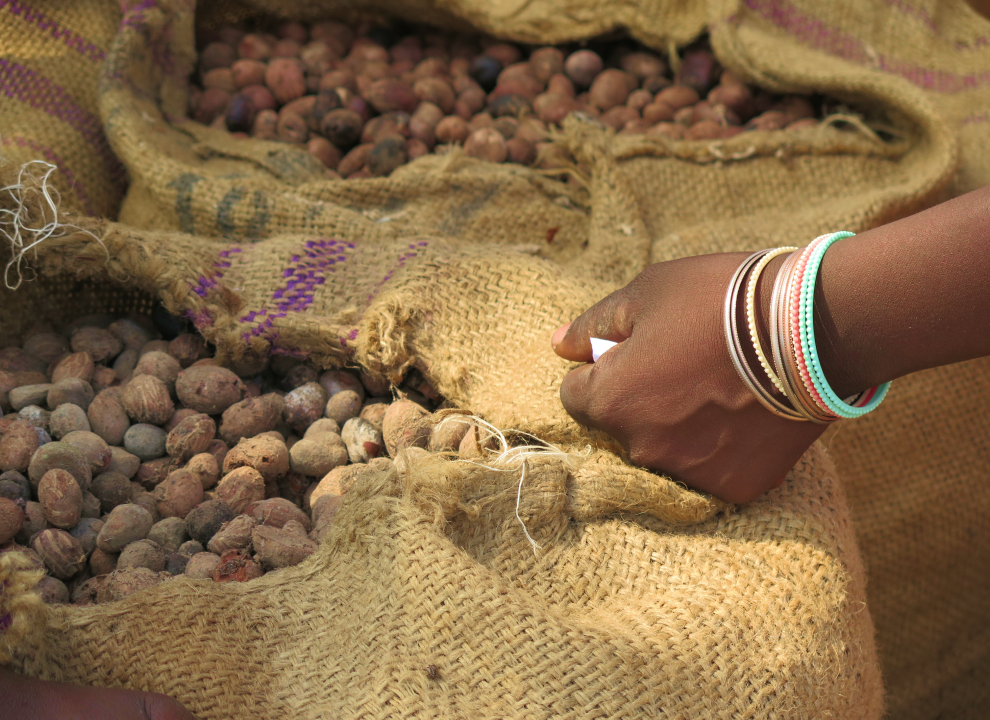 Thriving communities
Responsible & sustainable sourcing
Responsible & sustainable sourcing
We recognize that everything we source — including our ingredients, packaging manufacturing, distribution and services — has environmental and social impacts. That's why responsible and sustainable sourcing is so essential to our efforts to create a Clean World, Healthy Lives and Thriving Communities.
Our strategy starts with our raw materials and extends all the way to our products' end of life. We have a dedicated Responsible Sourcing and Sustainability Program focused on holistically and systematically integrating sustainability into procurement, increasing supply chain traceability and enhancing product transparency.
This program is the foundation of our Business Partner Code of Conduct, which we require all suppliers and business partners to adhere to, through our onboarding process. Our code of conduct was developed with key stakeholders and is regularly reviewed to ensure it continues to reflect our core value to Do the Right Thing. It is grounded in international standards and best practices, including the International Labor Organization Declaration on Fundamental Principles and Rights at Work and the Ten Principles of the United Nations Global Compact. We clearly outline our expectations to conduct business ethically and responsibly with respect to human dignity and environmental stewardship. The code of conduct details our expectations related to human rights, labor standards, environmental management, health and safety, and ethical business practices as well as adherence to our human rights commitment.
Governance
Governance
Our Responsible Sourcing and Sustainability Program sits within our Global Strategic Sourcing organization, led by the chief procurement officer, and includes business unit representation and advisement from our executive leadership.
Our full board also reviews and discusses ESG topics regularly — including progress toward meeting our specific ESG goals — and oversees risks, opportunities and strategy related to ESG issues that are priorities for our business, such as sustainable supply chain management, climate stewardship and product safety.
Human Rights
Human Rights
At Clorox, we are aware that global supply chains have impacts on workers and local communities, and we have developed a Commitment to Human Rights to reflect our values. As a global company, we strive to use our purchasing power and influence to support worker rights and to ensure that all people are treated with dignity and respect. We are committed to driving environmental and social compliance, workplace safety, and quality assurance, as these are all integral to the long-term success of our company and our partners.
As a part of our due diligence efforts, we have developed mechanisms to ensure processes are in place for human rights grievances within our supply chain. A Clorox compliance hotline is available to anonymously raise any concerns or incidents via phone or email, or online at www.cloroxhotline.com.
Our human rights expectations do not end at our walls. We expect our business partners, including direct suppliers of goods, service providers, consultants, distributors, licensees, joint ventures, contractors and temporary workers, to be committed to ethical principles and corporate responsibility practices.
We are clear about our expectations in the areas of human rights and labor, respectful treatment and equal opportunity, and health and safety as well as business conduct and ethics, which are consistent with the Ten Principles of the United Nations Global Compact.
Environmental Stewardship
Environmental Stewardship
Scope 3 Climate Action
Scope 3 Climate Action
Climate change is one of the most pressing issues of our day and age. We are fully committed to reducing our GHG emissions and creating a more sustainable future. Clorox has science-based targets for 2030 and a net zero commitment by 2050. To achieve these ambitious goals, supplier partnerships are highly critical. The "purchased goods and services" category within scope 3 is a significant portion of our total emissions and cannot be reduced on our own.
We are making efforts toward engaging our high-impact and strategic suppliers to understand where we can align on climate action. We have also joined the Guidehouse Supplier Leadership on Climate Transitions program to help equip our suppliers and build capabilities in measurement, reporting, setting reduction targets and abatement. We are excited to be joining pioneer brands in this collaborative effort to drive improvements.
Learn more about our climate goals and progress here.
Burt's Bees' focus on resilient supply chain and communities
Burt's Bees' focus on resilient supply chain and communities
With a longstanding history in making a positive impact on its communities, in fiscal year 2021 the Burt's Bees brand announced it would accelerate efforts to improve sourcing practices and uplift communities that produce its most valued ingredients — such as beeswax and shea butter. The brand has already impacted over 20,000 livelihoods through a combination of responsible sourcing assessments, third-party audits, and its Global Supply Chain Investment Program. By 2025, it will more than double its efforts — impacting 50,000 livelihoods through:
20 global supply chain investment projects that help safeguard access to clean water; support women's and children's empowerment; and promote health, safety and biodiversity.
Responsible sourcing assessments and third-party audits to help ensure the well-being of workers, including upholding human rights along with the highest health, safety and labor standards and practices as well as business ethics and environmental protection.
To date, Burt's Bees has visited more than 120 sites in 25 countries to trace and monitor raw materials — including almost all wax (96%) and butter (97%) sources — and nearly half of all of directly purchased wax, butter and oil sources combined globally. As a founding member of Global Shea Alliance, the brand's investments have supported women in shea through new facilities, training programs and cooperative registration in West African shea communities. In 2021, Burt's Bees launched the SheKeeper partnership with the U.S. Agency for International Development, bringing together the public and private sector with shea and beeswax ingredient suppliers to foster circularity in natural ingredient producer communities by building capacity of shea women's groups to become beekeepers, diversifying income, crops and biodiversity in the northern region of Ghana. And though Burt's Bees sources most of its mica domestically, it has also helped establish the Responsible Mica Initiative, and worked with partners to develop the Sustainable Mica Policy and Framework Vision to improve supply chain practices in India.
Our other ESG pillars
Clean world

Clean world

Taking climate action and reducing plastic and other waste

LEARN MORE

Healthy lives

Healthy lives

Improving people's health and well-being.

LEARN MORE