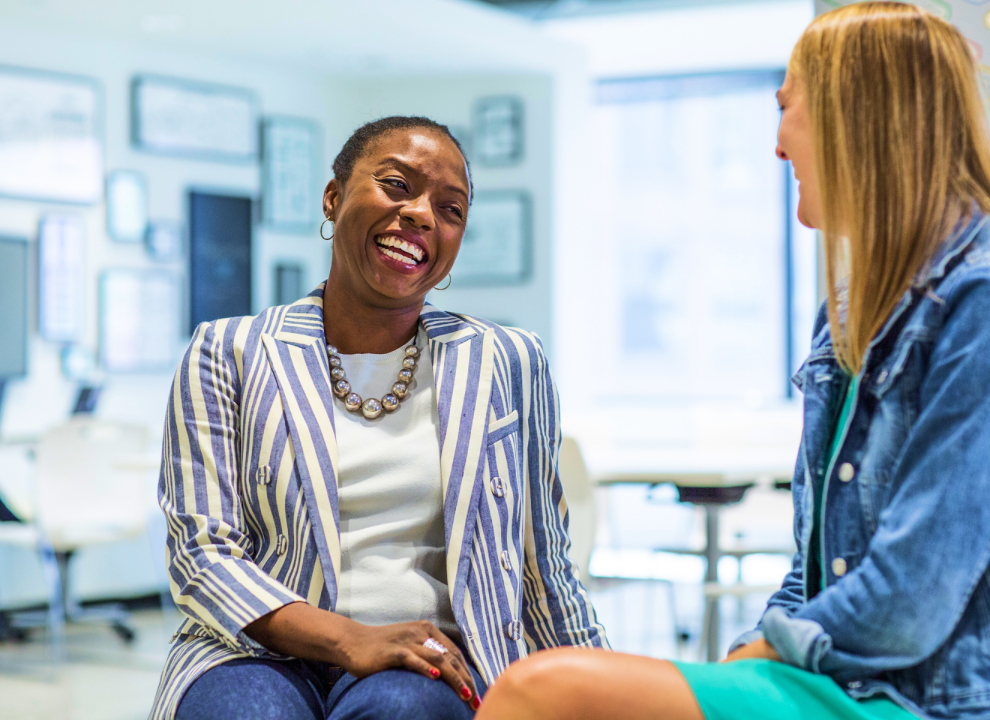 Thriving communities
Empowering our teammates to thrive
Empowering our teammates to thrive
Clorox is determined to make the world a safer, more tolerant place for everybody, and that work begins with our team.
We're dedicated to fostering a diverse, inclusive and equitable workplace where every team member is part of building the culture we expect. We believe that focusing on inclusion, diversity, equity and allyship makes us a better company because diverse perspectives allow us to better serve our consumers. We aim to empower teammates and colleagues of all backgrounds to offer their fresh, unique perspectives as we pursue our goals.
Our efforts to support teammates also include ensuring their safety on the job and supporting their total well-being, at work and beyond. We take pride in our people. That's why taking care of our team is core to what we do.
Promoting inclusion, diversity, equity & allyship
Promoting inclusion, diversity, equity & allyship
To live our purpose and our values, we must build a workplace where every person can feel respected, valued and fully able to participate in our Clorox community. It means leading by example, at every level within the company, and having the courage and focus to continually challenge ourselves to do and be better.
Striving for diversity isn't just the right thing to do — it's also crucial for driving business success. Diverse teams that reflect the consumers we serve offer a wealth of unique experiences, perspectives and ideas. They help us learn and adapt to the world around us while also making us more attuned to the needs of our consumers. Fostering an inclusive and equitable environment allows people to be their best selves and do their best work. We strive for our processes, programs and opportunities to be fair and to provide equal possible outcomes for every person. We also stand for allyship, because we need every member of our team playing an active role to help achieve our purpose.
For these reasons and more, Clorox will continue working to be a leader in inclusion, diversity, equity and allyship. For the good of our people. For the good of our company. For the good of our communities. And for the good of society.
Learn more about how we're advancing inclusion, diversity, equity and allyship in the workplace in the Our Company section of our website.
Ensuring employee safety & well-being
Ensuring employee safety & well-being
Providing a safe working environment for our people is essential. That's why we invest so heavily in fostering a culture of safety. We also work to provide resources and benefits to support the total well-being of our teammates — physical, financial, mental and emotional. Because nobody can thrive unless they feel secure and healthy in all these aspects.
Supporting professional development
Supporting professional development
Our commitment to employee well-being includes supporting our people's potential to thrive at work. We also recognize that an engaged and motivated workforce is essential to our success. That's why we invest in our teammates' professional development.
We provide a suite of development programs globally to help our teammates become effective leaders and grow in their career journeys:
We offer seven different mentoring programs to develop our talent — enrolling over 970 teammates — for general and more specialized audiences, including a group program designed for our women's employee resource group members and a group for underrepresented individuals in the workplace.

We offer a suite of training and education for people managers to help them become effective coaches and leaders. And our Manager Central platform offer a one-stop shop for resources and job aids for our leaders.

We offer training programs to all production and non-production teammates, accessible on demand. The Learn & Lead platform offers content in areas such as managing virtually, emotional intelligence and mental health.

In fiscal year 2023, we organized a global Career Week — five days packed with engaging content, panels, mentorship guidance and conversations to guide people on what it means to have a successful career at Clorox and actions they can take to achieve that.

We make it easier for teammates to explore new job opportunities by posting all roles below director level internally in an effort to increase transparency and support career growth at our company.

Our robust annual performance review process for all permanent employees provides feedback and coaching for our teammates in their professional journey and supports our leader succession planning processes to ensure a strong pipeline of talent for key roles.
We implement an ongoing listening strategy to gauge our teammates' perceptions of Clorox as a place to work. In fiscal year 2023, we continued to have strong employee engagement of 82%, in line with the 50th percentile of Fortune 500 companies. Some of the areas of strength identified by teammates included a belief that Clorox is a good place to work, cares about its people's health and well-being and provides work that is intrinsically motivating.
Our other ESG pillars
Clean world

Clean world

Taking climate action and reducing plastic and other waste.

LEARN MORE

Healthy lives

Healthy lives

Improving people's health and well-being.

LEARN MORE