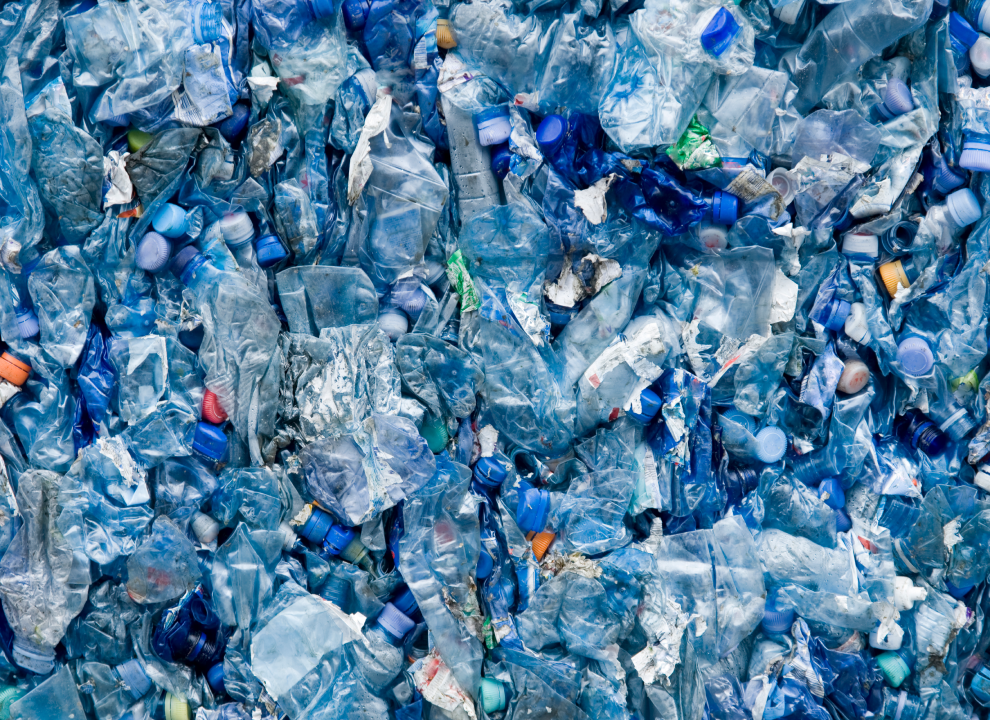 Clean world
Reducing plastic & other waste
Reducing plastic & other waste
On this planet, natural resources are limited. That means we need to use them wisely and put them to good use. When we formulate, manufacture and package our products, we strive to minimize waste wherever we can. Ultimately, our goal is to deliver high-quality products that help people be well and thrive while minimizing the impact on our planet. When it comes to the amount of materials that go into our products and packaging, we believe less is more. We're always trying to find ways to reduce the overall volume of materials, increase the sustainability of our materials and minimize the impact left behind after our consumers use our products. That way, we can help reduce the footprint and resource intensity of our products.
Our packaging goals
Our packaging goals
In 2019, as part of our IGNITE strategy, we prioritized packaging as a key focus area with the following goals: 
50% combined reduction in virgin plastic and fiber packaging by 2030
100% recyclable, reusable or compostable packaging by 2025
Double post-consumer recycled (PCR) plastic in packaging by 2030 (+50% by 2025)
Since launching our IGNITE strategy in October 2019, we:
Reduced our combined virgin plastic and fiber packaging by 11% per case of product sold vs. a 2018 baseline (22% progress vs. our 50% goal by 2030)
Established our 2018 baseline (74%) and measured 2020 performance (76%) against our 100% recyclable, reusable or compostable packaging goal
Maintained 11 % post-consumer plastic usage in packaging between 2018 and 2020
Additionally, we plan to continue supporting ongoing packaging commitments established in our 2020 strategy. These include driving the elimination of PVC packaging from our product portfolio and continuing to require all fiber-based packaging we purchase to be made from recycled or certified sustainable virgin material. In 2020, nearly 99% of paper-based packaging we purchased was made from recycled or certified sustainable virgin fiber. Lastly, to help take the guesswork out of recycling for our consumers, we will continue to feature easy-to-follow recycling instructions on our U.S. retail product packaging. Nearly 90% of our U.S. retail product packaging utilizes the How2Recycle label.
Virgin Packaging Material Reduction
GOAL: 50% combined reduction in virgin plastic and fiber packaging by 2030
STATUS: 11% combined virgin plastic and fiber packaging reduction (22% of our goal), per case of product sold vs. 2018 baseline, as of 2020*
Our signature IGNITE Environmental, Social & Governance (ESG) goal calls for us to reduce by 50% the virgin plastic and fiber in our packaging by 2030, measured on a per-case-of-product-sold basis versus a 2018 baseline. In 2020, we rolled out Clorox concentrated liquid bleach, which reduced our use of plastic and fiber packaging for this brand while delivering the same high-quality product that our consumers expect. We also converted to 100% recycled fiber cartons for Glad products in 2019.
*Metric is global and includes both primary and secondary fiber and plastic packaging. Domestic packaging is based on U.S. sales data and includes packaging for all products we sell in the U.S., inclusive of contract manufactured packaging from suppliers that procure packaging materials on our behalf. International packaging is based on our purchases of packaging for international operations and excludes data for packaging procured by contract manufacturers on our behalf. International CY20 data is estimated based on CY18 or CY19 purchases of packaging, adjusted to account for sales growth in CY20.
Use of Recyclable, Reusable, Compostable Primary Packaging
GOAL: 100% recyclable, reusable, and/or compostable packaging by 2025
STATUS: 76% of packaging is recyclable, reusable or compostable, as of 2020**
Since launching our IGNITE goals in 2019, we've established a new baseline for measuring the end-of-life of our packaging and defined key focus areas and a partnership strategy to help address the challenges associated with achieving this goal. In 2019, Clorox became a signatory to the Ellen MacArthur Foundation's (EMF) New Plastics Economy Global Commitment, and in 2020 a founding member of U.S. Plastics Pact. Through these efforts, we're engaging in collective, multi-stakeholder approaches across the plastics supply chain to find solutions to different aspects of the plastic waste challenge, including identifying ways to redesign products and business models for reusability, improving access to recycling infrastructure and increasing use of PCR plastic.
As part of these commitments, we're testing innovative new business models, including the participation in TerraCycle's Loop pilot program of Clorox disinfecting wipes in 2019, Glad food protection recyclable food bags in 2020 and Burt's Bees facial cleanser in 2021. This program, which enabled consumers to refill and reuse primary packaging, also bolstered the commitment we made when we signed on to EMF. In 2020, we also launched a concentrated Clorox cleaning spray refill pilot with a major retailer and conducted a market test with Algramo to sell several products including Clorox Splash-less Bleach and Pine-Sol Multi-Surface Cleaner at three refill stations in New York City.
**Data has been calculated using the Ellen MacArthur Foundation's recyclability assessment tool, which is based on the findings of their New Plastics Economy 2021 Recycling Survey and the Ellen MacArthur Foundation's definition of recyclable packaging. Recyclability reporting is based on CY20 US sales data and is estimated to reflect global results for this metric. 
Use of Recycled Plastic
GOAL: Double post-consumer recycled (PCR) plastic in packaging by 2030 (+50% by 2025)
STATUS: 11% of plastic used in packaging is PCR, unchanged from 2018 baseline, as of 2020***
The rise of companies making plastic commitments and resulting demand for PCR is straining the PCR supply chain. In response, we're engaging in multi-stakeholder partnerships to increase the availability and improve the quality of recycled plastic material required to produce recyclable packaging. The solutions we seek will do more than help us meet our IGNITE goal; they will also help the industry as a whole achieve a more sustainable, circular system for packaging.
Our participation in the U.S. Plastics Pact is one way we plan to collaborate across the value chain to drive solutions that address systemic challenges in the U.S. recycling infrastructure.
Our focus on product sustainability extends beyond packaging. Each of our business units is expected to evaluate its brands and identify opportunities to drive sustainability across its end-to-end value chain, in addition to supporting the delivery of our corporate packaging and climate goals. We also assess our products for potential impacts to both human health and environmental health, evaluating biodegradation and bioaccumulation as well as impacts on septic systems, aquatic life, birds and other wildlife.
Our sustainability efforts are not just good for the environment. They're good for business too, contributing to sales and resulting in cost savings and employee engagement.
***Metric has been calculated based on CY20 purchases of plastic packaging for global operations and excludes data from contract manufactured product packaging from suppliers that procure packaging materials on our behalf.
Our zero-waste-to-landfill goal
Our zero-waste-to-landfill goal
Goal: Achieve zero-waste-to-landfill (ZWTL) in 100% of our global facilities by 2030, and our plants by 2025 (where infrastructure allows)
We now have 23 sites globally that have achieved zero-waste-to-landfill status, 19 of which are plants. In fiscal year 2021, we added seven of those sites: our Springfield, Oregon; Houston, Texas; Bogota Colombia; Parsons, West Virginia; Aberdeen, Maryland, Brampton, Ontario, Canada, and Paranaque, Philippines plants. Our zero-waste-to-landfill sites currently represent 56% of our plants and 40% of our facilities globally where we control waste. This builds on progress we made between calendar years 2007 and 2018 to reduce solid waste to landfill by 40% per case of product sold and by 25% on an absolute basis. Since closing out our 2020 goal period in 2018, we also continue to report our annual landfill waste footprint, along with progress against our zero-waste-to-landfill goal. 
We have been working to reduce waste for over a decade. Our Fairfield plant partnered with a third-party vendor in 2011 to implement a recycling program that identified additional recyclable materials and placed recycling containers within easy access of employees. As of 2019, the plant recycled nearly 2,000 tons of materials and composts virtually all employee food waste. It reduced landfill waste by more than 70% and diverted more than 98% of its waste stream from landfill.
Our Rogers plant has increased recycling effectiveness through improved signage and minimizing the amount of recyclable material sent to a waste-to-energy facility. The plant's leadership team also mobilized employees to improve recycling rates by establishing an Environmental Leadership Team. They purchased and labeled standardized recycling containers that used space more efficiently and placed them in locations where waste was generated. Individual departments were held responsible for improving employees' recycling habits. The group stepped up recycling training and education on the importance of achieving zero-waste-to-landfill (ZWtL) status. They also increased efforts to reduce the volume of scrap generated by the plant. In addition to an existing program to regrind plastic scrap and reuse it on-site, these initiatives helped the plant divert over 98% of the waste it generates, as of 2019.
Our Tlalnepantla (Mexico City) plant and Tultitlan, Mexico distribution center decided to work together on their ZWtL journeys. The facilities developed unique labels using pictograms for their recycling containers. In addition to traditional recycling, where waste is incorporated as a raw material in the manufacturing of new products, both Mexican sites are also sending waste to co-processing facilities. There, waste is used as combustible material to fire cement kilns. The resultant ash is used to help make cement. Co-processing combines the best of the recycling and "waste to energy" methods as no residual material ends up in landfills. The energy value of the combustible material aids one process, and the ash becomes another product altogether.
Our Glad brand has been on a mission toward greater sustainability. Reducing the amount of resin in our bags is just one way the Glad team is driving waste out of its supply chain. Glad plants in the U.S., Canada, and China took on the challenge of meeting Clorox's ZWtL criteria by minimizing waste, driving sustainable behaviors through increased training, and implementing alternative solutions to landfill. Over several years of dedicated effort, facilities in rural areas found recycling partners nearby. Space-constrained offices carved out designated rooms and areas to collect recyclables. Facilities of all types collaborated with vendors to understand what could be recycled or composted based on local recycling vendors' capabilities and made purchasing decisions accordingly. In 2019, Clorox was able to announce that all of our Glad facilities worldwide had achieved ZWtL status, from the R&D lab where Glad magic is created, to the plants where we take R&D's visions and turn them into quality Glad products.
Dumpster Dives
Over the past several years, our employees have conducted numerous "dumpster dives" —digging and sorting through trash — and have reduced our solid waste by more than half at all of these facilities. We found that this hands-on experience not only helps identify opportunities for improvement, but also strengthens employee engagement and commitment to reducing waste.
Reuse of Brick at Kingsford Summer Shade
Drying ovens and combustion chambers used at our charcoal plants are lined with specialized brick that needs to be replaced every 15 to 20 years, so a team at our Kingsford Summer Shade facility in Kentucky looked into the state's Department of Environmental Protection beneficial reuse program to identify an alternative to landfill disposal for some of the plant's brick debris.
First, employees identified a legitimate use for the brick — as a base for a gravel access road in the back of the property. The existing dirt road created dust during the dry summer, and storm runoff was muddy during wet winter months. A gravel road solved an environmental issue while reusing the old brick. Then the plant had to demonstrate that paving the road wouldn't harm human health or the environment. Within two months, it had approval to proceed with the road. The project itself took just a few days to complete. 
Concrete and Asphalt Reuse at Kingsford Parsons
The Kingsford plant in Parsons, West Virginia, was looking for alternatives to landfill disposal for concrete debris that was generated after sections of its roads had to be replaced as a result of rough winters and heavy plant traffic.
In 2017, a local official asked the plant if it had any debris for use on a state highway transportation project called Corridor H. As it happened, the Parsons plant had several loads of concrete stored on site, ready for just this type of project.
While West Virginia doesn't have a formal beneficial reuse program, it does allow reuse of clean, inert concrete and brick for fill or road base. After this first successful reuse of plant debris, we're looking to identify other, similar kinds of debris that could be used for the Corridor H project or others like it.
OUR OTHER ESG PILLARS

Healthy lives

Healthy lives

Improving people's health and well-being.

LEARN MORE

Thriving communities

Thriving communities

Investing in our people and communities to contribute to a more equitable world.

LEARN MORE