8 Big Clorox Innovations for 2018
At Clorox, innovation is what we do.
We love that you trust our brands enough to bring them into your home. And we want to keep giving you delightful products that make your life better.
That's why we invest serious dollars and employee effort in innovation. Our focus on innovation includes everything from insights gathering so we know what people want and need to lab time, trying out new formulations and ensuring our products do what we say they do. It includes new packaging designs and marketing campaigns.
Here, we feature eight exciting innovations from across our portfolio we think people will love in 2018. Each one helps us in our pursuit of good growth — growth that's profitable, sustainable and responsible.
Burt's Bees
Burt's Bees® Beauty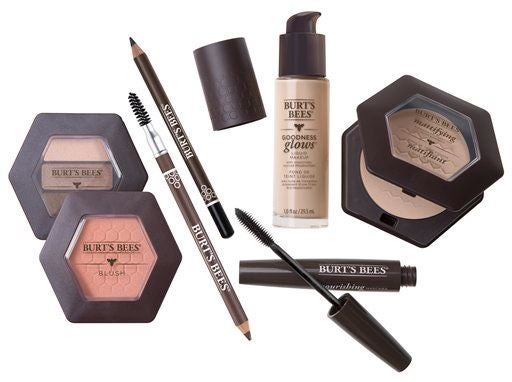 Burt's Bees® Beauty brings the beloved brand to the color cosmetics aisle. It's a full line of eight high-performance color cosmetics made with natural ingredients — the first of its kind for the mass channel. What makes these Burt's Bees products unique? They contain natural ingredients and are made without parabens, phthalates, petrolatum, silicones, talc or synthetic fragrances — all of which are commonly found in conventional cosmetics. They've been tested with makeup artists and dermatologists, but not on animals. They meet Burt's Bees' high quality and safety standards, yet are accessibly priced.
This launch builds on our strong momentum in lip color and lipsticks, which we introduced two years ago
Clorox
Clorox® Scentiva™ Bathroom® Cleaners
In 2017, Clorox took the cleaning aisle by the nose with Clorox® Scentiva® cleaners. In addition to the efficacy people expect from Clorox, we were also able to deliver an amazing sensorial experience. Clorox Scentiva launched in two scents: Tuscan Lavender & Jasmine and Hawaiian Sunshine, and two forms: spray cleaners and disinfecting wipes. Now, we're bringing the sensory cleaning experience into the bathroom with an aerosol foam cleaner (a new form for the our Cleaning Division), toilet cleaning gel and disinfecting foamer spray. We're also adding a third scent to the Clorox Scentiva family: Pacific Breeze and Coconut.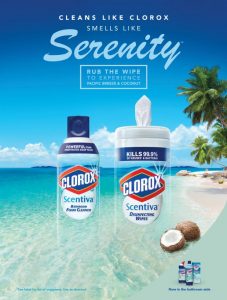 Clorox® Triple Accion
The bleach market is competitive in Latin America. That's why Clorox continues to innovate even on classic, tried-and-true household products like liquid bleach (also known in Latin America as "thin bleach"). To continue delivering superior value to bleach users, we've improved our basic bleach so it now has an anti-yellowing benefit as well as the cleaning and disinfecting qualities it's known for. This anti-yellowing benefit is unique to Clorox bleach.

Clorox® Disinfecting Wipes Easy to Pull
Love Clorox® Disinfecting Wipes but not their bulky canister? Then do we have an innovation for you! Clorox® Disinfecting Wipes Easy to Pull gives you the wipe you know and love in a new, flexible package that's easier to open, use, store and take with you on the go. Launching in January 2018, the wipes come in two scents – Crisp Lemon® and Fresh Scent.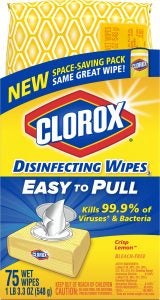 Fresh Step
Fresh Step® Clean Paws® Triple Action & Fresh Step® Clean Paws® Multi-Cat with the power of Febreze™
Our Fresh Step® Clean Paws® litter gives cats cleaner and more comfortable paws. New technology keeps unwanted dust from sticking to those paws — and thus reduces unwelcome tracking across cat owners' homes. Starting in January, this revolutionary new litter (which also comes with the power of Febreze™) will be available anywhere in the U.S. where you typically buy Fresh Step products.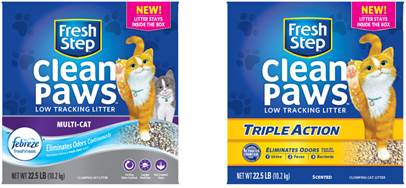 Glad
Glad® ForceFlex® Plus™ Advanced Protection
We've invented our best trash bag ever. The technology in Glad ForceFlex Plus Advanced Protection bags reduces leaks, odors, rips and punctures and brings premium trash performance to a new level — all with a 7-day odor control guarantee and the power of Febreze.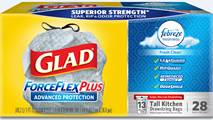 Hidden Valley
Hidden Valley® Simply Dinners
We know people love the taste of Hidden Valley® Ranch. And we know ranch lovers see ranch as so much more than a salad dressing. That's why we're making it easier than ever for people to add delicious Hidden Valley ranch flavor to their meals.
One way we're doing that is by making our Hidden Valley Ranch seasoning shaker available more places. We're also introducing Hidden Valley® Simply Dinners breading prep kits. These include two prep trays and a seasoning pouch of bread crumbs and Hidden Valley seasoning mix. With them, you can simplify dinner prep into three simple steps that take just five minutes:
Dip your protein into an egg-water mix
Dredge your protein through our breadcrumb-seasoning mix, and
Pop it in the oven.
And voila! Dinner is served.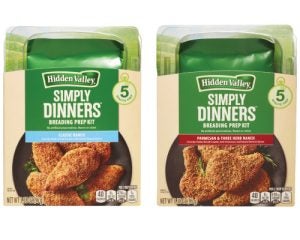 Renew Life
Renew Life® Probiotics and Prebiotics
We are introducing the first new Renew Life® products since we purchased the probiotic supplement company in May 2016. Renew Life is the first and only brand to make a line of non-GMO certified probiotic + organic prebiotic formulas. We've also developed a new line of probiotics for every stage of a child's development, from prenatal to baby to kids. Finally, we have a new Renew Life probiotic formula specifically targeted to improve mood & stress and another to restore digestive health following the use of antibiotics or other medicine that can throw your body out of balance.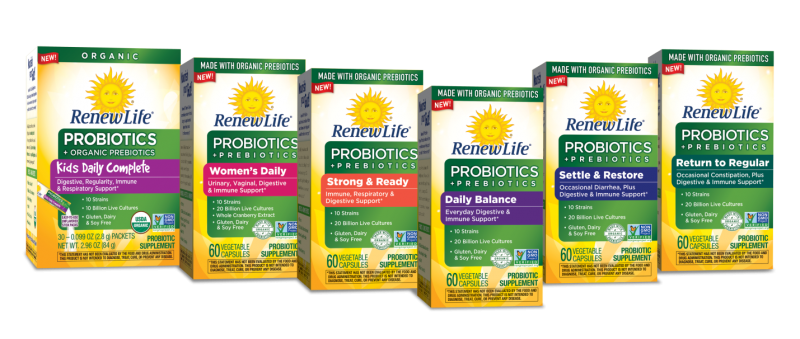 Related posts:
Meet the Inventor: Scientist Maria Ochomogo, Mother of Green Works® products