New Burt's Bees® lipsticks: 100 percent natural and recyclable
By Lindsay Riddell
The Burt's Bees® brand is launching a line of all-natural, moisturizing lipsticks that will hit shelves in 10 countries and five continents by July 2016.
To develop 100-percent natural lipsticks with beautiful shades that won't dry out lips, our Burt's Bees scientists had to think outside the hive, so to speak.
Burt's Bees products don't use synthetic colors, such as the bright yellows or blues that are used in the majority of on-trend color palettes. Instead, the team looked to natural mineral colorants and some brightly colored natural ingredients they'd never used before.
Using all-natural ingredients limits the number of colors our scientists could work with to get the shades they want. And when it comes to minerals, they can also be a little dull or dirty looking, so the team had to be very creative in how they combined them to get a broad color palette.
It was worth it, and the team created 14 all-natural, beautiful shades.
The other challenge: Shade pigments can dry lips. Knowing this, the team balanced the pigments with the right natural ingredients, looking beyond coconut oil and beeswax, to ingredients such as moringa and raspberry seed oils, to ensure a final formula that moisturizes for eight hours.
Judge this lipstick by its cover, please
The lipstick case also goes where no beauty brand has gone before — the recycling bin.
The case is made of polypropylene — making the entire case recyclable — and contains 60 percent post-consumer recycled content. We also decided not to add extra weight to the case (a common practice used to make a lipstick feel heavier and seemingly more high-end and expensive).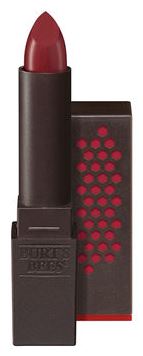 Using post-consumer recycled content can make consistent color and composition challenging. Also, certain plastics used together can offer more rigidity and allow, for instance, the lipstick to move up and down more easily and the case to hold together well. But we didn't want to use combinations of different plastics if it meant a less sustainable package, and so we opted to use a single-sourced material.
After multiple iterations and much consumer input, the team solved the technical challenges and landed on a distinctive rectangular, honeycomb case. It's easy to find by touch in a bag or purse by its texture and shape, and the lip color peeks out through the honeycomb.
Next up: applying this completely recyclable, post-consumer packaging approach to other products in the Burt's Bees line.
In the meantime, lips can have it all: beautiful color and eight hours of moisturizing.
Oh, and when you're done, it also looks great in the recycling bin.