By Daniel Kurzrock, co-founder of Regrained
What do you get when 10 emerging natural products entrepreneurs walk into the global headquarters of one of the planet's most sustainable enterprises?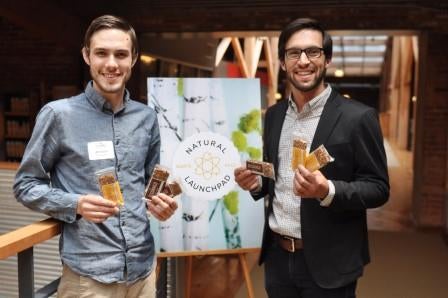 When my business partner and I got the word that we were to receive a $10,000 grant from Burt's Bees, it felt surreal.
Our business, ReGrained, felt like a longshot application to the Burt's Bees Natural Launchpad. We're a sustainable startup that harvests malt byproduct from urban craft breweries in San Francisco and turns it into food. We close nutrient loops. The Burt's Bees brand ethically produces naturally derived personal care products. If they were going to pick 10 companies to help accelerate, we'd almost certainly be out of scope, we thought. We couldn't have been more thrilled to be proven wrong.
In addition to the cash, which we definitely needed to grow our fledgling business, we learned that the award would take us to Burt's Hive in Durham, North Carolina, for a day of mentorship and training. We weren't sure what to expect, but figured worst-case scenario there would be some killer barbeque involved. So, we boarded a plane and did our best to mentally prepare ourselves for 24 hours of 100 percent humidity.
Finding connection
After introductions to the other entrepreneurs, we dove right into some Burt's Bees history. I was struck almost immediately by a fact I'd never realized: beeswax is a byproduct of honey production. Maybe our companies weren't so far apart after all!
We next had an opportunity to introduce our ventures to the Burt's Bees team. One by one, we went through our pitches — and in our case, taste tests of our first product line, "Eat Beer" bars made using our upcycled grain. Pitching to an audience is an exercise any entrepreneur must become comfortable with. However, unlike some other settings I have participated in, this felt more like getting to know your cabin on the first day of camp. After a tour of the facility and lunch, we broke out into formal mentorship.
The Burt's Bees business offered experts in marketing, PR, supply chain, packaging, operations, sustainability and more. Such a consolidated source of knowledge!  
What considerations should we take as we scale beyond producing ourselves and engage contract manufacturers? How might we remain true to our commitment to compostable and recyclable packaging as we enter national distribution? Of course, there wasn't enough time. Months later, references to conversations from those few hours in Durham still enter our internal discussions.
Investing in values-driven business
On our end, we're looking forward to what's still to come. We know this is a new program for Burt's Bees, and that we're cocreating what the Natural Launchpad looks like.
As entrepreneurs, you could say we have a taste for being on the frontlines of figuring things out. We believe that values-driven business is capable of creating a more sustainable and prosperous future.
At ReGrained, our big, hairy, audacious vision is to enable the urban ecosystem to do more with less through something we call food waste alchemy. We couldn't be more enthused to be able to tap the Burt's Bees experience in creating products and growing a business that serves the triple bottom line.
Dan Kurzrock and Jordan Schwartz are co-founders of ReGrained, one of 10 companies in the inaugural Burt's Bees Natural Launchpad class. Natural Launchpad is an annual grant program for natural product entrepreneurs, providing winners with $10,000 cash and a day of networking and mentoring at Burt's Bees headquarters.
Here's a list of all 10 entrepreneurs in the inaugural Natural Launchpad cohort.