Diving for Zero in Costa Rica
By Adriana Acuna
​It's Dumpster Dive time again. This time, the action was in Costa Rica.
Dumpster dives are necessary to improve recycling and sustainability at a facility. They help people understand what we mean by "waste" and then identify whether we can eliminate it from our waste, recycle it or otherwise dispose of it in a more environmentally responsible way.
In the case of Costa Rica, the team came at this dumpster dive from a position of strength. 
They had to save up waste from the plant's filling and blow-molding areas ​for nearly six weeks just to accumulate enough to hold a dumpster dive. In the end, the 13 local team members had just 270 lbs. of waste to sort.
Following a safety briefing, these "divers" manually sorted through this trash. Here's what they discovered:
60 percent was non-hazardous waste
23 percent of the trash was recyclable
17 percent was product containers that require special handling in Costa Rica; they can't be discarded with industrial waste
Thanks to this dumpster dive, the plant learned that roughly 40 percent of the waste it sent to the local landfill could be diverted and/or recycled, so that's where the work begins.
Clorox has a company​​​ goal to certify 10 sites as zero-waste-to-landfill by 2020. Currently, two sites are zero-waste-to-landfill: Fairfield, California and Orangeville, Canada. Several others are closing in on this prize. Conducting a dumpster dive is an important early step for a plant to become zero-waste-to-landfill.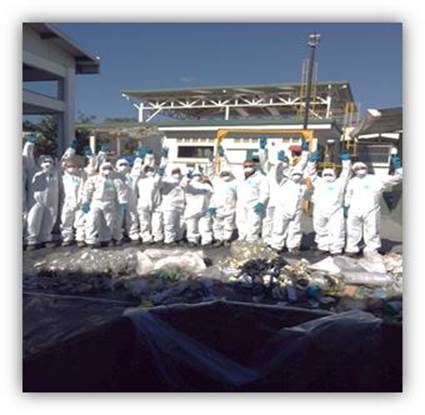 This Dumpster Dive was a success thanks to the collaboration of the whole team, especially Elvin Talavera, who's responsible for recycling and waste assessment.
Special thanks also go to Luis Obando and Adriana for their support and coordination. 
This was another very successful Dumpster Dive.
Related posts: