Puerto Rico Dumpster Dives Reshape Recycling Programs
By Steve Clarke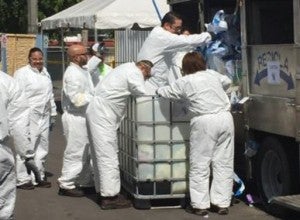 Some people like to do "polar bear plunges" this time of year, diving into freezing-cold water.
We, on the other hand, are fans of "dumpster dives," taking the plunge into our trash cans.
To understand why, think of a dumpster dive as a recycling audit. It's messy, but informative.
Most recently, 25 of our Caguas, Puerto Rico, employees zipped into full-body suits and sifted through about three weeks worth of trash at our plant and one of our warehouses.
The plant was looking to identify recyclable material waste to improve its current recycling rates. The warehouse was using the dumpster dive to kick off its recycling program. Both were looking to raise employee awareness.
Plant results: Every recycled pound counts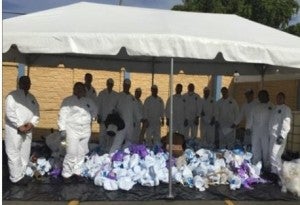 The plant dumpster dive recovered:
108 lbs. plastic
15 lbs. cardboard
5 lbs. scrap metal
22 lbs. paper
Approximately 75 percent of the material in the plant's dumpster was recyclable, and we're already using this experience to improve our recycling rates.  For example, after the team realized most of the recyclable material was coming from one area in the plant, they later gathered employees from that line and retrained them on our recycling practices.
Warehouse results: A great kick-off to recycling
The dumpster dive at the warehouse recovered:
76 lbs. plastic
213 lbs. cardboard
A small amount of scrap metal
The warehouse was able to recover 90 percent of the material being thrown into the dumpster, a great start as the site gets the recycling program up and running.
After the event, the Caguas plant eliminated one of two dumpsters, cutting its disposal costs in half, and the warehouse anticipates cost savings as it reduces how often it sends waste to landfill. More importantly, employees are now more focused on finding ways to reduce the amount of post-manufacturing material and products that can be recycled versus just thrown away.