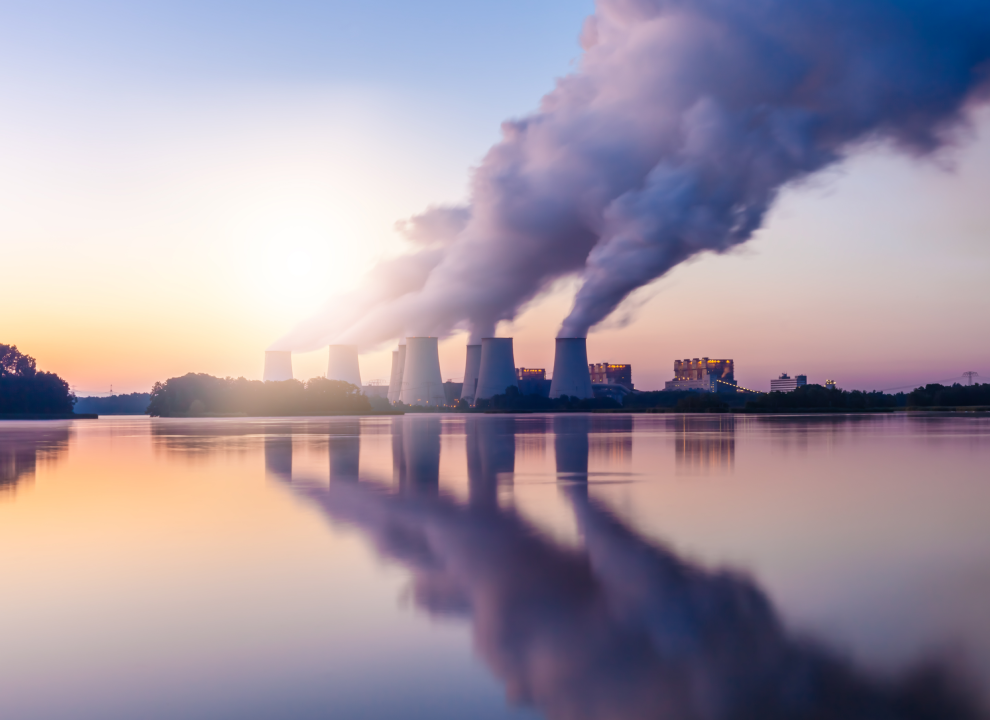 Clean world
Reducing greenhouse gas emissions
Reducing greenhouse gas emissions
Climate change poses a serious threat to the health and well-being of people and the planet. We've been focused on reducing greenhouse gas emissions for over a decade to do our part to address this existential challenge. While we're proud of our accomplishments, we recognize the necessity for bigger and bolder actions, which is why we have committed to measuring, transparently reporting and reducing our carbon footprint across our value chain – starting with 2030 science-based targets and ultimately committing to net-zero GHG emissions by 2050. Making this vision a reality will require innovative thinking and sustained focus, as outlined in our climate action plan. Click on the image below to see an enlarged version of the plan summary.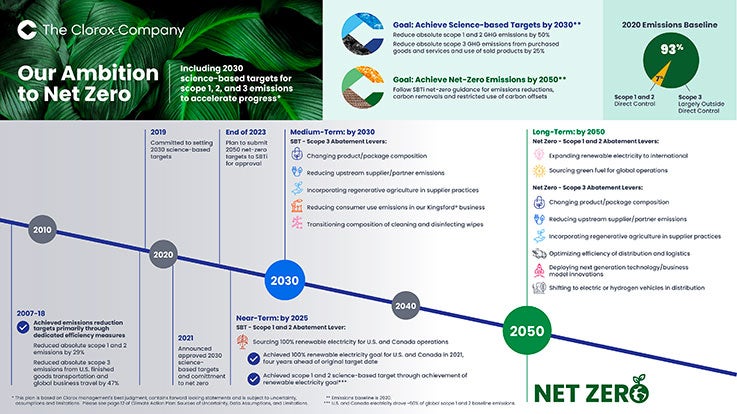 Our goals
Our goals
Achieve science-based targets to reduce greenhouse gas emissions by 2030 versus a 2020 baseline.

50% absolute scope 1 and 2 (operations) reduction target
25% absolute scope 3 (purchased goods and services and use of sold products) reduction target*

Achieve net-zero emissions across scopes 1, 2 and 3 by 2050.
*For our science-based targets, we're focusing on different scope 3 categories for our reduction efforts than in our previous goal periods. These include Category 1, Purchased Goods and Services and Category 11, Use of Sold Products (Direct). In prior goal periods, we defined scope 3 to include Category 4, U.S. Finished Goods Distribution and Category 6, Employee Business Travel. Categories are defined by the World Resources Institute and World Business Council for Sustainable Development's GHG Protocol Corporate Value Chain (Scope 3) Accounting and Reporting Standard.
For our last 2020 goal period, we targeted a reduction of our GHG emissions by 20% (per case of product sold), using 2011 as our baseline. We achieved this goal ahead of target, reducing our GHG emissions by 33% on an intensity basis (per case of product sold), and by 25% on an absolute basis, all by 2018, when we closed out this goal period. This represents a reduction of 189,000 metric tons of GHG emissions between 2011 and 2018.
In October 2019, we publicly committed to setting science-based targets across our supply chain with the SBTi. In August 2021, the SBTi approved our 2030 targets for scopes 1, 2 and 3 GHG emissions. The ambitious targets covering emissions from company operations (scopes 1 and 2) are consistent with reductions required to keep warming to 1.5°C above pre-industrial levels. At that time, we also declared our net-zero ambition and signed onto the Business Ambition for 1.5°C, committing to setting net-zero targets by 2050 that are aligned with the SBTi's criteria.
In 2021, we achieved our scope 1 and 2 science-based target of 50%, delivering a 62% reduction vs. our 2020 base year emissions. This was driven by the achievement of our complementary IGNITE goal of 100% renewable electricity in the U.S. and Canada in 2021, four years ahead of our original plan.
Given that only 7% of our global emissions are directly attributed to our own operations (scope 1 and 2), we recognize action is needed to address the majority of emissions in scope 3 that are generated through our supply chain, distribution, consumer use, and material and design choices of our products and packaging. This is why we created an internal roadmap and published a climate action plan for our net-zero goal and interim science-based targets. In our climate action plan, we've detailed our approach to addressing these challenges, including influencing and collaborating with our stakeholders and leveraging new technologies and innovations as they become available.
Recognizing the importance of transparently disclosing our climate efforts to stakeholders, we are applying the Task Force on Climate-Related Financial Disclosures framework to communicate our approach to climate governance, strategy, and risk management, which can be found in our integrated annual report.
We are also committed to reducing emissions of particulate matter, volatile organic compounds (VOCs), sulfur oxide (SOx) and nitrous oxide (NOx) and are diligent about reducing, reusing and recycling fluorinated gases, or F-gases. Wherever required by federal, state or local regulations, we ensure our facilities are compliant with our air permits that limit the use of VOCs, SOx and NOx and to public reporting of that data to relevant government agencies.
In addition to reducing our own emissions, we also lend our voice to call for change at a broader level. In 2020, Clorox — along with our Burt's Bees brand — signed on to America Is All In, a statement endorsed by more than 1,000 businesses, government entities, universities and other institutions, to show support for ambitious commitments to tackle the global climate crisis and for the U.S. to rejoin the Paris Climate Agreement. As a signatory, we underscore our commitment to drive economic growth through job creating, sustainable investments and to do so in a manner that addresses systemic inequalities and ensures everyone benefits from the transition to climate resiliency. We also signed onto the Energy Buyer Federal Clean Energy policy statement along with more than 30 other corporations, calling for a 100% clean energy power sector.
Year-over-year reduction of GHG emissions (2018–2021)
While we developed our science-based targets against a 2020 baseline and are implementing our roadmap and systems for measuring scope 3 progress on an annual basis, we are continuing to report our annual GHG emissions using the same approach we applied in our prior goal period. This includes third-party independent assurance of our global scope 1 and 2 GHG emissions, as well as scope 3 GHG emissions associated with the distribution of our U.S. finished products and business travel by our employees. Our absolute GHG emissions increased by 6% between a 2018 baseline and 2020, our baseline year for our SBTs, due to increased production in response to the COVID pandemic; however, our plants were able to drive efficiencies and reduce GHG emissions by 11% per case of product sold over this same timeframe. Since 2020, GHG emissions have decreased by 19% on an absolute basis and 14% per case of product sold, primarily driven by renewable electricity sourced through a virtual power purchase agreement and the purchase of renewable energy credits for 100% of our U.S. and Canada operations**.
**Scope 2 emissions reported are calculated using the market-based method. Beginning in 2021, scope 2 market-based method emissions utilized various environmental attributes from renewable energy credits associated with virtual power purchase agreements, RECs purchased on the open market and International RECs purchased through an energy service provider. These instruments were specific to facilities in the U.S., Canada and Colombia in 2021. Prior to 2021, the company did not use environmental instruments.
Energy efficiency
We have focused on energy efficiency to reduce greenhouse emissions associated with energy used in our manufacturing, distribution and R&D facilities, as well as in our offices. These efforts have reduced our energy costs and consumption. For more details, visit our Energy webpage for details.
Distribution efficiency
We have increased the environmental efficiency of our finished product distribution by moving from truck to more efficient rail. On average, 20% of Clorox finished goods distribution miles are by rail.
Through the 2020 goal period (as well as in our current IGNITE period) Clorox has been a Transport Partner of the U.S. Environmental Protection Agency's (EPA) SmartWay program, using qualified SmartWay carriers for over 80% of our truck freight miles. These carriers enable Clorox to measure, benchmark, and track efforts to increase efficiency and fuel economy.
This program expanded our environmental partnership with the EPA, which includes our membership in their WasteWise and Safer Choice programs. We've also conducted extensive network reconfiguration and optimization of shipments between our plants, co-packers, distribution centers and customers.
Workplace initiatives
We're committed to reducing our workplace energy use and commensurate GHG emissions. In recent years, we've reduced business travel. During our prior goal period (2011-18), our business travel mileage (vehicle miles plus air-passenger miles) dropped by more than 15%, with a 30% reduction in GHG emissions due to both travel reduction and lower emissions factors. In 2020, primarily due to COVID travel limitations, our GHG emissions associated with business travel dropped by over 80% relative to a more recent 2018 baseline. This trend has continued in 2021, with only a 4% increase in business travel-related GHG emissions in 2021 versus 2020.
Despite the pandemic, we needed to continue critical environmental compliance work across our manufacturing operations, so we revamped our compliance audit process using existing tools and technology to allow for work to proceed remotely. Relying on cloud storage technology as the repository for compliance documentation that was accessible by remote audit teams, we used smart glasses and smart phones to observe local site conditions in areas of particular environmental interest to execute internal and third-party compliance audits with no travel. This transformative digital approach is expected to continue selectively post-pandemic, enabling the team to keep reducing costs and emissions associated with travel to our plants.
Renewable energy sources: Kingsford
Kingsford retort furnaces convert renewable wood scrap to make char. Much of the heat generated from this process is, in turn, used to dry waste wood raw material as well as finished charcoal briquets, and to power steam boilers that are used for other Kingsford manufacturing operations, thereby reducing use of fossil-fueled electricity these plants need to pull from the grid.
Renewable energy credits and carbon offsets
As part of its 2025 vision, our Burt's Bees business joined Ceres Business for Innovative Climate and Energy Policy Network and The Climate Collaborative. The business will also continue to be CarbonNeutral-certified, building on a commitment since to offset carbon emissions, including emissions from fuels used in its facilities, transportation of raw materials and finished products, and employee travel; beginning in 2021 emissions from electricity used in its facilities are being addressed by renewable electricity. GHG emissions from Burt's Bees operations are now less than 0.01% of Clorox's total annual scopes 1 and 2 GHG emissions.
Our other ESG pillars
Healthy lives

Healthy lives

Improving people's health & well-being.

LEARN MORE

Thriving communities

Thriving communities

Investing in our people and communities to contribute to a more equitable world.

LEARN MORE