Sustainability in Our Facilities
As part of Clorox's IGNITE strategy ESG goals, we have committed to science-based climate action across our value-chain, 100% renewable electricity in our US and Canada operations, and zero-waste-to-landfill in our global facilities. As we pursue these goals, we will continue to drive efficiency improvements that minimize our use of energy and water and generation of waste in our global operations. This builds on progress made during Clorox's 2020 strategy period to drive more than 20% reductions in greenhouse gas (GHG) emissions, energy use, water use and solid waste-to-landfill in our offices, manufacturing and distribution operations.
All Clorox facilities follow a customized environmental management system (EMS) that tracks, reports and enables continuous improvement to help advance the company's sustainability goals, while helping ensure compliance with environmental regulations. Regulatory agencies —at both the federal and local level —conduct inspections regularly at all of our manufacturing facilities, focusing on the health, safety and environmental compliance of our product lines. And our Product Supply Organization provides employees with general environmental awareness and subject-specific training related to their roles, including annual regulatory training which is tracked in our EMS.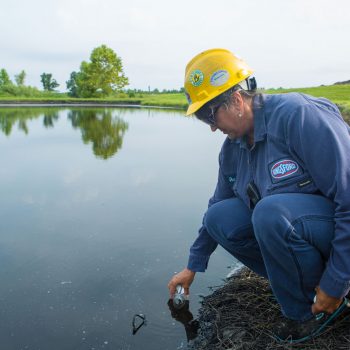 Water
With nearly half of our sales coming from products that have water as a key ingredient, maintaining freshwater health is fundamental for us. We've found opportunities in our supply chain and product development areas to realize ambitious water conservation goals while also reducing costs, distinguishing our brands, meeting consumers' needs and growing our business.
Since 2008, we have reduced our water consumption by 39% on an intensity basis (per case of product sold) and 25% on an absolute basis. This represents a reduction of 258 million gallons of water used in 2019 versus 2007.
As we move forward on our journey in water stewardship, our strategic focus will be to complete localized risk assessments and create actions plans that reflect the risks and issues unique to watersheds supporting the areas in which we operate. As we do so, we will we continue to ensure all our facilities are managing their water use responsibly and seeking further efficiency gains.
Our Goal
In 2019, we set a goal to drive continued water efficiency improvements as we advance a more localized approach to water stewardship.
Our Progress
In 2019, we reset our water use baseline to calendar year 2018. Our facilities continue to look for opportunities to reduce their water use. In 2019 we achieved a 6% absolute and 5% intensity (per case of product sold) reduction in water use relative to 2018. This represents a year-over-year water savings of 51 million gallons.
Each year Clorox also conducts an annual water risk analysis using the Water Resource Institute's (WRI) Aqueduct Tool. The tool was used to identify 10 locations in high or extremely high baseline water stress areas. The locations include 5 plants, 4 distribution centers, and one office, representing 14% of our global water use.These locations were further assessed for water risk, based on their actual water use along with the other physical quantity, physical quality, and reputational-regulatory factors in the WRI tool. We are using this data to refine our overall water risk strategy, with the goal of implementing site-specific water management plans to help offset that risk.
Since 2014, we've conducted third-party independent assurance of our water use.
Year-Over-Year Reduction of Water Consumption, Gallons of Water/Cases vs. Year (2011-2019)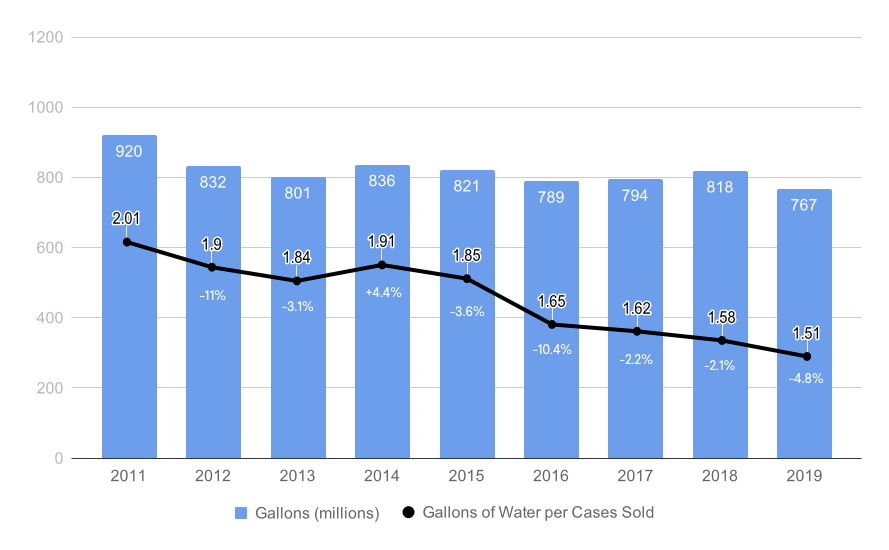 Notes:
Clorox sold its Oakland, California, offices in 2013 and discontinued its Venezuela operations in 2014. Total water consumption for 2011 (the baseline year for our 2020 water reduction goal) was recalculated to exclude water consumed at these facilities. Data for 2012 and 2013 were not recalculated.
Clorox acquired Renew Life in 2016. Total water consumption for 2011 (the baseline year for our 2020 water reduction goal) was recalculated to include estimated water consumption from related facilities associated with this acquisition. Data for 2012-15 were not recalculated.
In 2016, Clorox identified a pump calibration error at one of our Kingsford manufacturing facilities that resulted in overstated water use in previous reporting years. Total water consumption for 2011 (the baseline year for our 2020 water reduction goal) was recalculated to correct for this error. Data for 2012-15 were not recalculated.
In 2018, Clorox acquired Nutranext and at the end of 2017 opened its new Atlanta West manufacturing facility. Total water consumption for 2011 (the baseline year for our 2020 water reduction goal) was recalculated to include estimated water use from related facilities associated with this acquisition and new manufacturing facility. Data for 2012–2017 were not recalculated.
Improvements in Infrastructure and Equipment
Our water conservation efforts include a number of water recycling infrastructure and equipment upgrade initiatives, as well as changes to some of our water management practices. Most notably, our Kingsford plants in Parsons, West Virginia, and Belle, Missouri, both reduced their water consumption by more than 40% primarily through investments in water recycling infrastructure and replacing water with air compressor systems.
We've also made other improvements, such as replacing water-cooled compressors with air-cooled compressors and upgrading our filtration and recovery systems. And we performed extensive water process mapping and conservation training at all manufacturing facilities, resulting in better plant-level water practices.
Meanwhile, work on water restoration continues through the expansion and improvement of Clorox's current wastewater treatment infrastructure.
Water Saved with Concentrated Clorox® Bleach
Our transition to concentrated Clorox® bleach in 2012 saves resources across the lifecycle of the product, resulting in the use of 196 million fewer gallons of water annually.