Sustainability in Our Facilities
Learn About Our New IGNITE ESG Goals
Clorox's long-term strategic plan calls for 20% reductions by 2020 in greenhouse gas (GHG) emissions, energy, water and waste-to-landfill of our manufacturing and distribution operations. All Clorox facilities follow a customized environmental management system (EMS) that tracks, reports and enables continuous improvement to help advance the company's sustainability goals, while helping ensure compliance with environmental regulations. Regulatory agencies — at both the federal and local level — conduct inspections regularly at all of our manufacturing facilities, focusing on the health, safety and environmental compliance of our product lines. And our Product Supply Organization provides employees with general environmental awareness and subject-specific training related to their roles, including annual regulatory training which is tracked in our EMS.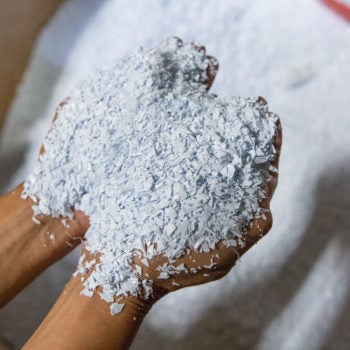 Waste
Although Clorox is a light manufacturer producing a modest amount of waste (the vast majority of which is non-hazardous in nature), we know minimizing waste is good for the planet and good for business. We've installed robust recycling programs at all of our plants and offices, and we've also expanded our use of third-party recyclers to increase our diversion-from-landfill rates.
As a company, we reused, recycled or composted over 85% of nonsellable materials annually, from 2015 to 2018, up from 65% in 2011. Meanwhile, employee-driven events like Earth Day help reinforce new recycling and waste reduction habits while serving as a reminder that sustainability is a company priority. Since 2008, we've reduced our solid waste to landfill by 40% on an intensity basis (per case of product sold) and 25% on an absolute basis. This represents a reduction of 3,347 tons of solid waste sent to landfill in 2018 versus 2007. For historical details prior to our current goal period, download Waste Send to Landfill 2007-2011.
Our Goals
In 2012, we set a goal to achieve a 20% reduction in solid waste to landfill by 2020 (per case of product sold) versus 2011 base year at our facilities worldwide.
Also by 2020, we aim to have 10 zero-waste-to-landfill sites (where at least 90% of solid waste is either recycled or composted with the rest of waste sent to a waste-to-energy facility).
Our Progress
In 2018, we reduced our solid waste to landfill by 21% on an intensity basis (per case of product sold) versus 2011. On an absolute basis, we've decreased solid waste to landfill by 11% in this same period. This represents a reduction of 1,185 tons of solid waste sent to landfill in 2018 versus 2011, which is the baseline year for our 2020 reduction goal.
Year-Over-Year Reduction of Waste Sent to Landfill (2011-2018)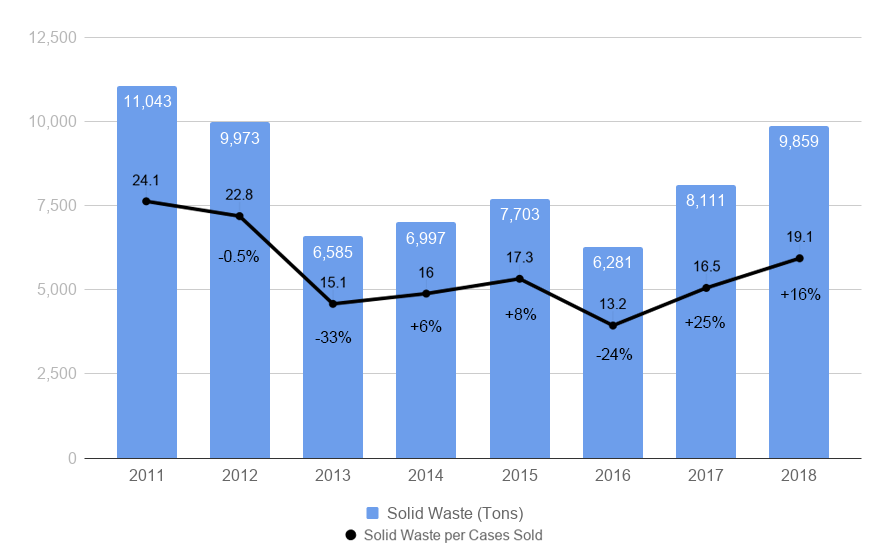 Notes:
Clorox sold its Oakland, California, offices in 2013 and discontinued its Venezuela operations in 2014. Total solid waste to landfill for 2011 (the baseline year for our 2020 waste reduction goal) was recalculated to exclude solid waste sent to landfill at these facilities. Data for 2012 and 2013 were not recalculated.
Clorox acquired Renew Life in 2016. Total solid waste to landfill for 2011 (the baseline year for our 2020 waste reduction goal) was recalculated to include estimated solid waste sent to landfill from related facilities associated with this acquisition. Data for 2012-15 were not recalculated.
In 2017, calendar year 2011 baseline value for solid waste-to-landfill was restated to reflect: 1) the removal from the baseline of waste volumes attributed to the Aplicare business, divested by Clorox in calendar year 2017, and 2) the addition of the previously exclude waste stream, cafeteria waste sludge, to the landfill waste volume at our Lima, Peru, manufacturing facility. Data for 2012–2016 were not recalculated.
In 2018, Clorox acquired Nutranext and at the end of 2017 opened its new Atlanta West manufacturing. Solid waste-to-landfill for 2011 (the baseline year for our 2020 waste reduction goal) was recalculated to include estimated solid waste-to-landfill from related facilities associated with this acquisition and new manufacturing facility. Data for 2012–17 were not recalculated.
Dumpster Dives
Over the past several years, our employees have conducted numerous "dumpster dives" — digging and sorting through trash — and have reduced our solid waste by more than half at all of these facilities. We have found that this hands-on experience not only helps identify opportunities for improvement, but strengthens employee engagement and commitment to reducing waste.
Zero-Waste-to-Landfill Program
Since we set our zero-waste-to-landfill goal, thirteen of our sites have achieved the designation, exceeding our 2020 goal of 10. In order of achievement, these facilities are:
Fairfield, California plant
Orangeville, Ontario, Canada plant
Rogers, Arkansas plant
Tlalnepantla (Mexico City), Mexico plant
Amherst, Virginia plant
Conghua, China plant
Quilicura, Chile plant
San José, Costa Rica plant
Cartago, Costa Rica plant
Tultitlan, Mexico distribution center
Rogers, Arkansas distribution center
Willowbrook, Illinois R&D facility
Brampton, Ontario, Canada administrative office
To be designated zero-waste-to-landfill, each facility had to:
Reduce, reuse, recycle or compost at least 90% of the waste streams at the site.
Ensure no commonly recycled items such as paper, plastic, corrugate or aluminum are in the remaining waste.
Send the remaining 10% or less of waste to a waste-to-energy facility.
The Orangeville plant achieved its zero-waste-to-landfill status in 2015 with recycling efforts that included a composting program as well as training for contractors and new employees. In 2014, the plant's diversion rate was more than 97% , with less than 3% of waste going to landfill. In 2015, the plant began diverting its remaining nonrecyclable material to a regional waste-to-energy facility.
Our Fairfield plant partnered with a third-party vendor in 2011 to implement a recycling program that identified additional recyclable materials and placed recycling containers in easy access to employees. Since then, the plant has recycled nearly 2,000 tons of materials and composts virtually all employee food waste. Landfill waste has gone down by more than 70%, and the plant currently diverts more than 98% of its waste stream from landfill.
Our Rogers plant identified new recycling streams, such as changing over to recyclable brown paper towels in the break rooms and restrooms and increasing recycling effectiveness through improved signage, minimizing the amount of recyclable material sent to a waste-to-energy facility. In addition to an existing program to regrind plastic scrap and reuse it on site, these reuse options helped the plant divert over 98% of the waste it generates.
Additionally, the plant's leadership team spearheaded efforts to improve employee recycling rates through greater employee engagement. An Eco Leadership Team was established. Standardized recycling containers that used space more efficiently were purchased, labeled and placed in locations where the waste was generated. Individual departments were held responsible for improving their own employees' recycling habits. Recycling training was stepped up, as were efforts to make employees aware of the importance of being a zero-waste-to-landfill facility. Efforts to reduce the volume of scrap generated by the plant in the first place were increased as well.
Targeting Waste Streams
Our cat litter plant in Spring Hill, Kansas, was one of our largest waste-to-landfill contributors back in 2010. The plant set a goal to reduce its landfill waste by tackling its biggest challenge: segregating and capturing reclaimable clay. This work, along with other measures, has lowered the plant's landfill waste by about 70%, and the plant is focused on finding more waste-to-landfill reductions.
Reuse of Brick at Kingsford Summer Shade
Drying ovens and combustion chambers used at our charcoal plants are lined with specialized brick that needs to be replaced every 15 to 20 years. So a team at our Kingsford Summer Shade, Kentucky, facility looked into the state's Department of Environmental Protection beneficial reuse program to identify an alternative to landfill disposal for some of the plant's brick debris.
First, employees identified a legitimate use for the brick — as a base for a gravel access road in the back of the property. The existing dirt road created dust during the dry summer, and storm runoff was muddy during wet winter months. A gravel road solved an environmental issue while reusing the old brick.
Then the plant had to demonstrate that paving the road wouldn't harm human health or the environment. Within two months, it had approval to proceed with the road.
The project itself took just a few days to complete.
Concrete and Asphalt Reuse at Kingsford Parsons
The Kingsford plant in Parsons, West Virginia, was looking for alternatives to landfill disposal for concrete debris that was generated after sections of its roads had to be replaced as a result of rough winters and heavy plant traffic.
In 2017, a local official asked the plant if it had any debris for use on a state highway transportation project called Corridor H. As it happened, the Parsons plant had several loads of concrete stored on site, ready for just this type of project.
While West Virginia doesn't have a formal beneficial reuse program, it does allow reuse of clean, inert concrete and brick for fill or road base. After this first successful reuse of plant debris, we're looking to identify other, similar kinds of debris that could be used for the Corridor H project or others like it.