'Hidden Figures' of Clorox Inspire STEM's Next Generation
By Naomi Greer, associate director – Global Corporate Communications

Clorox scientists.
They pursued careers in professions not typically held by women or minorities. Today, they work behind the scenes to make sure Clorox products are safe and effective.
Inspired by the movie "Hidden Figures," these rock-star Clorox scientists — trailblazers in their fields — shared advice with the next generation, hoping to inspire high school girls to consider careers in science, technology, engineering or math (STEM).
Attracting girls to STEM
About 60 local girls attended the event at Clorox's Pleasanton, California, campus hosted by our African-American employee resource group (ERG) with support from our Science Ed group and women's ERG. They came to us from five Oakland nonprofits: the East Oakland Youth Development Center, Girls Inc., Earth Team, Mentoring in Medicine & Science and Alternatives in Action.
The girls learned how our scientists got where they are today, what a typical day looks like and the obstacles they've encountered and overcome.
They then enjoyed a tour of our R&D facility and pilot plant, catching a close-up look at how Kingsford® charcoal and Clorox® cleaning products are made.
Finally, we hosted them for a showing of "Hidden Figures," the Oscar-nominated movie about three black women scientists instrumental in landing the first Americans on the moon.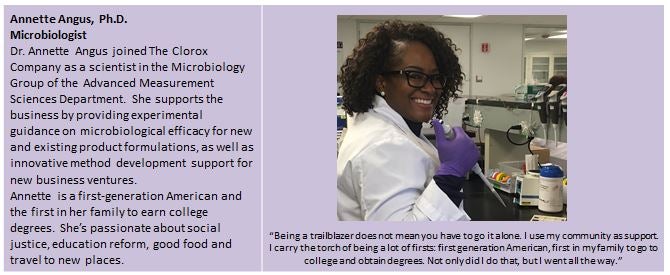 Here's a sampling of what the Clorox scientists had to say:
On choosing a career in science:                       
"I fell in love with bacteria and wanted to get inside their world and see what they were doing, what made them tick, what caused disease, what prevents disease. And I was on a mission." – Annette Angus, Microbiologist
"Once I fainted at the sight of my own blood, I realized pre-med was not for me. I spent my first year at MIT exploring what I enjoyed, landing in the world of materials. I became a 'materials girl.' I didn't think when I got a Ph.D. I would spend my career in pee and poo, starting with baby diapers. And now I work in cat litter — cat pee and poo." – Maisha Gray-Diggs, Materials Scientist
"Growing up, I didn't have enough money so I used to take clay and make my own lipsticks and makeup. When I started working on formulations, my childhood aspects of chemistry became a reality. I became passionate about it. It's not about the money. If you don't have passion you're not going to be happy." – Abena Antwi, Innovation Scientist
"As a little girl, I was always inspired to ask 'why.' School was about finding answers to my questions. Between the rocks and dinosaurs and wanting to understand the earth around me, that's what led me to become a geologist." – Elizabeth Donald, Geologist

On overcoming obstacles:
"It's important to find people who are supportive and also to be a support for people around you. That's how I found my way. Find people who will say 'yes you can.' That's how I was able to overcome negative voices in my life." – Elizabeth Donald, Geologist
"When someone says something that's uninformed, you just have to turn negatives into positives and think about people not knowing much about you. You have to educate them." – Abena Antwi, Innovation Scientist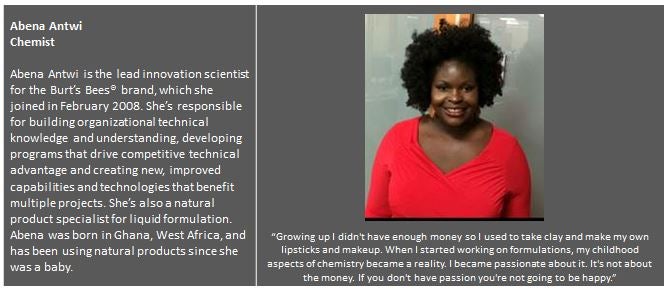 "When I was doing my PhD, I was told that as a woman in science, I couldn't have a family. As a woman, you can do whatever you want." – Kathryn Page, Toxicologist
"I've had numerous examples of discrimination. Subtle shade or jabs being thrown because I don't 'look' like a scientist. I use them as teaching moments. And I continue to thrive." – Annette Angus, Microbiologist

On a typical day:
"Every day I have to think like a microbe. How are they going to try and survive? What are they going to do next? My job is to outsmart the bad bacteria." – Annette Angus, Microbiologist
"When I see someone using a Burt's Bees® lip balm or lipstick, I can say I worked on that product." – Abena Antwi, Innovation Scientist
"The best part of my day is when I can get out with my team and into the lab. I will sneak in there, play with the litter. And I've become quite the grillmaster. Before I give it to you the consumer, I have to try it myself. I think I have a lot of street cred when it comes to grilling." – Maisha Gray-Diggs, Materials Scientist
"When I was responsible for Ever Clean® cat litter, I was going around to many different countries, teaching people how the product works and why it's good for them." – Elizabeth Donald, Geologist

STEM, like a girl
The lessons these Clorox scientists shared with the girls all revolved around a single theme: a career in a STEM field is within their reach.
In 1916, the girls were told, a woman single-handedly turned around the fortunes of a struggling industrial bleach company, repositioning it as a consumer products company. That operation later became The Clorox Company.
"In 10 years," said Gray-Diggs, "you will be the trailblazers."
Fun Clorox connection: The author of Hidden Figures, Margot Lee Shetterly, is married to the grandson of former Clorox CEO Robert Shetterly —who founded the East Oakland Youth Development Center in 1978.