The Business of Inclusion
By Miriam Lewis, Principal Consultant, HR – Diversity & Inclusion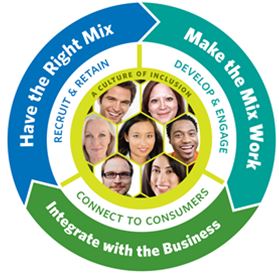 At Clorox, we believe that diversity and inclusion are basic business practices.
Beyond being the "right thing to do," creating an inclusive environment brings distinct business advantages when it comes to breakthrough ideas and understanding consumers.
A decade ago, in June 2006, Clorox started a new chapter in its commitment to diversity and inclusion with the formation of five employee resource groups (ERGs). Several hundred employees based primarily in our California offices were involved. Today, Clorox has seven ERGs and two business resource groups boasting more than 2,000 active members and allies in 10 locations around the world.
Their purpose: to drive diversity and foster an inclusive environment that supports employees, represents our consumers, attracts great talent and supports a growth culture.Each of our ERGs has a slightly different flavor, so to speak, and here are some of the highlights of how each contributes to life at Clorox.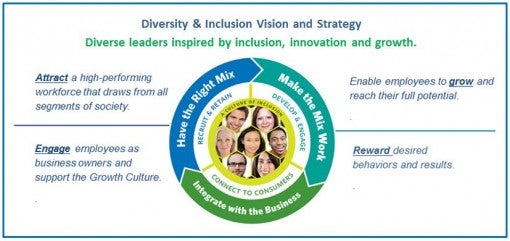 Pride
Our LGBT ERG has charted many firsts. It was one of the first to form, offering support to LGBT employees. It was the first to recruit and celebrate allies — straight employees who support their LGBT coworkers. It expanded to Latin America, becoming a global ERG in June 2015.
Asian
Members of the Asian ERG, one of the founding five, were quick to connect diversity to expanded opportunities in the marketplace. It formed a Business Connectivity group to explicitly seek ways to help grow our core business. Its first big success was in 2011, when it recommended that Clorox acquire the Soy Vay® brand, a premium player in a niche but growing food sauce category.
LEAD
The Latinos for Excellence, Advancement and Development (LEAD) ERG has helped our brands find new and meaningful ways to connect with multicultural consumers, and Latinos in particular. One highlight was the LEAD ERG's participation in Innovent, Clorox's employee idea contest. Its submission based on the insight that Millennial Latinos love the flavors they grew up with but are unlikely to spend the time required to cook traditional dishes, led to a proposal that Clorox acquire the Nueva Cocina® brand and expand its food portfolio.
SHOW
Mentoring is at the heart of Support, Heart & Opportunity for Women (SHOW), the Clorox ERG that supports female employees. Having a strong mentor can make a big difference to a career. Mentors offer a candid and unique form of support, guidance on professional issues or challenges and career insights. Twice a year, SHOW matches a seasoned professional with an employee newer to his/her career for a formal mentoring program. To date, hundreds of Clorox employees have participated.  SHOW was the first to establish a chapter outside the Bay Area to support Clorox's offices in the Atlanta metro areas — Alpharetta and Kennesaw.  It was also the first Clorox ERG to expand outside the U.S.
ABLE
The African Americans Building Leadership Excellence (ABLE) ERG is also one of the original Clorox ERGs. Over the last several years, ABLE and SHOW have partnered on the mentorship program. Community support and member activism have been a hallmark of ABLE, which every year sponsors numerous community volunteer efforts open to all Clorox employees. ABLE has also been instrumental in providing consumer insights to the company.
VetNet
Our youngest ERG, VetNet was formed in 2014 to help Clorox recruit more military veterans to Clorox. Clorox has a proud history of hiring military veterans, and many of the leadership traits shaped by military service are consistent with Clorox leadership traits and values. Roughly 8 percent of our U.S. employees are veterans. Almost 100 were hired after VetNet formed, and the ERG has helped many adjust to working here, with a buddy program for new military hires.
Multicultural ERG
Employees in Durham, North Carolina, formed the Multicultural ERG to benefit from the support, leadership development and rich exchange of ideas that ERGs enable. But they did it in a way that felt authentic to them, forming a group that celebrates multiculturalism, including all ethnicities and genders. It's an example of inclusion at its finest.
At Clorox, we firmly believe that diversity and inclusion are the engine that drives innovation. Innovation requires healthy debate, and we can only have healthy debate if we have people with different perspectives and different backgrounds who feel comfortable sharing their ideas and their points of view.
In 2015 and 2016, Clorox ranked third in DiversityMBA's annual ranking of the best companies for women and diverse managers, and our ERGs were important to that recognition.
As our CEO Benno Dorer says, "The efforts and accomplishments of our ERGs and networks are further proof that The Clorox Company believes in equality for all people. They show that we value and celebrate the diversity of our employees, consumers, communities and business partners whose lives we touch every day, and also that we strive to foster diversity, unity and respect among all people. Because nothing less will do."