El creativo camino de la planta de Caguas hacia cero residuos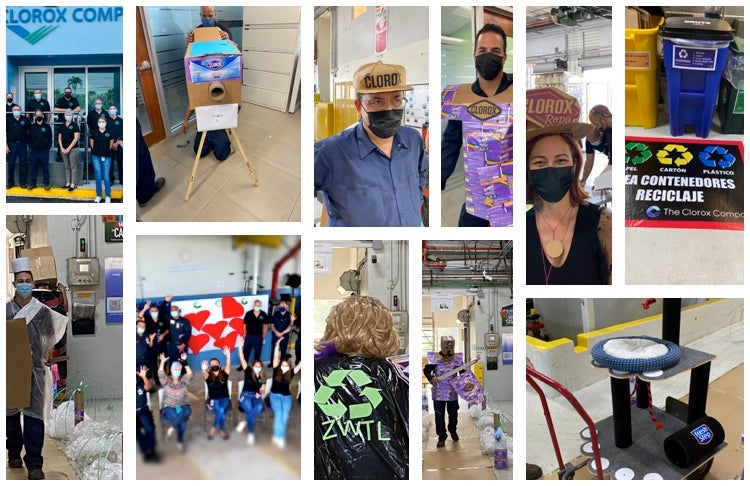 Por Naesha Vázquez, Líder de Medio Ambiente, Salud, Seguridad y Protección – PSO
Cuando acepté el reto de liderar el proyecto de zero waste to landfill, lo vi como un objetivo a largo plazo para apoyar el compromiso de Clorox con un mundo limpio. Con todo el esfuerzo que conlleva y los retos de infraestructura siendo una Isla pensé que nos llevaría de tres a cinco años. En cambio, logramos nuestro reconocimiento en menos de un año.
La puesta en práctica del reúso y el reciclaje fue posible gracias al trabajo en equipo y al compromiso de nuestra gente. Esto incluyó la identificación de los materiales a reutilizar, las negociaciones con los proveedores que nos proporcionan las materias primas, la identificación de los contenedores y la segregación de los materiales.
Sabemos que todos tenemos una responsabilidad con el medio ambiente. Pero no todos saben cómo pueden contribuir y el impacto que tienen sus acciones.
La formación de nuestro personal fue el primer paso. Les motivamos centrándonos en la reutilización y el reciclaje no sólo en el entorno laboral, sino también adoptándolo como estilo de vida. El reciclaje es una responsabilidad social. Los entrenamientos se centraron en nuestra responsabilidad como empresa y como individuos. Esta estructura nos ayudó a fomentar la concientización y la cultura de forma ágil, demostrando el compromiso de nuestra gente y la necesidad de actuar ya.
El segundo paso fue identificar los recursos disponibles de personas  y presupuesto. Una vez identificados, diseñamos el programa y establecimos las responsabilidades, las áreas de impacto y los puntos de recolección. En los centros de acopio utilizamos colores brillantes y fáciles de reconocer para evitar confusiones a la hora de segregar los materiales.
Otro factor importante que contribuyó a nuestro éxito fue la disponibilidad para atender el acercamiento inesperado de la gente, aclararle las dudas del programa lo más pronto posible, eso nos ayudó a fomentar el trabajo en equipo.
A través de diversas campañas temáticas, nuestra gente demostró su compromiso con la correcta gestión de los materiales. Inspirado en la fiesta de Pascua arrancamos con un concurso de manualidades con material reutilizable de la planta, no sólo se mostró la creatividad de la gente sino también el entusiasmo por el reciclaje. La campaña de Halloween también generó un gran impacto, en este evento se presentaron disfraces hechos con residuos generados de la operación de la planta.
Pero la campaña que más nos gustó fue la más reciente, que celebraba la obtención del reconocimiento de nuestra planta como un sitio zero waste to landfill. Inspirado en el día de San Valentín, nuestro concurso final se centró en mensajes de amor y en el tema de cero residuos creado por nuestra gente. En todas las actividades, nuestros compañeros mostraron su pasión por el reciclaje y la reutilización de materiales.