Clorox Employees Rally for Remote Celebration of Earth Day's 50th anniversary
By Dana Cappelloni
Even during a pandemic, sustainability remains front and center for Clorox employees. To honor this year's 50th Anniversary of Earth Day, Clorox employees from around the globe rallied to celebrate remotely.
Here's a glimpse of some of the ways Clorox employees commemorated this important day as well as Clorox's enduring commitment to sustainability.
Pleasanton, California
The Pleasanton California, Eco-Warriors team couldn't carry out its annual Earth Day Fair in person this year, so it pivoted to offer a series of online Earth Week initiatives. These included daily blog posts on earth-friendly topics such as tips to plant a spring vegetable garden, at-home energy conservation measures and tips to create a mindfulness practice. The Pleasanton Eco Warriors also organized a remote viewing of a sustainability-themed TED talk followed by a community discussion. Employees earned a raffle entry for each activity they joined. Prizes included a National Park Pass, product delivery subscription and a gift card to a local, farm-to-table restaurant.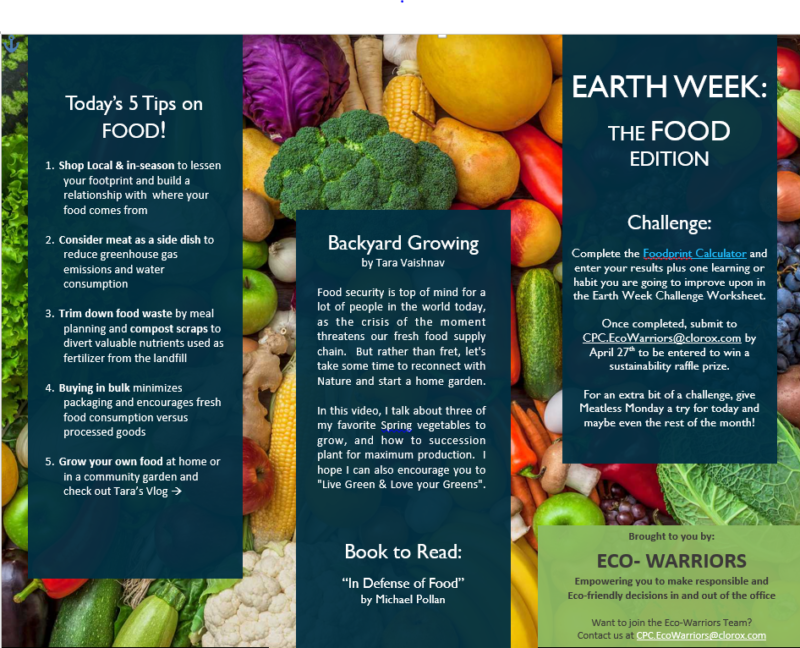 Aberdeen, Maryland
The team at our Cleaning plant in Aberdeen, Maryland, didn't let Earth Day pass unnoticed. Leaders sent daily, eco-themed emails to all employees for Earth Week. One of those discussed the importance of bees and their relationship to critical human and environmental health issues like biodiversity, food security, nutrition, and sustainable land use. The message was a nod to the site's newest team members: Buckfast/Carniolan Hybrid bees from Hartford County, Maryland. Just weeks before Earth Day, the Aberdeen team established three bee colonies on the property. The colonies serve the dual purpose of sheltering the bee population and pollinating the surrounding trees and flora. All employees also received honey from the colonies as an Earth Day gift.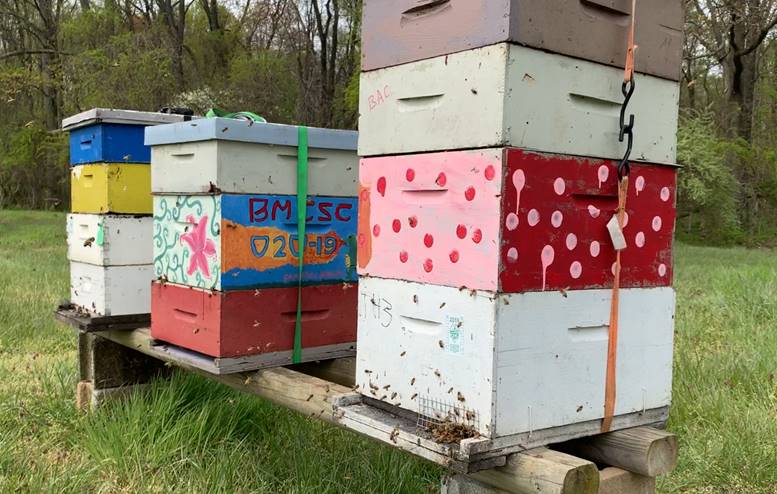 Kennesaw, Georgia
Though the Kennesaw offices were closed, Eco Warrior Steve Clarke nevertheless spent an hour weeding and fertilizing the site's outdoor Pollinator Garden for Earth Day. He reported that the plants are doing very well: the false indigo is blooming, the rattlesnake plant is snaking around and several other plants like swamp milkweed, coreopsis, heal all and bee balm are all coming back this year.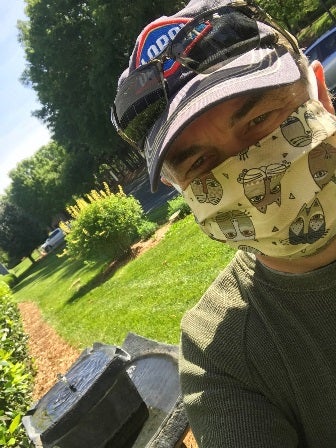 Durham, North Carolina
The Burt's Bees team in Durham, North Carolina, believes in practicing what they preach. This Earth Day, they launched a #VitaminN (for Nature) content series on their social media channels to encourage time in nature to destress, stay well and keep a positive outlook. The first offering to help people get their dose of nature while sticking close to home is a set of nature-inspired downloadable coloring sheets for adults and children. Burt's Bees also encouraged participation in its #ChangeForNature campaign where people pledge one small action — grocery shopping with a reusable bag, cutting food waste or reducing meat consumption — that cumulatively with others can add up to a big impact. Burt's Bees donated $10 for each of the first 15,000 pledges for a total donation of $150,000 to the National Geographic Society to help fund its efforts to reduce individual plastic consumption and the flow of plastics into watersheds.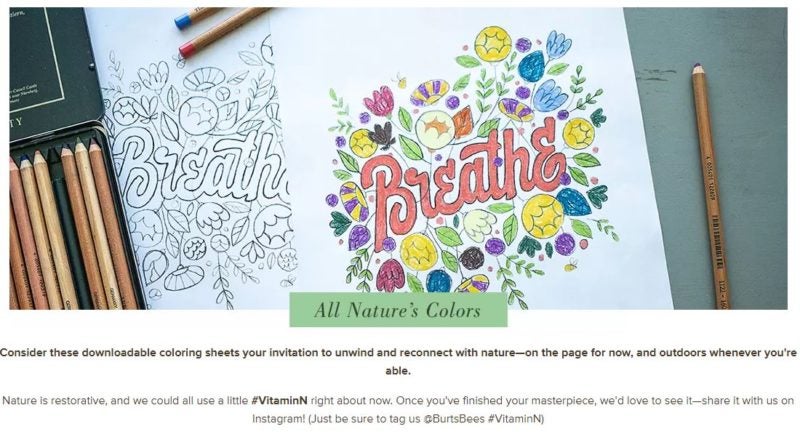 Clorox Sci-Ed & Eco-Warriors launch online At-Home Activities for all employees
Clorox SciEd has been designing weekly at-home demos to engage Clorox kids during the shelter-in place. To celebrate Earth Day, Clorox SciEd partnered with Clorox EcoWarriors to design an online program for Clorox kids to learn about the three tenets of sustainable waste management: Reduce, Reuse and Recycle. One demo taught kids how to gather food scraps to make dyes and to use those dyes to make rainbow spaghetti. These efforts engaged the next generation on topics of sustainability that directly align with Clorox's IGNITE environmental, social and governance (ESG) goals to reduce plastic and other waste.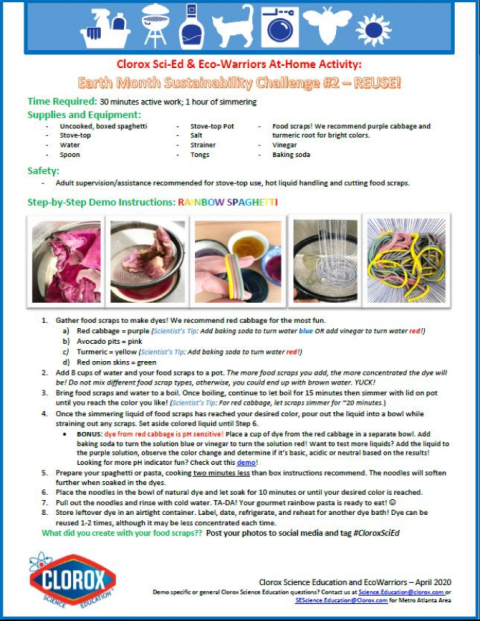 Alpharetta, Georgia
In lieu of an Earth Day event, the team in Alpharetta, Georgia, launched #EarthDayAtHome. Each day of the week, the 300+ Alpharetta employees received an email with suggested #EarthDayAtHome activities to remind employees of the site's eco initiatives and Clorox's sustainability goals and priorities. Activities included a DIY toolkit for a nature walk scavenger hunt that families could set up in their own backyards, coloring pages of eco-themed content and tips for fun crafts with recycled products from around the house, such as how to turn a milk or juice carton into a homemade bird-feeder.