Clorox Celebrates Black History Month
By Shaunte Mears Watkins, Director of Marketing and ABLE Co-Lead
Sometimes, a picture is worth a thousand words.
That's why ABLE, Clorox's African American employee resource group, turned to an installation art project to commemorate Black History Month this February.
Almost all U.S. Clorox locations are currently displaying a "Clorox Celebrates Inclusion" poster, a multicolored graphic with six large pieces. Each week between January 23 and March 3, we're filling in one of those pieces with a brief bio of an African American leader and a trait that person embodies — traits that support our Clorox values.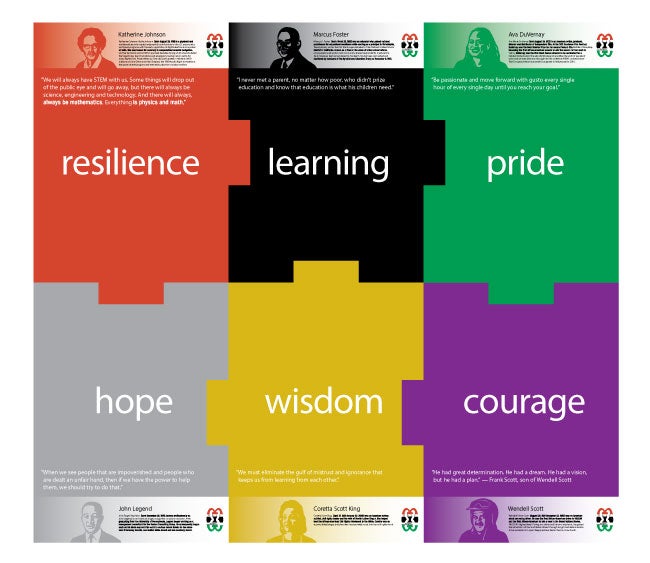 Why are we taking this visual approach?
We all lead busy lives, so we wanted to create a breakthrough piece that multiple locations could activate simultaneously, something that would get employees talking throughout the month as each puzzle piece was unveiled.
People have been sending me photos of the campaign from across the country. It's so encouraging to see us all rallying to put the same puzzle together — both literally and figuratively.
Pushing beyond diversity
Over the past 10 years that we've had employee resource groups (ERGs) at Clorox, we've made excellent strides in terms of increasing diversity at all levels of the organization. We are proud of that.
I remember sitting in the first ERG meetings in 2006, and it's remarkable to see how representation has grown across the company. 
However, representation is only part of the solution. We know we all must work together to create and maintain a culture of inclusion.
When my ABLE co-chair Germaine Hunter and I assumed our roles in January 2016, one of our explicit goals for ABLE was to make sure that inclusion took center stage.
We had the seed of this idea when we started the planning effort for Black History Month 2017, but it was the partnership of the Clorox Creative Services team that really made it come to life. Their excitement for the project transformed the idea into an execution we can all be proud of.
Come join the conversation
Over the course of six weeks, all Clorox employees and visitors to our sites can learn about some great Americans and their contributions to society. By the end of the campaign, the puzzle will also communicate a bigger message about our company's commitment to inclusion and diversity.
This is just one way we, the leaders of ABLE, are working to build community and make our employee resource group even more vibrant and relevant to employees.
We know inclusive environments drive better business results. That's why Clorox has a profound commitment to inclusive diversity in all its forms.
This art project is just one way our employees are celebrating the contributions of African Americans this Black History Month,  helping us build an even stronger sense of community and inclusion inside Clorox.