By Jim Cobelli, Group Manager – Clorox Procurement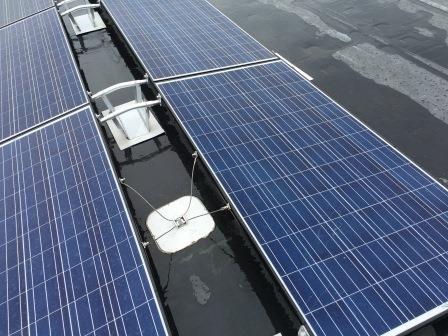 I'm proud that Clorox has a strategic commitment to environmental sustainability. Better still, so many of our eco wins have driven cost savings or business growth. That's why it's so exciting that we're again achieving business results while conserving resources through a new initiative in the renewable energy space.
Clorox is working with SolarCity, America's No. 1 solar energy provider, to complete solar photovoltaic projects at three Clorox sites in the U.S.:  our regional distribution center in Aberdeen, Maryland, our manufacturing plant in Aberdeen, and our manufacturing plant in Fairfield, California.
These three Clorox projects combined total nearly 5 megawatts of solar power generation capacity. To put that environmental impact into perspective, that's equivalent to avoiding over 10 million pounds of carbon dioxide production in the projects' first year alone — sufficient to provide power to the equivalent of more than 500 average U.S. homes each year. And these solar systems could be in place for 30 years or more.
For the lifetime of these solar power systems, SolarCity will be handling their installation, operation and maintenance. Clorox, in turn, simply buys the clean solar power produced from the systems at a rate lower than current utility costs for a specified period of time. We expect these will lower our electricity costs while allowing everyone to reap the environmental benefits of solar power.
The first solar project will be at the Aberdeen distribution center, expected to come online in early August. The two projects at our plants are expected to be operational later this year.
These projects are a great start for Clorox to enter the renewable energy space. They allow us to demonstrate and realize our corporate commitment to the planet.