Burt's Bees Releases 2018 Progress Update on 2020 Sustainability Goals
By Lauren Newton, responsible sourcing analyst – Burt's Bees

On October 4, the Burt's Bees brand released its second 2020 Sustainability Goals Update, available in full at burtsbees.com/sustainability.  
Burt's Bees is a purpose-driven brand rooted in the values of its founders. Burt's Bees employees strive to safeguard the planet and the livelihoods of its people through our work. As our business grows and innovates, we remain steadfast in our pursuit of holistic, ambitious sustainability goals.
"Just as ecosystems in the natural world are constantly cycling and exchanging resources, we see our role as a productive and responsible member of a much larger network," says Burt's Bees General Manager, Matt Gregory.
Progress in fiscal year 2018
Following the first progress update in 2016, Burt's Bees' 2018 update focuses on progress in 11 goal areas outlined when the brand's 2020 Sustainability goals were set in 2012.
| | | |
| --- | --- | --- |
| What We Make | How We Operate | How We Give Back |
| Responsible Sourcing | Waste | Philanthropy |
| Sustainable Packaging | Water | Global Supply Chain Investments |
| Natural Formulations | Energy | Outreach |
| | Carbon Neutrality | |
| | Contract Manufacturing | |
In each goal area, a dial score graphic rates our performance from red to green through fiscal year 2018. The transparency-focused report shares not only success stories, but also honest assessments of goal areas where progress has been slower than anticipated. Positive goal area results include:
Maintaining our status as a CarbonNeutral certified company
Driving traceability in our supply chain through 69 raw material site visits with our suppliers
Trending above our 2020 goal for post-consumer recycled content in packaging
Integrating contract manufacturers into our responsible sourcing programs
In terms of goal areas with more work to be done, Burt's Bees' water footprint has trended red, and progress to cut waste has trended yellow – both impacted by continued business growth and operational changes.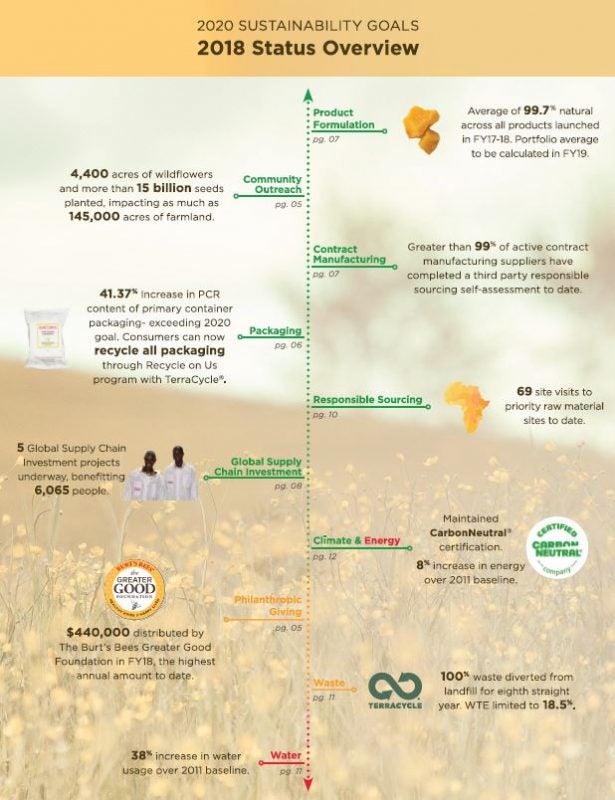 What's new
Burt's Bees believes sustainability is not sustainable unless everyone does his or her part. The 2018 report includes stories about the brand's culture of sustainability, including a spotlight on our Natural Launchpad Program as well as an overview of employee service activities.
Moreover, Burt's Bees  provided the first detailed update on our Global Supply Chain Investment goal to invest financially and in-kind in 10 communities globally that supply the brand's ingredients. With five projects underway, efforts have already benefited 6,065 people. 
Finally, Paula Alexander, Director of Sustainable Business and Innovation, delivers closing insight regarding the future direction of Burt's Bees' sustainability efforts.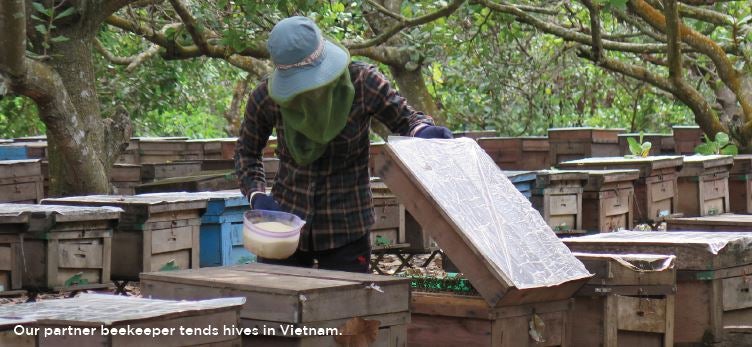 Crossing the finish line
We've made meaningful progress against our 2020 goals, but challenges which will require focused attention remain. As in the natural world, Burt's Bees' true power lies in resilience as we strive to do more and to be better.
Please visit Burt's Bees' 2020 Sustainability Goals: 2018 Progress Update for more information and share feedback.