Burt's Bees Brand Launches its First Waste-free Product
Burt's Bees fans know the brand is committed to sustainability across its product lifecycles.
100% of Burt's Bees® packaging is recyclable either curbside or through TerraCycle, and the brand uses an average of 50% recycled materials across its packaging. Now, Burt's Bees is deepening its commitment to a circular economy with reusable packaging and waste-free delivery through Loop.
Burt's Bees  launched its first waste-free product in partnership with Loop and Ulta Beauty, in a new, online shop dedicated to reducing single-use beauty packaging. Burt's Bees Truly Glowing Gel Cleanser comes in a reusable glass bottle with waste-free delivery and return.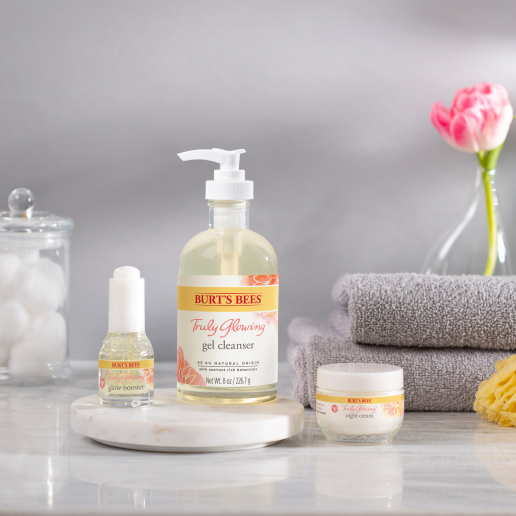 How does Loop work?
Consumers find the product on LoopbyUlta.com and Loopstore.com.
There, they put down a $2 refundable deposit for the glass bottle.
The product is shipped to consumers' homes in reusable totes, which are shipped back with empty packaging once people use up the cleanser.
Bottles are washed and sanitized and made available to fill again. Pumps are recycled through TerraCycle, Loop's parent company, which specializes in recycling hard-to-recycle packaging, until a reusable pump is developed.
Participation in the Loop program is just the latest step in our longstanding commitment to sustainable innovation. Another recent example is Rescue Lip Balm, packaged in a new, hybrid tube featuring bioresin from upcycled potatoes and post-consumer recycled content.
These products and programs reflect our ambition to continue to lead on sustainable packaging and foster a circular economy, as outlined in Burt's Bees' 2020 Impact Report. Our 2025 vision includes commitments to reach Net Zero Plastic to Nature, reduce use of virgin plastic and fiber by 33%, and for all packaging to be recyclable, reusable or compostable.
To improve recycling rates outside of our value chain, we're joining forces with The Recycling Partnership to fund infrastructure improvements in U.S. municipal recycling systems. In addition, Burt's Bees will invest in plastic waste collection and recycling credits that would lead to recovery and recycling of at least as much plastic as our own plastic footprint. Measurement and accounting methodology will align with the recently launched Plastic Waste Reduction Standard, which enables robust accounting, verification and reporting on the impact of projects that increase plastic waste collection and/or recycling.
Burt's Bees joins other products from The Clorox Company that have been offered via Loop: Clorox® disinfecting wipes, Hidden Valley® Ranch salad dressing and Glad® sandwich bags. Our parent company's participation in the program is one more way it's working toward its own packaging sustainability goals announced in October 2019.