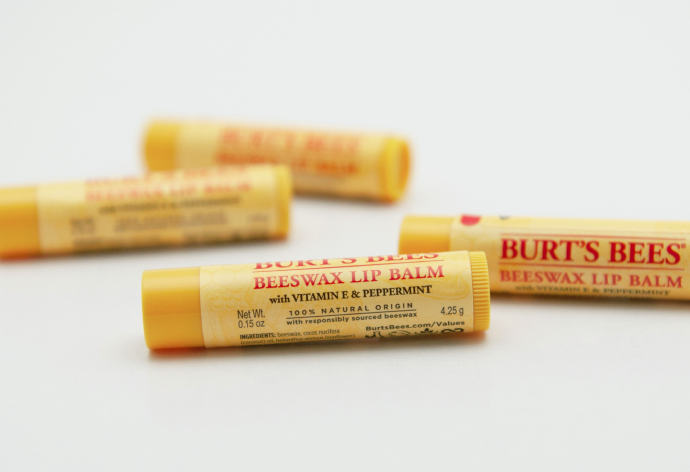 Burt's Bees has always set a high bar when it comes to natural ingredients. Now, it's helping to raise the bar industry-wide by supporting the Personal Care Products Safety Act.
This landmark bill will strengthen consumer protections in personal care and cosmetic products, including a requirement for the U.S. Food and Drug Administration to define "natural."
Global guidelines for natural cosmetic products
Burt's Bees has been on a mission for over 30 years to develop effective and accessible natural skin care and beauty products. Over that time, the brand's made it a priority to clearly state on its product labels the percentage of ingredients derived from nature.
That's not common practice, even within the natural skin care category. With consumers' growing preference for natural products, they would greatly benefit from common global definitions for natural ingredients and products.
Given its decades-long advocacy for clear standards around the term "natural," the Burt's Bees team jumped in to advance the development of the first international, consensus-based guidelines for natural and organic cosmetic products: International Organization for Standardization (ISO) 16128 – Guidelines on Technical Definitions and Criteria for Natural and Organic Cosmetic Ingredients and Products. (Check out the infographic below to learn more.)
The Burt's Bees team participated in ISO's consensus-based standards development process alongside industry experts, academics, regulators, ingredient manufacturers and NGOs from around the world.  
"Burt's Bees has long advocated for clear standards and definitions of natural, so we're excited to see the bill require that FDA define 'natural' in cosmetics law," said Matt Gregory, vice president & general manager – Burt's Bees. "This will help build trust and transparency in this fast-growing segment of the personal care category. It also supports our broader corporate commitment to ingredient transparency."
We expect ISO 16128 to provide uniform criteria for the natural skin care industry just as ISO standards have done for other industries. Burt's Bees is applying ISO 16128 across its cosmetic products to guide how it calculates natural origin percentage.
Currently, Burt's Bees products are, on average, 99.6% natural origin. 
Promoting ingredient transparency
Developing clear standards for natural beauty products and ingredients is a significant achievement in the area of ingredient transparency — a priority for many consumers and part of the Clorox IGNITE strategy.
As part of IGNITE, Clorox is committed to driving ingredient transparency by increasing our use of SmartLabel to provide information on ingredients and other consumer-relevant topics. Because we know some consumers also care about what's NOT in their products, in December 2020 we published our restricted substances list for our U.S. retail cleaning products. We plan to develop and share restricted substance lists for additional product categories.
Read more about other IGNITE goals to advance social and environmental sustainability here.  
How ISO 16128 works
We know ISO 16128 is a bit technical, so here's a breakdown to help you understand percent natural origin.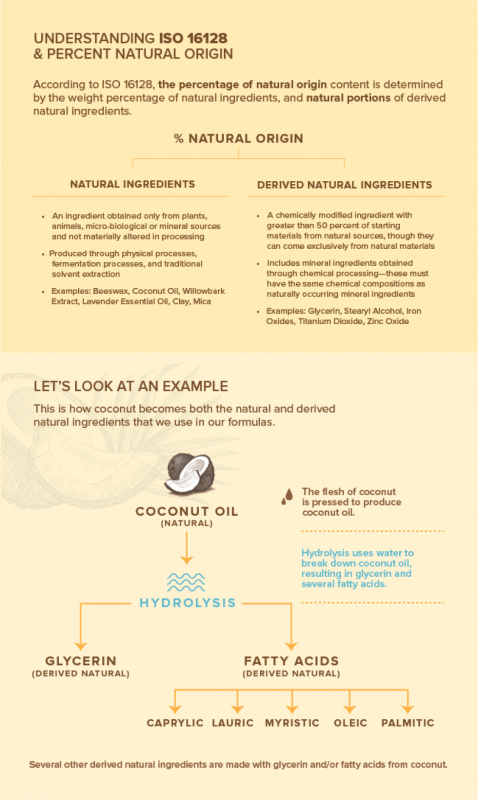 About Burt's Bees | Burt's Bees® is a dermatologist approved natural skincare brand, offering clean and consciously-crafted Lip Balm, Skincare, Makeup and more — designed to work with skin and uplift the spirit. Formulas are over 95% Natural Origin and Leaping Bunny Certified, with responsible sourcing and recyclable packaging. Founders, Burt and Roxanne, helped pioneer the natural beauty movement back in 1984 and it's their passion for nature as a remedy for people that drives how we work every day.
About International Organization for Standardization (ISO) |  ISO is an independent, non-governmental international organization with a membership of 161 national standards bodies. Through its members, it brings together experts across sectors to share knowledge and develop voluntary, consensus-based, market-relevant International Standards that support innovation and provide solutions to global challenges. ISO has published over 20,000 international standards covering almost every industry, from technology to food safety. They provide world-class specifications for products, services, and systems, to ensure quality, safety and efficiency and are instrumental in facilitating international trade.