Another goal in Clorox's (eco-friendly) bag
By Alexis Limberakis, Senior Director, Corporate Responsibility and Sustainability
Part of my role is leading Clorox's Eco Team, which drives our company's environmental sustainability strategy. I've been involved in our sustainability journey since shortly after we established our first eco strategy in 2008. And I am more energized than ever. I feel like we're at an exciting tipping point toward greater sustainability, fueled by a world that needs more from us and inspired by bolder mindsets and more innovative thinking to help us get there. 
Of course this is not a solo journey. It's one that increasingly relies on the contributions of so many of our 8,700 great employees and strong support from our leaders. 
The good news is we're on track to meet or beat nearly every one of the eco goals we've established since the start of our journey. And today, I'm excited to announce we have achieved yet another important milestone: our goal to make sustainability improvements to 50 percent our portfolio by 2020, since our 2011 baseline year.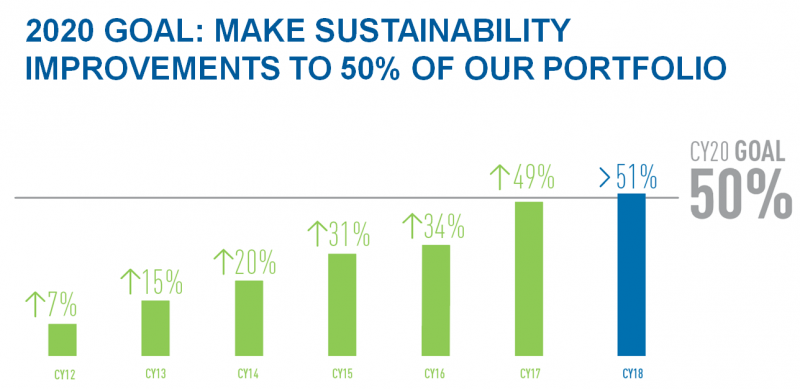 And we're not done yet. Once we've assured the entire 2018 calendar year, we may come in well over 50 percent, two years early.  
Here are some ways we accomplished this goal while also enhancing products for our consumers: 
Beginning with bleach 
We got off to a great start in 2012, when we launched Clorox® concentrated bleach. It's fitting that our journey began with our flagship product. By reducing the amount of water in our formula, we also were able to reduce our plastic packaging, corrugated cartons and transportation footprints while delivering an easier-to-handle product with improved whitening.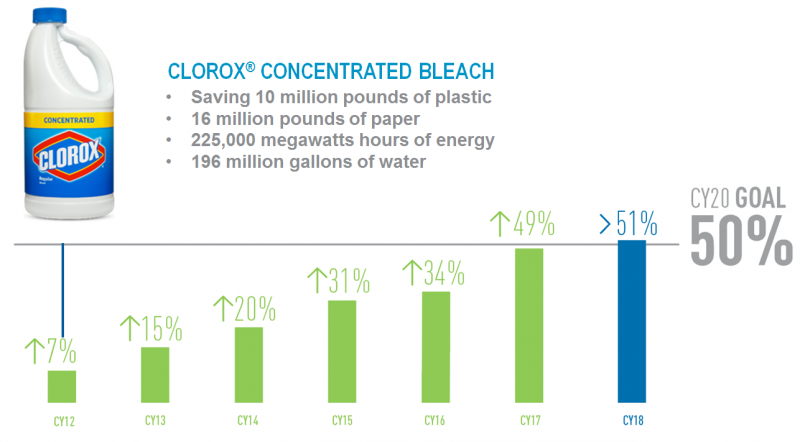 In 2015 we launched a redesigned Kingsford® charcoal briquet with air pockets that enabled us to reduce materials by 7 percent. With a lighter weight product, we could load more charcoal onto trucks, driving transportation efficiencies. Our consumers also benefited with a faster lighting briquet.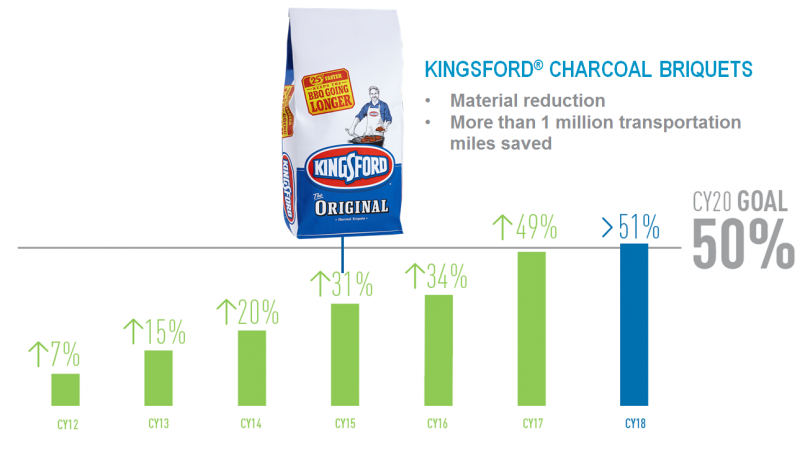 In 2017, we invested in our Glad brand's manufacturing process and equipment to reduce resin in Glad® ForceFlex® Plus™ trash bags. The result? A new, patent-protected product offering greater value to consumers.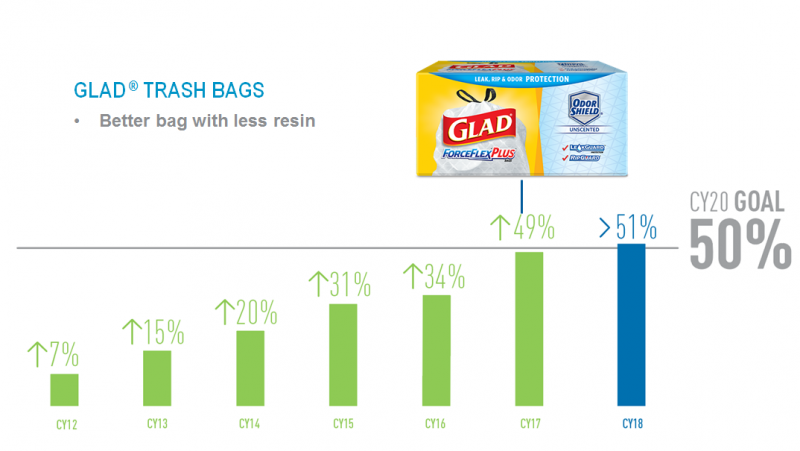 To propel us past the 50 percent mark, we completed a Hidden Valley® Ranch brand packaging redesign last year. This reduced plastic in the bottles while also improving the design by replacing the screw-on cap with a flip-cap lid that's easier to open and close. Another win for our consumers.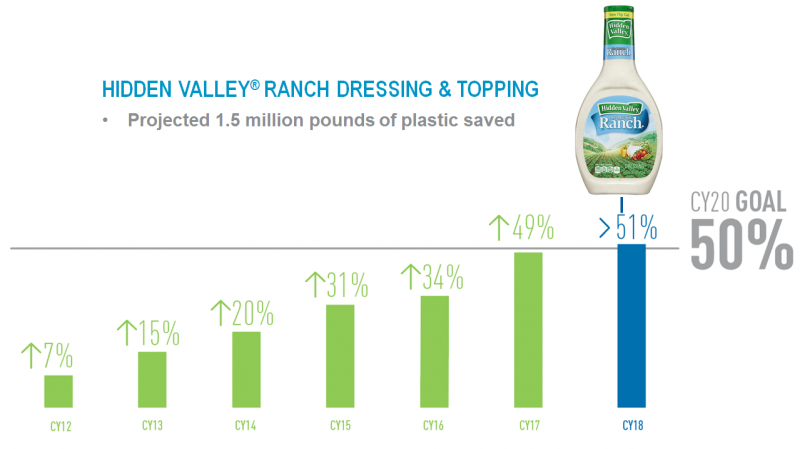 All in all, we launched 45 innovations across 16 brands between 2012 and 2018, an achievement that makes me so proud. This progress toward greater sustainability also supports our commitment to Good Growth — growth that's profitable, sustainable and responsible.