Our Approach to Sustainability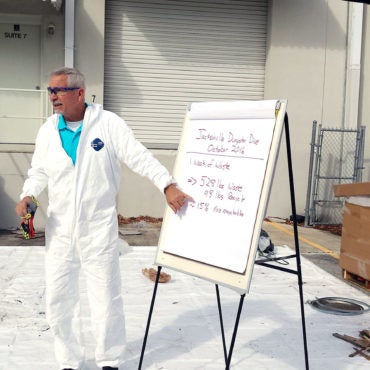 Clorox's eco governance starts at the top, with oversight of our environmental goals from our board and senior management team, and extends down to the grass-roots level, where passionate employees volunteer to help advance our sustainability progress. Day-to-day operations are managed by a cross-functional team responsible for our 2020 eco goals, which are part of our corporate responsibility strategy. Our overall corporate strategy includes both business and corporate responsibility priorities.
Clorox Eco Strategy
Mission
Be an eco leader within the CPG industry and among consumers.
Objective
Make eco core to how we do business to:
Enable Clorox's profitable growth.
Enhance Clorox's corporate reputation.
Build employee pride.
2020 Strategies, Priorities and Measures
There are eco elements within three of our four corporate responsibility strategies:
Promote diversity, opportunity and respectful treatment for all people who touch our business.
Priorities: Drive acceptance of Clorox Business Partner Code of Conduct.
Key Measures: Supplier acceptance of Clorox Business Partner Code of Conduct.
Make responsible products responsibly.
Priorities: Drive sustainability improvements in product formulations and packaging and ensure key renewable materials are responsibly sourced.
Key Measures:
Make sustainability improvements to 50 percent of product portfolio (vs. 2011).
Have more than 90 percent of primary packaging recyclable.
Include recycling instructions on all U.S. packaging.
Eliminate PVC (polyvinyl chloride) in packaging and APE (alkyl phenol ethoxylate) in retail products.
Shrink our environmental footprint while we grow.
Priorities: Reduce the environmental impact of our operations and improve the sustainability of our upstream supply chain.
Key Measures:
Reduce GHG emissions, energy, water and solid waste to landfill by 20 percent (vs. 2011).
Assess top 100 suppliers (about 70 percent spend) through eco scorecard as part of effort to reduce their environmental impact.
Achieve 10 zero waste-to-landfill sites.
All palm oil traceable and meeting responsible sourcing commitments.
Use only recycled or certified virgin fiber (from sustainably managed forests) in packaging.
Organization
Along the way, we seek opportunities to educate all 8,100-plus employees about the importance of working in a more sustainable way.
Clorox Board of Directors' Nominating, Governance and Corporate Responsibility Committee
The Nominating, Governance and Corporate Responsibility Committee oversees Clorox's environmental matters and compliance and is updated at least annually on corporate responsibility-related priorities.
Clorox Executive Committee
The Executive Committee is responsible for executing our business strategy, which includes driving environmental sustainability. Executive compensation is also driven, in part, by delivering on key environmental sustainability goals and other corporate responsibility measures.
Eco Team Liaison: Senior Vice President – Chief Product Supply Officer
Corporate Responsibility Team
Environmental priorities are integrated into Clorox's 2020 Corporate Responsibility Strategy.
Team leader: Vice President – Global Corporate Communications and Corporate Responsibility
Clorox Eco Team
The Eco Team is responsible for defining, driving and tracking progress against Clorox's environmental sustainability strategy. This cross-functional team leads eco initiatives that focus on operations and workplace, products and packaging, and the upstream supply chain.
Team leader: Senior Director – Environmental Sustainability
Environmental Compliance
Clorox Environmental Compliance Team owns compliance of Clorox operations.
Product regulatory team owns environmental compliance of Clorox's products and packaging.
Manufacturing plant environmental coordinators own local compliance activities.
Operational and Supply Chain Footprint
Clorox Product Supply Leadership Team owns the eco impact of Clorox operations.
Clorox plant managers own plant-specific Eco Scorecard performance.
The Global Strategic Sourcing group within Product Supply owns sustainability commitments specific to our upstream supply chain.
Product/Package Sustainability
Business unit general managers and their teams own the eco impact of Clorox's product portfolio.
R&D product/packaging team executes eco improvements.
Eco Network
Clorox has a volunteer team of passionate employees called the Eco Network, which aims to create a forum for new ideas and help to execute sustainable workplace initiatives.
Our Workforce
Employees are encouraged to participate in Clorox's sustainability journey and apply an environmental sustainability lens to everyday decision-making and planning processes.
We've engaged employees to assist with operational improvements to reduce our footprint. Some of our initiatives include:
Installing more efficient lighting.
Adopting teleconferencing technology to help reduce business travel.
Cutting down on office paper use.
Conducting officewide competitions to minimize waste sent to landfill.
Although we're involved in activities year-round, Earth Day has served as an important focal point for events at our facilities around the world, often led by our Eco Network. Some of the activities include:
Facility dumpster dives
Recycling launches
Eco education programs
Eco pledges
Site beautification efforts
Community outreach
These corporate responsibility activities and more are highlighted within our internal and external communications channels, reinforcing the message that sustainability is core to how we do business every day.
We also make it easier for employees to apply the sustainability lens to their personal lives:
Commuter programs allow the use of pre-tax dollars for public transportation or carpooling, helping reduce their travel footprint.
Pledge drives encourage them to reduce their personal water, waste and energy footprints at home.