Our Approach to Environmental Sustainability Governance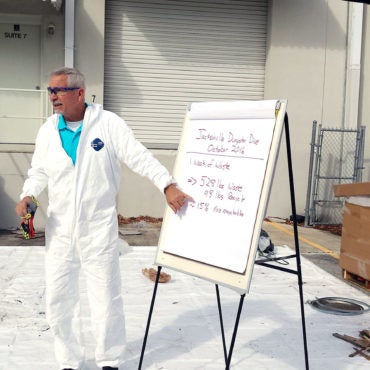 Clorox's sustainability governance starts at the top, with oversight of our environmental goals from our board and senior management team, and extends down to the grass-roots level, where sustainability is embedded into our employee's day to day operations.
Our sustainability progress is overseen and enabled by a cross-functional Sustainability Center, led by our Chief Sustainability Officer, and driven by our business units who share responsibility for our IGNITE planet goals, which are part of our integrated IGNITE strategy.
This strategy includes both business and corporate responsibility priorities. Our sustainability efforts extend beyond our IGNITE planet goals, driving a broader environmental and social agenda into our brands and organization and across the full life-cycle of each business. This puts the ownership of defining and achieving a strategic sustainability plan into the hands of each business unit leadership team to contribute to and extend beyond the corporate IGNITE environmental, social and governance (ESG) goals.
Clorox Sustainability Vision
Ambition
Be a leader in environmental sustainability, with a focus on plastic and other waste reduction and science-based climate action.
Objective
To enable every Clorox business to be a sustainable business. A sustainable business is a thriving business that delivers strong economic, environmental and social net positive benefits in a changing world.
Goals
Establish Clorox as the pace-setter in building sustainable brands through leadership in:
Business Transformation
Material Reduction
Climate Stewardship
Deliver IGNITE ESG Planet Goals
Plastic and Other Waste
50% combined reduction in virgin plastic and fiber packaging by 2030
100% recyclable, reusable or compostable packaging by 2025
Double plastic PCR in packaging by 2030 (+50% by 2025)
100% global facilities zero-waste-to-landfill by 2030 (plants by 2025)*
Climate Stewardship
Set and achieve science-based targets to reduce greenhouse gas (GHG) emissions in our operations (scope 1 and 2) and across our value chain (scope 3)†
100% renewable electricity in the U.S. and Canada in 2021
* Where infrastructure allows
† Will set science-based targets (SBTs) for GHG emissions in coordination with and to be approved by the SBT initiative by October 2021
Maintain and Enhance Ongoing Environmental Commitments:
Water Stewardship
Drive continued water efficiency improvements as we advance a more localized approach to water stewardship
Deforestation
Source palm oil ingredients responsibly, driving sustainable change in the industry and within our palm oil derivative supply chains
Use only recycled or certified virgin fiber (from sustainably managed forests) in packaging
Organization
Clorox Board of Directors' Nominating, Governance and Executive Committee
The Nominating, Governance and Executive Committee oversees Clorox's environmental matters and compliance and is updated at least annually quarterly on ESG-related priorities.
Clorox Executive Committee
The Executive Committee is responsible for overseeing the execution of our business strategy, which includes driving ESG priorities. Clorox continues to be committed to strong governance and ESG performance and is working to tie elements of ESG goals to executive compensation awards.
ESG Executive Sponsor: Executive Vice President – General Counsel and Corporate Affairs
Sustainability Executive Sponsor: Executive Vice President – Chief Growth Officer
The Sustainability Center
The Sustainability Center is responsible for defining, driving and tracking progress against Clorox's sustainability strategy. This cross-functional team serves as an enabling organization, building capability and supporting business units and functions in delivering both corporate planet goals and business unit sustainability goals.
Team Leader: Chief Sustainability Officer
Business Unit Leadership Teams
Each business unit leadership team is responsible for defining and achieving a strategic sustainability plan for its portfolio of brands that will help deliver corporate IGNITE ESG goals and advance its brands towards becoming a sustainable business. Each business unit leadership team designates a sustainability champion to lead its sustainability agenda. 
Team Leaders: VP – General Managers
Environmental Compliance
Clorox Environmental Compliance Team owns compliance of Clorox operations, including the Environmental Management System (EMS) 
Product regulatory team owns environmental compliance of Clorox's products and packaging
Manufacturing plant environmental coordinators own local compliance activities, including implementing compliance programs and executing tasks related to the EMS
Plant Managers are responsible for helping ensure overall compliance at their sites
Operational and Supply Chain Footprint
Clorox Product Supply Leadership Team owns the environmental impact of Clorox operations
The Global Strategic Sourcing group within Product Supply owns sustainability commitments specific to our upstream supply chain
Product/Package Sustainability
Business unit general managers and their teams own the environmental impact of Clorox's product portfolio
R&D product/packaging team executes environmental improvements
Eco Warriors
Clorox has a volunteer team of passionate employees called the Eco Warriors, which aim to create a forum for new ideas, help execute sustainable workplace initiatives and raise employee awareness of the importance of sustainability. Our Eco Warriors have played an especially important role in making progress against our zero-waste-to-landfill goals and will be increasingly called upon to help us drive our bold sustainability aspirations.