Proud to Have LGBT Allies
By Jonathan Weisman, Scientist – R&D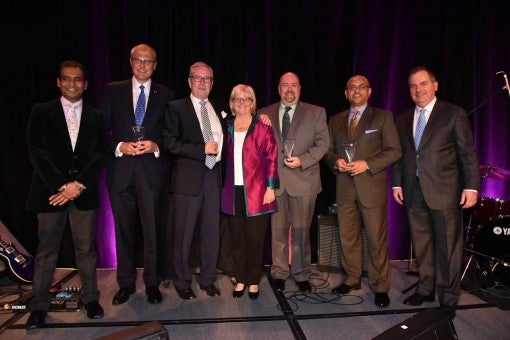 One thing we can learn from LGBT advocates throughout history is that the work of making progress for inclusion of all people continues every day. Here at The Clorox Company, we are privileged to work among leaders who truly embrace that spirit.
Last week, Erby Foster, director of diversity & inclusion, was recognized at Out & Equal's 2016 Momentum Gala Dinner as an "Outstanding Ally" of the LGBT community; he's pictured second from the right in this picture from the event. I, along with members of our Clorox PRIDE LGBT employee resource group (ERG), was proud to see Erby recognized for consistently creating a culture of inclusion for all Clorox employees and giving a strong voice to the LGBT community. Erby helps guide all of Clorox's ERGs — from our women, Asian and African American ERGs to Clorox PRIDE.
As a leader of Clorox PRIDE, I can attest to the strong value that Erby and all our LGBT allies bring to the workplace. These allies are individuals who have a deep-rooted belief in equality and diversity; they exemplify Clorox values every day by working to make our offices and facilities all around the globe inclusive and respectful. Knowing LGBT employees have the support of co-workers and friends enables us to be our whole selves at work. We are incredibly fortunate to have the support of all our LGBT allies at Clorox, including Erby.
This past year, The Clorox Company participated in its first ever LGBT pride celebration by marching in the Oakland Pride Parade. As an out LGBT professional at Clorox, nothing made me more proud than when my closest co-workers marched next to me as friends and also as allies. This demonstrated their commitment not only to me but also to all LGBT individuals. Walking through downtown Oakland past the Clorox building through cheering crowds was definitely one of my most memorable and proud experiences at Clorox.
If I have come to understand anything during my time at Clorox, it is that Clorox values ring true every day in our offices from coast to coast. Our leaders have a strong vision of bringing to life inclusion of all people—even if it means making tough choices. Leaders like Erby recognize this and enable the company to continue to adhere to its values around diversity and inclusion, which is summed up in this statement:
Clorox values and celebrates the diversity of our employees, as well as the consumers, communities, and business partners whose lives we touch every day. We do not condone discrimination of any kind and strive to foster diversity, unity, and respect among all people. Nothing less will do.