Summer Shade Woodpile Cover Aims for Environmental Trifecta
By Mike Young, Senior Engineering Associate
One piece of fabric is helping the Kingsford plant in Summer Shade, Kentucky, score an environmental Triple Crown.
Granted, it's a pretty big piece of fabric — slightly larger than a football field and nine stories tall.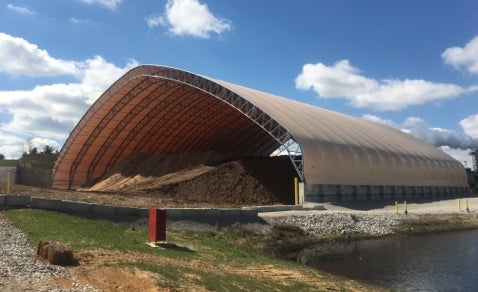 This massive fabric superstructure over the plant's woodpile storage will minimize the pile's exposure to natural elements — sun, wind and rain. This should reduce energy use, help us reuse water and minimize potential emissions.
This is the latest pilot by one of our Kingsford plants to try something innovative in the race to protect our environment and conserve natural resources.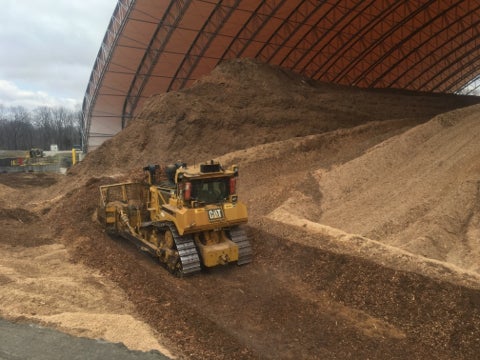 The Summer Shade plant uses wood to produce char, a key ingredient for manufacturing charcoal briquets.
This new cover will help keep that wood dry when it rains. That means we'll use less natural gas drying the wood before we char it.
It uses significant energy to heat and dry wet wood in our large, rotary dryer. And the higher the water content, the more energy required to remove it.
So we're investing to keep the wood dry in the first place. This will reduce energy use and save fuel and operating costs while improving charring efficiency. We project this one giant tent could reduce the Summer Shade plant's annual energy consumption by 10 percent.
The cover also allows us to collect clean rain water, which we can reuse for multiple purposes in the plant or discharge without environmental impact.
Partially enclosing the woodpile and providing protection from wind also allows us essentially to halve the particulate matter (like dust) we release. Preventing these wood particles from becoming airborne improves air quality and keeps the entire facility cleaner.  
The new woodpile storage cover gives the Summer Shade plant a winning ticket to help improve the environment and provide continuous sustainability for years to come.
And if it proves to be successful, odds are our other Kingsford facilities will adopt similar innovation.