Riding with Troy Datcher: the Clorox VP shares 3 career lessons
By Avish Sood, Associate Marketing Manager – Clorox Canada
Troy Datcher, vice president of Sales Planning and Sports Marketing, has twice been named one of the 100 Most Influential Blacks in Corporate America by Savoy magazine. He's also been named to Ebony's Power 100 list — alongside the likes of Drake, Lester Holt and Sen. Kamala Harris.
Inside Clorox, Troy's well known for his support of Inclusion & Diversity, serving as an honorary executive sponsor of ABLE, the African-American Employee Resource Group.
But given my own interest in corporate sponsorship, it's his leadership of sports marketing at Clorox that made me seek him out on a recent trip to our company's Oakland, California, headquarters.
There, I asked Troy the secrets to his career success, what drives him to be better and how to recognize a sponsorship opportunity worth seizing.
Take the driver seat of your career
"Get in the driver seat of your career; don't stick in the passenger seat," was Troy's first piece of advice. "That means don't limit yourself to a job description. Find an area where the company could use support and take initiative."
For Troy, this meant exploring the world of sports marketing even though his Clorox day-job was in Sales planning.
As he got to know the world of sports marketing, Troy identified an opportunity to make sports marketing more effective. "Too many sports teams sell standard, one-size-fits-all packages, treating brands the same," he said. "But of course, each brand is different and needs something specific from its marketing investment."
That led Troy to leave Clorox for a while and learn sports marketing from the team side.
Another way to drive your career is to add an "and also" to your role.
In addition to sports marketing, Troy sought ways to advise Clorox on best practices around diversity.
"If you can show leadership across functions, people will notice. You'll start to build a strong reputation outside of your direct colleagues. That's important for advancement," Troy said.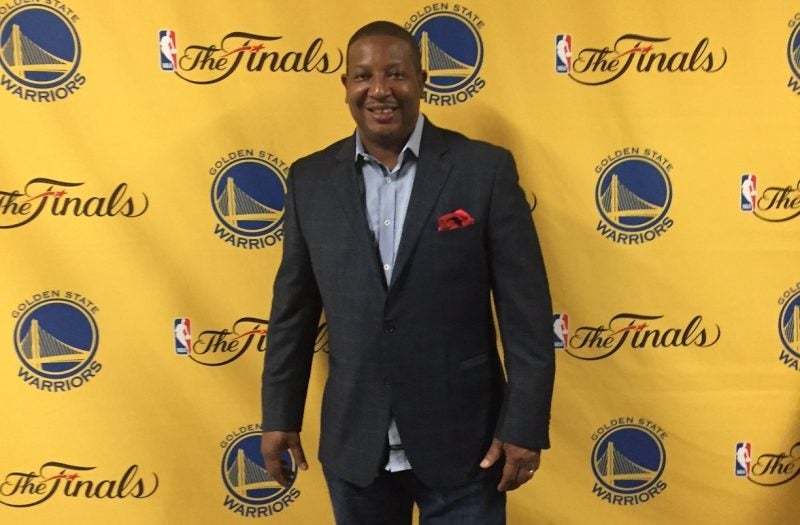 Surround yourself with diversity
The business case for diversity is obvious to Troy.
Surround yourself with friends and like-minded people and you probably know what you will hear. But find people with different abilities and experiences, and you could end up with something great.
"It's like sports. You need people with different skills to build a great team. If you had all jump shooters, you probably wouldn't win a championship. But if you have a big man who can rebound, a point guard who helps move the ball around and a few jump shooters — well, then you have a great team that can perform well," Troy said.
Inside Clorox, Troy reaffirms the company's strategic commitment to Inclusion & Diversity, striving to create an environment where people of all backgrounds can thrive.
"Race, ethnicity, gender, geography, experience   — when you get a mix of people in the room, you get a really healthy debate and stronger results," Troy noted.
Listen first, pitch last
Keen for diverse professional experiences, Troy left Clorox for three years to join the NASCAR world as sponsorship director for JTG Daugherty Racing.
"Team Owner Tad Geschickter told us to do a lot of listening instead of pitching," Troy said. "That allowed potential sponsors to tell us their business problems."
It was this approach that allowed the JTG Daugherty team to bring on Kingsford® charcoal as a sponsor. After numerous conversations with the brand, JTG Daugherty understood its problem: Kingsford was underdeveloped in the U.S. South.
JTG Daugherty tailored a sponsorship package that allowed Kingsford to build customer programs, Southern market by Southern market, to gain merchandising support with key regional retailers. As the brand grew its share of the Southern market, its needs evolved. So Kingsford used its sponsorship to tap into NASCAR tailgating culture and engage with fans in a meaningful way.
Now back on the sponsor side at Clorox, Troy continues to build sports marketing arrangements that meet both sides' strategic needs.
"At Clorox, we know what our brands need, so I often just ask a sports team for a list of assets. This isn't always an easy approach — it's not how sports properties sell things. But it has opened up opportunities that sports properties may not have known they could leverage," Troy said.
Take the branded kick-plates several National Basketball Association teams now feature below players' seats. Troy noticed that during games, many basketball players block the branded setbacks. So Troy helped sell the idea for Brita-branded kick-plates to the Sacramento Kings, creating a noticeable Brita brand presence during games. Other NBA teams have since followed suit.
Choose a career that doesn't feel like work
Troy summed up his career advice thus: "Choose a career that doesn't feel like work. If you find the work that's right for you, everything else will come. And if you are getting results, keep pushing on the things you really believe in. Take control earlier in your career, be the driver and go beyond your job description."