By Jessica Airey
It's no secret: the Internet loves cats.
From Grumpy Cat memes to hilarious home videos, our social media feeds are often full of cute feline faces and quirky antics.
Fresh Step has made it our mission to tap into that cat love. We want everyone to know that Fresh Step cares about cats and their people. And we want to help the 3 million shelter cats across the country find loving, forever homes.
To share that message of care, we recently kicked off the #CatLuv campaign to promote cat adoption and celebrate the kitties who brighten up our lives every day.
We tapped some social media celebrities to help us get the #CatLuv going.
James Goldcrown, the muralist behind the #lovewall series and its more than 1 billion Instagram posts, unveiled his newest creation: a Fresh Step #CatLuv mural painted on a wall of the Amada Foundation in Los Angeles. (This is one of one of the wonderful cat shelters we partner with through our Paw Points® loyalty program.)
At the same event, we also collaborated with social media influencers Zach King, Aaron Benitez of Aaron's Animals and their famous feline, Prince Michael.
Zach, who has amassed more than 25 million followers across Facebook and Instagram, showcased his signature "digital magic" with mind-bending tricks in an original video highlighting the loving bond between cat and man created for Fresh Step. The video is equal parts heartwarming and humorous. It features our product prominently while simultaneously encouraging adoption, aligning with our brand purpose to make the world a more welcoming place for cats and their people.
As of today, the video has been watched more than 10.5 million times. The engagement is pretty great, too, with more than 100,000 shares, comments and interactions across social.
And because an important focus of the event was cat adoption, some honored guests were the 25 adorable, adoptable cats and kittens made available to the 200 attendees, including media and influencers,  for many Instagram-worthy photo opportunities in front of James Goldcrown's mural.
Through Nov. 15, the Fresh Step brand  sponsored fee-waived cat adoptions for anyone who fell in "cat love" at first sight and gave everyone who adopted a cat a Fresh Step Cat Care Kit, including a coupon for free litter.
Additionally, we encouraged everyone to participate in the campaign by sharing their cat love via Instagram and taking part in our #CatLuv contest.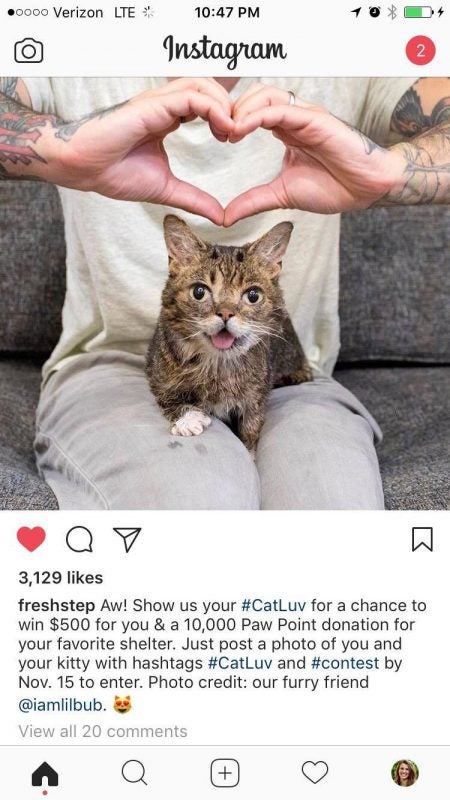 All in all, the amplified #CatLuv message has resulted in more than 65 million social impressions. Now that's something to meow about!
Give the videos a watch and visit freshstep.com/our-purpose/ to learn more about the Fresh Step #CatLuv campaign.