Meeting evolving cleaning professional needs with Clorox EcoClean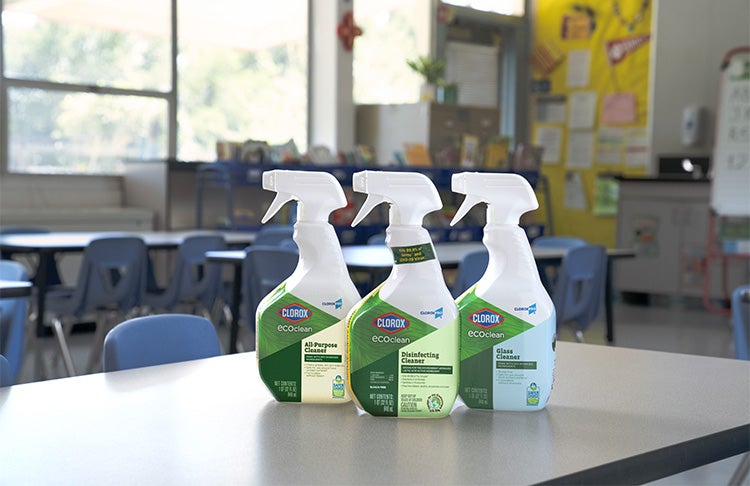 By Megan Roeth, Associate Director, CloroxPro
As expectations of cleaning professionals and building occupants evolve, the demand for more sustainable cleaners and disinfectants with no sacrifice to efficacy continues to grow. CloroxPro is rising to the occasion with the launch of Clorox EcoClean™, a new product platform anchored by an EPA-certified Design for the Environment disinfectant cleaner and EPA-certified Safer Choice cleaners. These certifications mean the products meet stringent requirements and high standards set by the U.S. EPA that ensure all ingredients have been reviewed for human health and environmental safety.1
Clorox EcoClean Disinfecting Cleaner has a plant-acid based active ingredient that kills 99.9% of common germs in two minutes or less and sanitizes hard surfaces in 15 seconds.2,3 This is the fastest contact time among other Design for Environment certified disinfectants that do not use alcohol. The Clorox EcoClean All-Purpose Cleaner and Clorox EcoClean Glass Cleaner are Safer Choice-certified and USDA Biobased certified cleaners made with 99% and 94% plant-based cleaning ingredients, respectively.
Clorox EcoClean delivers on CloroxPro's commitments to enhance the sustainability of our products and to reduce virgin plastic in our supply chain with the use of plant-based ingredient alternatives and a minimum of 25% post-recycled plastic in packaging. Using Clorox EcoClean also can help facilities and organizations meet their own sustainability goals, by meeting the requirements set forth by several third-party organizations, such as LEED certified buildings, ISSA-CIMS – Green Buildings and Healthy Green Schools and Colleges.
You can learn more about Clorox EcoClean at www.cloroxpro.com/CloroxEcoClean.