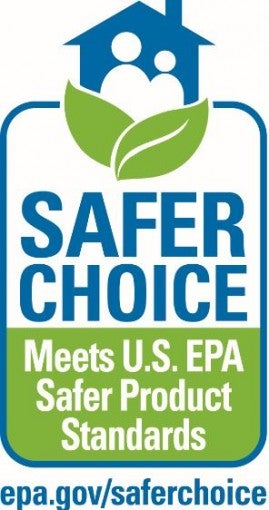 Clorox was just named a recipient of the Environmental Protection Agency Safer Choice Partner of the Year award. Below, we talk with Bill McCormick, Clorox Research Fellow – Global Stewardship R&D, about the value of third party certifications in the green cleaning space and why Clorox supports the Safer Choice program.
Tell me a bit about what you do at Clorox.
I'm a toxicologist by training; I came to Clorox in 1985 as the fifth person in the Product Safety and Regulatory Compliance group. Today we are about 60 people located around the world. I'm currently focused on external-facing Environmental Protection Agency (EPA) relationships and regulatory change initiatives. I like to improve our ability to comply with regulations. Sometimes that means changing the regulation and sometimes it's working with the EPA to change policy. I love my job.
What is the EPA Safer Choice program?
Safer Choice is a certification program run by the EPA. It started out as Design for the Environment (DfE) in the 1990s to develop greener chemical choices for product manufacturers. In the mid 2000's, the EPA began a third-party certification process that allowed the use of the DfE logo directly on products. They have set up strict criteria for qualification of chemicals that have better environmental and human health profiles than other chemicals. Last year, the EPA rebranded DfE to Safer Choice with a new logo that's easier for consumers to understand.
What's interesting about the Safer Choice program is their multi-stakeholder involvement. Not only are there formulator and manufacturer partners, but a lot of NGOs, trade associations and retailers are partners as well. Safer Choice does a great job of thinking of all stakeholders when developing policies.  As an example, this year's partner of the year awards recognized a wide range of parties, including Clorox, Environmental Defense Fund, Safeway and BASF.
Why was Design for the Environment rebranded as Safer Choice?
The rebrand happened almost a year ago to make the program more effective. After almost 20 years, DfE still had low retailer and consumer awareness. With the new name comes a new, more impactful logo manufacturers can put on their products. And while the rebrand is still new, retailers like Wegmans and Safeway are getting behind it. Between demand on the retailer side and a new logo that's much easier for consumers to understand, we think there's going to be a lot of upside opportunity.
What's the EPA's goal with Safer Choice?
The way Gina McCarthy, the head of the EPA, put it at the Safer Choice award ceremony is that the EPA wants to make it easier for consumers to buy products that are safer for humans, pets and the environment. She hopes consumer preference for Safer Choice-certified products will drive manufacturers to want to make greener choices in their formulations. And the more perceived value the seal has in the marketplace, the more manufacturers like Clorox are going to want to have it on their products.
The EPA has several certification programs; the best known is Energy Star. The idea is to have a third-party certification or recognition of some attribute that's of an environmental interest. Three I know best are Energy Star, Safer Choice (formerly DfE) and Water Sense for water usage.
Why do we care about third-party certification for our Green Works brand?
The janitorial-sanitation client is much more developed than the consumer side when it comes to "green" cleaners. There are a lot of environmentally preferred purchasing programs where states or school districts push for buying green.
Our Green Works® commercial solutions brand has a three-mark strategy to qualify for environmentally preferred purchasing programs — Safer Choice, Green Seal and USDA BioPreferred. That helps us go after three different types of customers, since each program certifies something a little different. The Green Seal is important for concentrates; our ready-to-use and concentrate products get the Safer Choice seal and the USDA BioPreferred program has huge demand in Midwestern states. So our commercial solutions lines carry all three certifications to satisfy customer demand.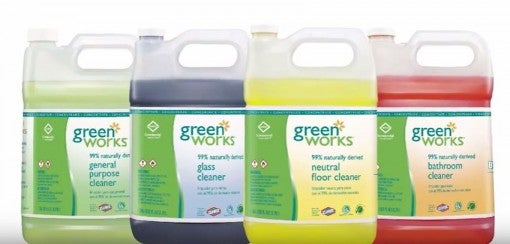 Why does Clorox support Safer Choice certification?
Safer Choice gives clarity in a space where we believe certification should exist. Last fall, I went to Target, looking for all the green marks on cleaners, and there's no unity in the space. There's a leaping bunny logo, which means not tested on animals. There were the DfE and Safer Choice logos on some products, while others seem to be making up their own marks. It would be nice if this space could land on a single, universal mark —and it would be nicer if it were Safer Choice. As it is now, "green" is a very confusing space for consumers and customers alike.
One reason we support Safer Choice at Clorox is we believe there's higher value in having a government body certify products rather than some other third party, especially since the EPA is very transparent about their certification process. Some of these other programs are just pay-to-play.
What does winning the Safer Choice Partner of the Year award mean for Clorox?
I think there's huge power in the rebranding from DfE. It's a really good, clear logo and message compared to what it used to be, and I think it will drive consumer choice when choosing safety and green. Receiving the Partner of the Year is recognition of the work we do with EPA Safer Choice Program. It's an honor to be chosen.