By Cassandra Peltz, Clorox College Program Coordinator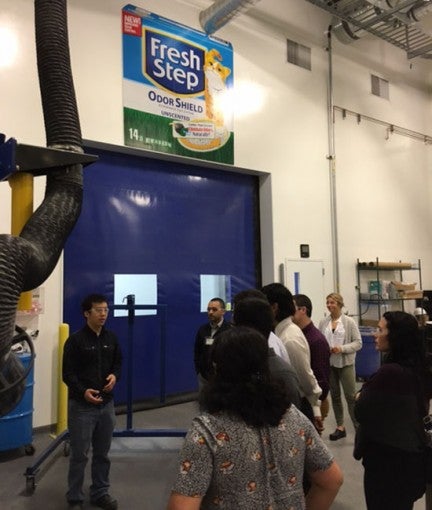 To recruit the best employees, it pays to invest in people up front — even before they join your team.
Clorox Research & Development and college recruiting recently hosted a "Day on the Job" event at our Pleasanton, California, campus for a diverse group of engineering students from UC Berkeley and UC Davis. These college students were all ages, pursuing different engineering programs and degrees. The goal was to expose them to a typical Clorox workday to get them excited and interested in pursuing a STEM (Science, Technology, Engineering, Mathematics) career — ideally here at Clorox.
The day began with a welcome from Reza Rahaman, Clorox vice president – R&D, who answered their questions about R&D in general and what to expect from the day specifically. He also shared his own career story about how he ended up in his current role.
Next, Shuman Mitra, the Advanced Measurement Scientist department manager and head of R&D recruiting, gave an in-depth presentation on Clorox strategy, values and culture, as well as how we work, the structure of our R&D function, our commitment to innovation and possible Clorox career paths.
Then things got really interesting. Students took an interactive tour of our Pilot Plant, where we test manufacturing processes and different formulas. They observed dedicated mini factories for each of our product lines, including foods, litter, coal, non-wovens (where we make Clorox® disinfecting wipes) and Brita® water filtration. At each station, Clorox employees gave students a brief demonstration. This hands-on, interactive tour allowed students to see real-world applications of topics they've been studying in the classroom.
Over lunch, a diverse panel of scientists answered questions and coached the students to achieve their career goals. Students were curious: "What does a typical work day look like?" and "If you could go back to your new-hire self, what would you do differently?" Many answers touched on the importance of internships, higher education, networking and goal-setting to achieve a successful career path.
Everyone involved took seriously the opportunity to hook and attract top engineering talent to the consumer packaged goods (CPG) rather than the technology industry.
The day concluded with reflection. Many participants said that being able to see up close the real-world application of their academic studies made them more excited to pursue an engineering career in the world of CPG, and perhaps even here at Clorox.