Clorox Joins Loop to Evolve the Circular Economy
By Shekinah Eliassen, associate director – International eCommerce
The circular economy is here, and Clorox is part of it.
What's the circular economy? It's designing and making products in a way that minimizes waste to protect the world we live in. Think reusable and refillable packaging that's also easier to recycle, all with an eye to lowering a product's carbon footprint. At Clorox, we believe in good growth that's profitable, sustainable and responsible. That means we make decisions with an eye to our bottom line, long-term trends and the environment.
That's one reason Clorox brands have joined Loop, an innovative, purpose-driven test-and-learn in the Mid-Atlantic region designed to reduce packaging waste in e-commerce.
Terracycle's Loop is a novel, e-commerce subscription platform that delivers durable refills of popular products like Clorox® disinfecting wipes and Hidden Valley® Original Ranch dressings and toppings right to people's doors.
Clorox's involvement with Loop is the evolution of my participation two years ago in the Aspen Institute First Moves Program. There, I immersed myself in what it means to a social intrapreneur and  purposeful innovator. My focus then and since has been to push Clorox to explore ways to engage in circular economic models that reduce packaging waste, better delight consumers and increase business value
Of course, it helped to find a small, dedicated group of believers and doers from across Clorox who have rallied behind and helped hone my vision to gain executive support for this pilot.
We began by securing support for Clorox disinfecting wipes. Then, with CEO Benno Dorer challenge that we expand our brand portfolio for the pilot, we pushed to include Hidden Valley ranch, too. Other Clorox brands are exploring whether Loop also makes sense for them in the current test or future markets.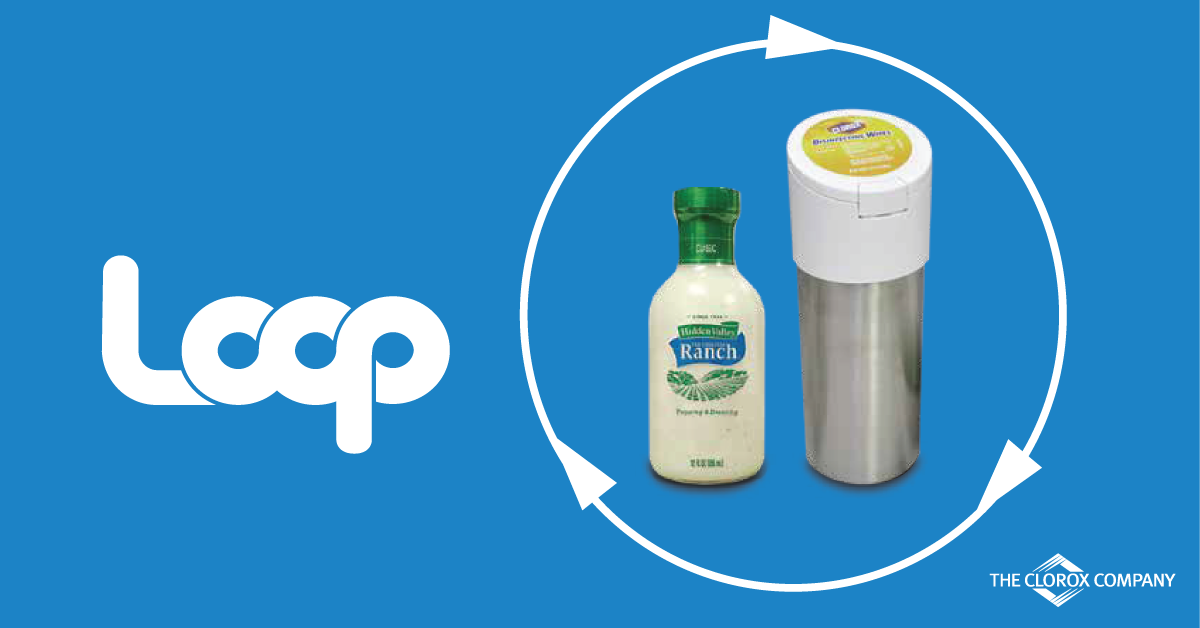 It hasn't been easy to become Loop-ready. Our brand teams had to design new, durable packaging strong enough to withstand 100 uses or refills. Our scientists rose to the challenge of developing or sourcing different solutions with the aim of reducing waste.
As a company, Clorox is committed to reducing its environmental footprint. We've already met a number of our 2020 sustainability goals, including those related to making our products more sustainable, reducing greenhouse gas emissions and minimizing our solid waste. We're thrilled to explore ways we can help move the entire consumer packaged goods industry toward more sustainable designs and business models. It's one way we can live our commitment to good growth that's profitable, sustainable and responsible.
It's incredibly exciting to be on the frontier of something that could change our industry if done well. This is just one small step toward trying to help solve the massive plastics waste crisis the world faces today. If consumers show interest in this test and in our participating brands, Loop has a vision to expand to other U.S. markets and internationally, so fill out this form to join Loop today!
So stay tuned. Our journey continues!