Honoring Fallen U.S. Soldiers on Memorial Day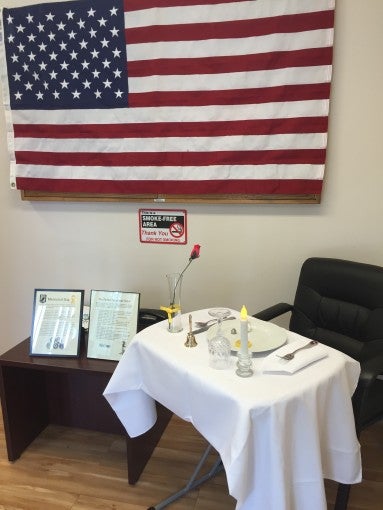 By Paul A. Escajadillo, Associate Marketing Manager – Litter
Paul Escajadillo served over seven years on active duty as an airborne-qualified non-commissioned officer in U.S. Army Special Operations Command, deploying to Ecuador and Colombia in South America and twice to Afghanistan. He's the recipient of the Combat Action Badge and two Bronze Star medals, in addition to other awards and decorations. Immediately following his military service, Paul attended Duke University's Fuqua School of Business. He joined Clorox in September 2015. Since joining Clorox, Paul has chartered and launched three new cat litter projects ranging from new sizes to new lightweight and scented Fresh Step® products. He's executive officer (XO) of Clorox's VetNet Employee Resource Group.
For many of us, Memorial Day is a holiday to enjoy time with family and friends away from work — the unofficial start to summer. We may grill with Kingsford® charcoal and KC Masterpiece® barbecue sauce or brave the crowds for the opening of a summer blockbuster movie.
But for more than 7 percent of Americans who are U.S. military veterans, Memorial Day has a more sacred meaning. Memorial Day, unlike Veterans Day, is a day to remember the men and women who died while serving in our nation's military.
This year, my Clorox colleague Ryan Beverly, a former Marine and current senior operations planner in Alpharetta, Georgia, has brought to Clorox the "fallen comrade table." It's a military tradition honoring those who lost their lives while serving in the U.S. military. In honor of this sacred tradition, 27 Clorox locations in the U.S., both plants and offices, are setting up their own fallen comrade tables.
In the military, a ceremony dictates how each remembrance table is set, and the following words are spoken as the table is laid:
"The table that stands before you is a place of honor. In setting this table, we acknowledge those missing from our celebration tonight. And we remember them.
The table is small, and set for one — symbolizing the vulnerability of a lone prisoner against his captors.
The tablecloth is white — symbolizing purity of intention in responding to the nation's call to arms.
The chair is empty, for they are not here.
The wine glass is inverted — they cannot toast with us this night.
The slices of lemon — reminding us of their bitter suffering.
The grains of salt — representing the countless tears of the families.
The single red rose — reminding us of loved ones who keep the faith awaiting their return.
The burning candle and yellow ribbon — symbolizing everlasting hope of a reunion with the missing.
Until the day they return home, or find eternal peace, we will remember."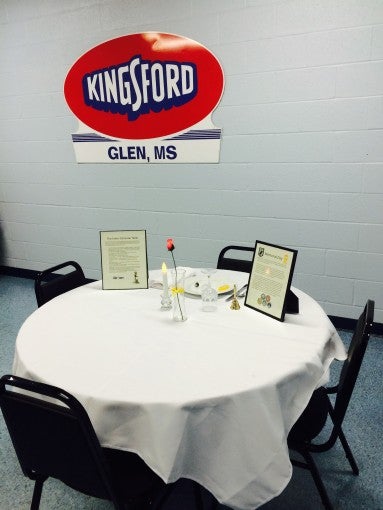 At Clorox, we established the Veterans Network (VetNet) Employee Resource Group to recruit, support and engage with veterans both within and outside of Clorox. As a company that's been repeatedly recognized for supporting workplace diversity, we value attracting, promoting and retaining military talent. We believe veterans bring highly desirable traits such as real-world leadership, integrity and an ability to overcome adversity that makes them a natural fit to thrive in our corporate culture.
VetNet helps former military personnel and their families navigate some of the complexities that exist when transitioning to a civilian workplace, and it understands the unique challenges of Reservists and members of the National Guard.
2016 marks the 150th anniversary of Memorial Day. The holiday began in 1866, when Waterloo, New York, became the first U.S. community to honor the war dead (204,070 in the U.S. Civil War alone) with a formal, well-planned, village-wide observance.
In the 150 years since, hundreds of thousands more Americans have lost their lives in conflicts such as World War I (53,513), World War II (293,121), Korea (33,739), Vietnam (47,434), Iraq (3,519) and Afghanistan (1,854), and also in lesser known conflicts like Nicaragua in 1927-1932 (47), Grenada in 1983 (10) and Kosovo in 1999 (1).
This Memorial Day, I encourage all Americans to remember those who gave their lives in the defense of their country and to consider setting up a remembrance table of their own.