Hidden Valley innovation strategy: Everything is better with ranch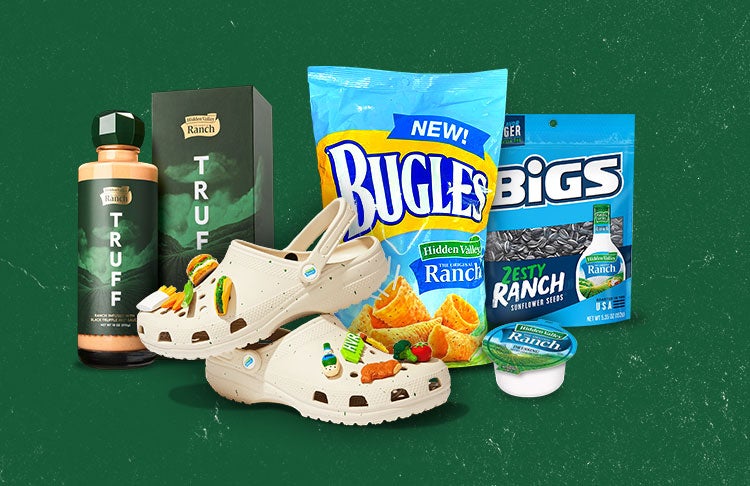 By Rachel Garrison, Associate Director of Marketing, and Vicki Haber, Brand Engagement Lead
For years Hidden Valley introduced product innovation with new flavors of salad dressings, dips and toppings.
But in recent years, we've realized that what Hidden Valley really does best is deliver ranch flavor, and that HVR fandom goes beyond salad dressing to other foods, restaurants and even clothes.
Add to that the knowledge that our multicultural millennial consumers are actively seeking new flavors and experiences and are as open to finding them on TikTok as they are in the grocery aisle, and we realized our most successful innovation strategy was an extension of our product truth: No one eats Hidden Valley Ranch alone! When you pair Hidden Valley Ranch with something else people love, then we can deliver unique, craveable experiences that excite, surprise and satisfy our fans.
The magic happens when we start with a talk-worthy idea. We put the most crave-able foods and brands in the spotlight and elevate them with an unexpected, leveled up or "extra" Hidden Valley Ranch twist. Executed with excellence, at the right time and place for our target and with the right partners, we will bring to life ideas that make mouths water and get people talking.
While we believe Hidden Valley goes with everything, we've focused our partnership efforts in quick-serve restaurants and food culture. Hidden Valley Ranch has topped White Castle chicken rings, DQ chicken tenders and Bugles, America's favorite cone-shaped snack. Our brand has excited fans of Crocs and TRUFF with limited-release offerings that sell out in minutes and caught the attention of A-list celebrities including Katy Perry and Avril Lavigne.
The passion of our team helped us find new ways of working to launch faster. For the first time ever, the HVR R&D team developed a small-batch run in-house, creating the formula that Machine Gun Kelly said "holy F*** that smells on fire" and bottling in-house. Normally it takes two-plus years to launch a new item, and the HVR R&D team was able to launch this partnership in nine months, from idea to launch.
The culmination of this work is also changing the conversation with our customers. Retailers are asking us to bring the limited-time offerings to scale in bigger, enduring innovation platforms. They're also getting involved in identifying new product ideas and helping to broker new partnerships, helping us continue to feed the new product pipeline and surprise ranch fans.
We remain committed to being exceptional innovators who earn people's enduring loyalty to drive growth and deliver value. Based on 26 quarters of share growth in the last 29 quarters, we can say these offerings have been a success.
So, stay tuned for more collaborations to hit grocery shelves, quick-service restaurants and social media stories soon — and for a restock of HVR x TRUFF!