Brita Water Can Create a Better World
By Sarah Au, Senior Brand Manager – Brita Canada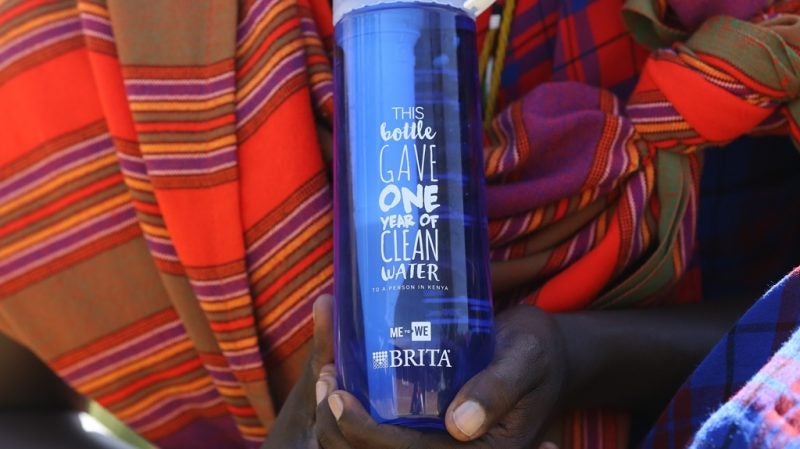 For the average North American, World Water Day on March 22nd is just another day: Twist the tap and there it is — a reliable, steady stream of water for brushing teeth, rehydrating post-run or pouring into the coffeemaker.
We rely on clean, available water every day, yet most of us take it for granted.
But it's not like this everywhere. Some people feel the absence of water acutely. One in 10 – that's 663 million people globally – lack access to clean water. That, in turn, affects their ability to go to school and learn, to work, to grow crops, to stay healthy.
This World Water Day, Brita wants Canadians to stop and think about the importance of water in their daily lives. We want Canadians to understand that small, everyday choices can make a big difference. And we're leading by example.
Since September 2016, Brita Canada has been working tirelessly with WE to drill a borehole and provide clean water to 55,400 people in Irkaat, Kenya. The Filter for Good™ initiative is about sustainable change, not short-term solutions.
And now we're digging a second borehole in Oloirien, another Kenyan community in dire need of access to clean water. It will be complete later in 2018.
The real heroes are Canadians across the country who've purchased specially marked Filter for Good™ Brita products. Every purchase has funded six months of clean water to a Kenyan in need.
Brita is providing a platform for Canadians to trigger real, sustainable change. We truly believe in the purchase with a purpose model, but it is up to our consumers to determine how much change we can implement. I hope that 55,400 people is just the beginning.
To help Canadians understand the impact of their purchase, every product has a unique Track Your Impact code. Consumers can go online and see exactly how buying a Brita pitcher, bottle or filter made a difference for the community.
Prior to the Brita-funded borehole – a 250-metre deep well capable of capturing clean water from aquifers and pumping up to 292,000 litres per day to the surface using solar power – the women and children in Irkaat had to make a five-hour round trip to retrieve water. Sometimes they journeyed twice a day.
The new water system cuts the trip down to one hour on average. It also includes an access point on the school grounds where students can collect water or clean their hands.
"This walk for water is crucial. Every day, these Kenyan women and children, and other women and children around the world, spend 200 million hours fetching water – often from sources full of dangerous contaminants," says Roxanne Joyal, CEO at ME to WE. "Access to clean water relieves women and children, especially girls, of their daily treks to collect water, freeing them to attend school."
There are also many societal benefits to having a consistent source of clean water. Reducing waterborne illnesses means improved public health. Having access to clean water during the dry season helps improve household food security by providing families with water for irrigation. Both these factors make it more likely that a child can remain in school.
World Water Day isn't just another day. It's the day the whole world chooses to take notice of the role water plays in everyone's daily life.
Brita stands for clean water, period. Whether it is for those in Oloirien, Kenya or Mississauga, Ontario – clean water represents the first step towards a better life. It breaks communities out of the cycle of poverty.
Brita is proving that better water really can lead to a better world.
For more details, please visit tyi.org/brita.