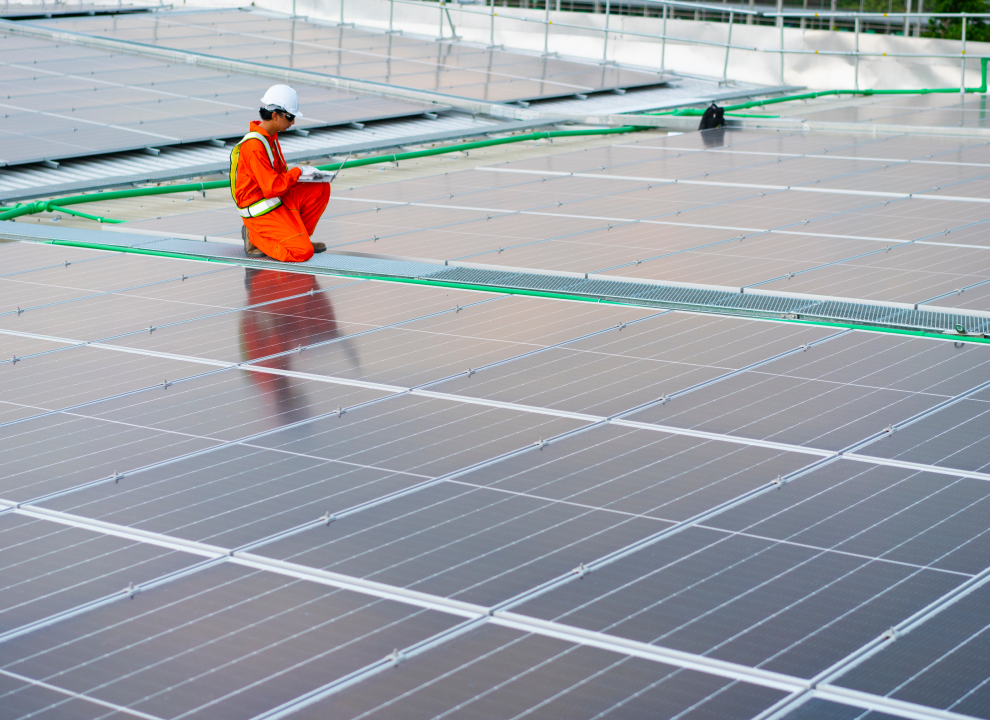 Clean world
Energy
Energy
Minimizing energy use and the emissions that result from generating energy are a cornerstone of any business or organization's effort to lessen its environmental impact. Clorox is no exception.
Energy efficiency has been key to our overall climate change strategy, helping to reduce our operational energy costs even as we grow. By continuing to invest in reducing our own global manufacturing and workplace climate footprint, we're accelerating our commitment to clean, renewable energy for our operations as part of our IGNITE environmental, social and governance (ESG) goals focused on climate stewardship.
Our goals
Our goals
Achieve 100% renewable electricity in our U.S./Canada operations in 2021.
Drive continued energy efficiency improvements that achieve or exceed our 2018 baseline levels.
For over a decade, we've set goals to conserve energy and reduce emissions. Since 2008, we have invested in more energy-efficient equipment and employed more eco-efficient manufacturing practices. That's allowed us to reduce our energy consumption by 27% on an intensity basis (per case of product sold) and 9% on an absolute basis between 2007 and 2018, representing a reduction of 72,000 megawatt-hours, over our last 2 goal periods.
In 2019, we signed a 12-year, 70 megawatt (MW) virtual power purchase agreement (VPPA) with Enel Green Power North America to purchase renewable energy beginning in 2021. Representing about half of Clorox's 100% renewable electricity goal for operations in the U.S. and Canada, this agreement helped us achieve that goal beginning in January 2021, four years earlier than our original plan. We are committed to maintaining this goal through the VPPA and other market purchases of renewable energy credits. In the U.S. and Canada, electricity consumption represented 84% of global electricity consumption and 51% of global energy consumption – including electricity and fuels – in CY2020.
This VPPA allowed us to support the transition to renewable energy, which we invested in at two of our facilities. In fiscal year 2017, we installed solar panels at our Fairfield, California plant and at our regional distribution center in Aberdeen, Maryland. Both solar panel arrays were built with a third-party provider as power purchase agreements, or PPAs. That means we didn't spend company money to build these projects, and the facilities buy the power produced from the third party instead of from the utility. While both arrays generate renewable energy, we do not claim the use of renewable energy or include the clean energy attributes of the Aberdeen RDC in the calculation of our GHG emissions because the third party retains the renewable energy credit rights in the PPA. We also have not claimed renewable energy from our Fairfield facility as we are working to establish necessary procedures to support related claims.
Since closing out our 2020 goal period in 2018, we continue to report our annual energy use and conduct third-party independent assurance of this metric. We will continue to pursue energy efficiency opportunities with the goal of achieving or exceeding our 2018 baseline levels. While our energy consumption increased by 1% between our 2018 baseline and 2020 due to increased production in response to the COVID pandemic, our plants were able to drive efficiencies and reduce energy consumption by 15% per case of product sold between our 2018 baseline year and 2020.
Oakland Headquarters LEED Certification
In 2010, our corporate headquarters in Oakland, California, became one of only 38 buildings in the U.S. to have achieved at that time platinum-level Leadership in Energy and Environmental Design – Existing Building certification (LEED-EB) – the highest environmental recognition an existing building can achieve. Built in 1976, this 24-floor skyscraper was one of the oldest buildings to achieve this environmental certification level. LEED-EB certification, administered by the U.S. Green Business Council, focuses on lowering the environmental footprint of an existing building's operations and maintenance. Platinum certification is the highest of four certification levels the LEED program offers.
To earn this certification, Clorox made dozens of building improvements, including:
Replaced every plumbing fixture, toilet and urinal to reduce water consumption by over 40% (approximately 1.5 million gallons annually)
Replaced more than 1,700 lamps to more eco-efficient lighting
Made numerous efficiency improvements to the building's heating, cooling and ventilation system — such as high-efficiency boilers and water heaters
Moved to non-potable water for all irrigation
Implemented solid waste recycling and composting programs
While we sold the Oakland building in 2013, we continued to lease office space from the facility. Our 2010 LEED achievement distinguished Clorox as an environmental leader with a strong commitment to environmental stewardship.
Kingsford Plant Woodpile Cover
Our Kingsford® brand's Summer Shade, Kentucky, manufacturing facility installed a fabric superstructure — slightly larger than a football field and nine stories tall — over its woodpile to prevent the material from being exposed to the elements. With the woodpile protected, less energy is required to dry it before it's used to make char, a key ingredient for manufacturing charcoal briquets.
Lighting Retrofits
In the early 2010's, we began to equip our manufacturing and distribution facilities with energy-efficient T5/T8 fluorescent lighting. In 2014, our engineering standards changed to specify LED lighting, which is more energy-efficient than fluorescent lighting, for all interior and exterior new construction and retrofits, and we consequently converted many of the initial T5/T8 upgrades to LED. Today, all Clorox sites globally have retrofitted their lighting to more energy efficient technologies.
Our facilities also completed energy assessments to further identify and reduce energy usage from their operating equipment and heating, ventilation, and air conditioning systems, and implemented improved operating procedures.
OUR OTHER ESG PILLARS

Healthy lives

Healthy lives

Improving people's health & well-being.

LEARN MORE

Thriving communities

Thriving communities

Investing in our people and communities to contribute to a more equitable world.

LEARN MORE