Ingredients Inside :Clorox 2® Active Oxygen 44600318813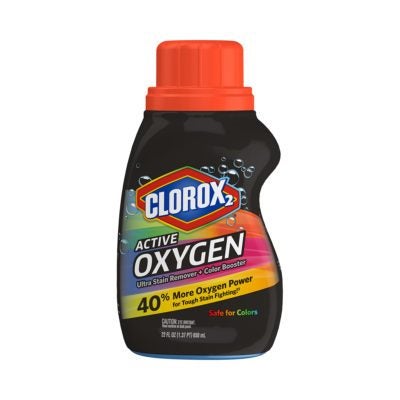 Product Name and UPC: Clorox 2® Active Oxygen 44600318813
Product Ingredients
Water

Water, also sometimes listed on product labels as aqua, is the most widely used of all solvents. It is a colorless, odorless and flavorless liquid and serves as the base of many cleaning products.

Hydrogen Peroxide

Hydrogen peroxide is an oxygen-based bleaching agent, used to sanitize and remove stains. It is used in products such as toilet bowl and all-purpose cleaners, and color-safe bleaches.

Myristamine Oxide

Myristamine oxide is a surfactant or cleaning agent that is used in cleaning products for its ability to thicken the liquid and stabilize foam.

Disodium Distyrylbiphenyl Disulfonate

Disodium distyrylbiphenyl disulfonate is an optical brightener, which is added to laundry detergents to help whiten and brighten fabrics, making them look especially clean. These are also known as fluorescent whitening agents. Such compounds absorb invisible ultraviolet light and re-emit light in the visible range (often with a bluish or reddish hue).

Sodium C10-16 Alkylbenzenesulfonate

Sodium C10-16 alkylbenzenesulfonate is a surfactant often used in cleaning products such as laundry detergents and soaps, and can also be used as a foaming agent in a cleaning products. It is one of the most effective cleaning agents for tough, greasy soils.

Sodium Hydroxide

Sodium hydroxide, also known as caustic soda or lye, is used as a pH adjuster in cleaning products. As an alkali, it is useful in cleaning products for removing soils that are fatty, oily or acidic.
---
Clorox lists all fragrance components identified as potential allergens by the Scientific Committee on Consumer Safety, an advisory board to the European Union, when they are present at a concentration of more than 0.01 percent or greater in the product and provides a separate list of all the fragrance ingredients used in our household and professional cleaning, disinfecting and laundry products.
Product ingredients are listed based on the most current information available; please check back periodically for formulation updates. If you have questions regarding a product or the ingredient listing for a product, please contact us for additional information.