Responsible Sourcing and Sustainability
We have a strong commitment to ethical business practices and treating people with dignity, respect and equal opportunity. We expect the same commitment from business partners. Adherence to our Business Partner Code of Conduct and Human Rights Commitment — which articulate our expectations regarding human rights and labor, health and safety, the environment, and business conduct and ethics — are required of our partners. Meanwhile, our responsible sourcing and sustainability program helps us assess our own upstream supply chain against social and environmental impacts.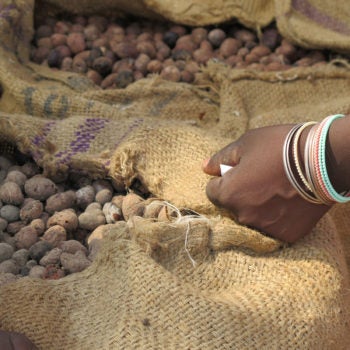 Ethical Practices
Our sustainability strategy covers how we work with our business partners on key issues such as ethical business conduct and practices. We are committed to driving environmental and social compliance, workplace safety and quality assurance, as these are all integral to the long-term success of our company and our partners. We also have grievance mechanisms available, including the Clorox compliance hotline, to ensure that individuals have a forum to raise concerns about compliance with the standards set out in our Codes of Conduct.
Supply Chain Risk and Auditing Program
Clorox's formal risk assessment and auditing program for our direct material suppliers helps to identify higher risk suppliers and address concerns regarding adherence to the principles described in the Clorox Business Partner Code of Conduct. It also encourages suppliers to apply these same standards to their supply chains.
As part of the program, we conduct an annual assessment of our direct material suppliers using several criteria to identify suppliers at higher risk for social and/or environmental sustainability issues. We audit higher risk suppliers leveraging our membership in Sedex, a nonprofit organization which provides a globally recognized audit methodology to help ensure sustainable business and responsible sourcing practices. Suppliers are required to conduct or share their most recent Sedex Member Ethical Trade Audit (SMETA) four-pillar audit or approved audit equivalent. The audits, which are conducted by an independent third party, assess suppliers' activities in the areas of labor rights, health and safety, environmental sustainability and business ethics.
For a supplier to remain in a good-standing with Clorox, they must appropriately address non-compliances identified during an audit in a timely and satisfactory manner.
Training and Risk Mitigation for Human Trafficking
To further our commitment to eradicating modern slavery and human trafficking in our global supply chains, we've trained more than 200 global product supply team members in identifying and addressing potential risks of slavery and human trafficking in our supply chain. Additionally, we are mentoring suppliers and customers in the development of their own training and risk mitigation programs to combat human trafficking and slavery in global supply chains. Additional information about our efforts can be found in our California Transparency in Supply Chains Act and UK Modern Slavery Act disclosure statements.
Being Mindful of Conflict Minerals
We conduct annual assessments of our supply chain related to the use of conflict minerals (tin, tantalum, tungsten and gold). Based on these assessments, we determined that either: 1) the covered minerals necessary to the functionality or production of our products were from recycled or scrap sources; or 2) we have no reason to believe these minerals originated in the Democratic Republic of the Congo or adjoining countries. For a full explanation of our country of origin assessment, see our SEC Form SD Filing.
Related content: