The Time-Honored Secret to Thanksgiving Gravy
Home chefs have been using Kitchen Bouquet to turn out rich, brown Thanksgiving gravies for over 140 years.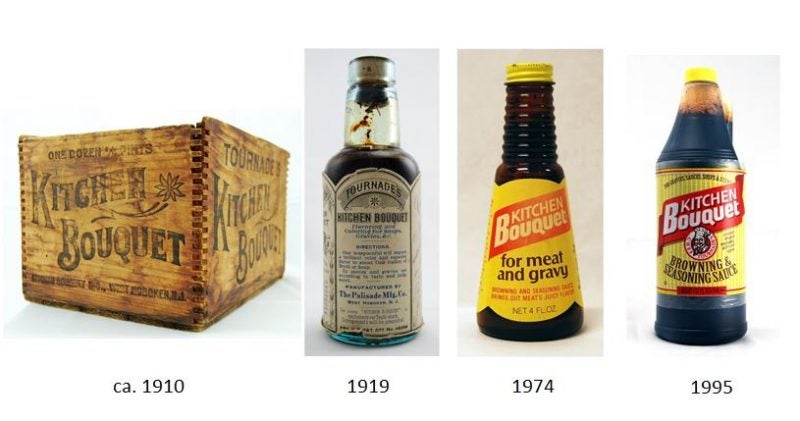 It all began in 1882, when European candy maker K.G. Tournades was experimenting with caramels. He created a delicious, flavored gravy by adding a combination of spices and vegetable juice to a caramel base. His invention, Kitchen Bouquet browning sauce, went on to win culinary awards and has been a staple of American kitchens ever since. 
The Clorox Company acquired the Kitchen Bouquet® brand in April 1971. That marked the company's entry into specialty food products.
The original recipe for Kitchen Bouquet is one of the oldest items, and the only confidential asset, in the Clorox Archive. The recipe is handwritten on an index card which had been glued to a wall in Tournades' kitchen. It's still attached to that wooden siding.
An evolving message
While the Kitchen Bouquet product hasn't changed much in the past 140 years, how it's marketed has changed. It's kept pace not just with changing times, but also with changing technology.
The Roaring '20s
In the 1920s, American women had just secured the right to vote. A Kitchen Bouquet advertising leaflet from 1923 is marketed to the busy, modern woman, promising to make "the good dish still better and raising the insipid or hurriedly prepared one to first-class degree."
This emphasis on efficiency and quality was central to Kitchen Bouquet's value to homemakers in the early 20th century.
Post-WWII
A brief recession in late 1948 followed the post WWII boom. This Kitchen Bouquet leaflet from 1949 was distributed to young wives, which featured tips to make inexpensive cuts of meat "taste like a million!"
Kitchen Bouquet was also promoted as a way to give meats a "roasted" flavor and color when cooked at low temperature — a kitchen cheat to reduce the "shrinkage" of meat and thus stretch a dollar for young homemakers. 
Browning and reducing shrinkage were equally helpful to culinary professionals who relied on Kitchen Bouquet.
While hospital food is usually the butt of many jokes, this Kitchen Bouquet ad from Modern Hospital magazine features two female patients marveling at the fine food being served. The message for hospital administrators? Upgrade your cuisine and reap the benefits of the good PR.
The microwave era
This 1980s-era cookbook focuses on "modern cooking techniques" (read: using microwaves and crockpots).
Meats cooked in crockpots and microwaves tend to be pale and unappetizing looking. Enter Kitchen Bouquet: the perfect solution for this modern cooking conundrum. According to this cookbook, brushing a mixture of Kitchen Bouquet and egg onto raw meats before placing them in the crockpot or microwave gives a rich brown coating — almost as if it been browned on the stovetop or in the oven.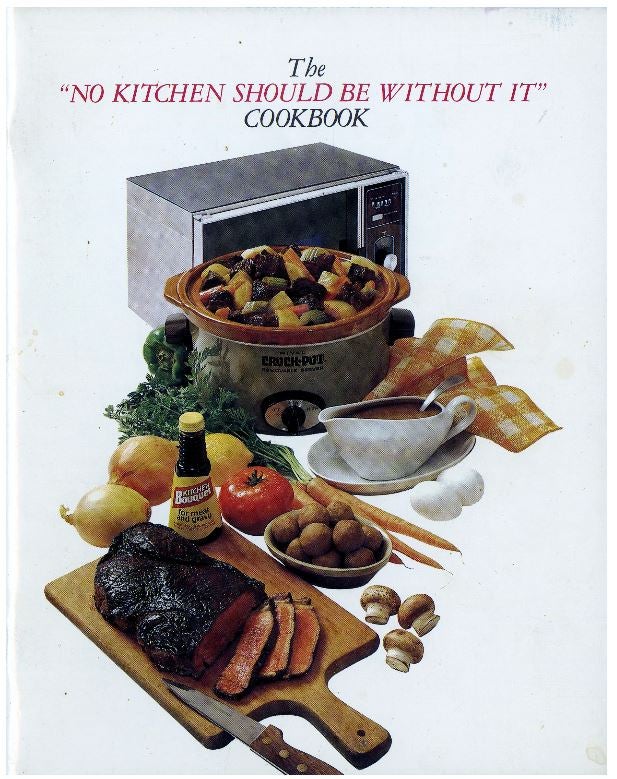 Times have changed, but some things stay the same.  You might not cook meat from scratch in the microwave today, but you can still whip up a delicious gravy for your Thanksgiving dinner using Kitchen Bouquet's original gravy recipe.