Swimming Upstream and Down for a Smaller Eco Footprint
By Andrea Rudert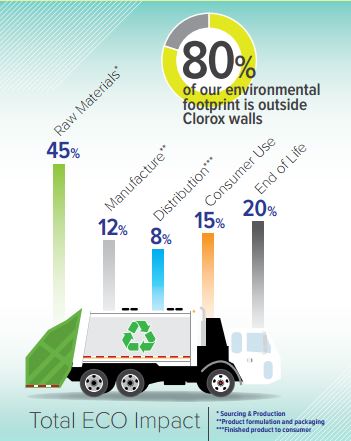 Fact: Only about 12 percent of our company's environmental impact comes from operating our 37 plants worldwide. Surprised? We were. More surprising still, most of the eco footprint of the 1 billion products we sell annually happens before raw materials arrive at our sites for processing or after consumers buy our products.
We set 2020 Strategy goals to reduce by 20 percent four areas of our operations — energy and water use, greenhouse gas emissions and waste to landfill. But those goals take us only so far, since they affect just 20 percent of our total environmental footprint, which includes what happens to our finished products.
That's why we're looking outside of Clorox, working to influence upstream suppliers (45 percent of our total environmental footprint) and downstream consumers (35 percent of our total environmental footprint) to reduce their own environmental impact.
Environmental supplier scorecard
One way we're doing that with our upstream supply chain is with a new supplier scorecard. Historically, we've worked with suppliers to identify and test new ideas and technologies, such as ways to reduce material use. In 2014, we asked our top 100 suppliers — who represent 70 percent of our spending — to use a supplier environmental scorecard. This tool helps us identify improvement opportunities and track performance as we work with these business partners to make sustainability improvements across our supply chain. In the process, existing suppliers can differentiate and strengthen their overall value relative to other suppliers, and new suppliers have the opportunity to gain our business.
How2Recycle
Only about one-third of all waste generated in the U.S. gets recycled, according to the Environmental Protection Agency. We can help improve those numbers. By 2020, we've committed to have clear on-pack recycling instructions on all U.S. product packaging.
It started with How2Recycle labels, developed by the Sustainable Packaging Coalition (SPC), that we started added to U.S. products in 2013. This labeling system provides clear recycling directions across all material types, and also when a package can't be recycled. It encourages and educates consumers on how to recycle as well as improves their perceptions of our brands, according to an SPC survey.
These efforts to influence suppliers to measure and reduce their eco footprints and consumers to recycle, combined with our own eco commitments, continue to prove that sustainability is more than corporate responsibility — it's also good business.