The Next Normal for Healthcare Cleaning and Disinfection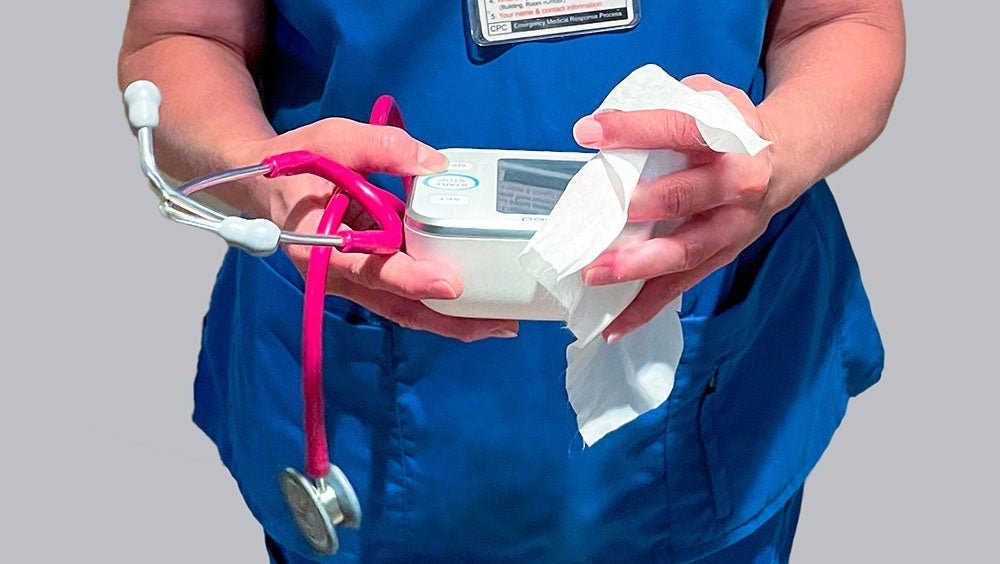 This post was originally published Oct. 26, 2021, on the CloroxPro blog.
By Doe Kley, BS, RN, MPH, CIC, T-CHEST, Senior Infection Preventionist, Clorox Healthcare
We were all hopeful this summer was going to bring the end of the COVID-19 pandemic and we could get back to life as we once knew it. We may be done with this virus, but it certainly is not done with us as variants continue to stoke the flames. Although we are still in the thick of this pandemic, the optimist in me likes to think that we should start to think about the future, beyond COVID-19. This pandemic changed everything, including the way we clean and disinfect our facilities. In this post, I will highlight practices that can be discontinued and those that should be hard-wired.
Early in the pandemic, before much was known about the SARS-CoV-2 virus and how it was transmitted, extreme cleaning was a common occurrence – both inside and outside of healthcare facilities. Some have referred to this as "hygiene theatre," which is the act of increasing hygiene protocols that may make patients, visitors and workers feel safe but has no real correlation to lowering the risk of infection. An unprecedented awareness and focus on infection prevention including hand hygiene and cleaning and disinfecting catalyzed across healthcare. Healthcare workers banded together in their shared responsibility for infection control practices to protect patients and each other.
Over time, as more was learned about the virus, the CDC de-emphasized the importance of cleaning and disinfection, citing low risk of transmission from environmental surfaces. This is generally true; however, the risk does increase when a COVID-19 positive patient is present and is shedding the virus into his or her immediate environment. Hopefully, by now, we have all stopped extreme cleaning. However, continued diligence to cleaning and disinfection is still necessary as it plays an imperative role as part of a holistic strategy to protect patients, visitors, and staff from other pathogens that are easily transmitted via surfaces.
While we are still in the midst of a global pandemic, enhanced cleaning and disinfection protocols that align with Centers for Disease Control and Prevention guidance and the Occupational Safety and Health Administration Emergency Temporary Standard requirements. I like to think of enhanced cleaning and disinfection as somewhere between our routine processes and extreme cleaning and disinfection — it's the "happy middle." Frequent disinfection of high-touch surfaces should be included in these enhanced measures.
It is important to apply the lessons learned during this pandemic. This is an opportune time for infection preventionists to collaborate with environmental services to assess whether the cleaning procedures they've adopted at the onset of the pandemic still serve the facility's needs and meet regulatory requirements.
Over the past year and a half, with our focus on a single pathogen — SARS-CoV-2 — other pathogens have gone under the radar. One that is highly concerning is drug-resistant Candida auris, or C. auris. Several facility outbreaks have been reported in the U.S., and case counts have nearly doubled during the pandemic.1,2 This pathogen can survive for prolonged periods on environmental surfaces, including portable equipment. Its primary route of transmission is contact with contaminated environmental surfaces, including medical equipment, fomites and from person to person, such as from unclean hands. One recommended strategy to reduce the risk of transmission of a broader range of pathogens like C. auris is a horizontal and standardized approach to cleaning and disinfection.3 Even a pathogen like Clostridioides difficile can be managed under a horizontal approach as many of today's sporicidal disinfectants have great surface compatibility for everyday use.
This pandemic highlighted the importance of a sanitary healthcare environment to keep patients, visitors and staff safe. While we don't want to slow down cleaning and disinfecting efforts, it is time to give some tasks back to the cleaning professionals. For example, early in the pandemic when supplies were limited, nurses took on occupied daily room cleaning to conserve personal protective equipment. Now that PPE supplies have normalized, environmental services should perform this task. This begs the question: What should nurses continue to do?
At least once per shift in their assigned patient rooms, nurses should clean and disinfect high-touch surfaces, including medical equipment — particularly the high-touch surfaces like control panels. We don't hesitate to clean our hands frequently, but it's important to note that our hands are only as clean as the environment around us, so it is important to routinely clean and disinfection surfaces as well.
Nurses aren't the only healthcare workers, so you are probably wondering what other staff members should do. Much like the nursing staff, they too should ensure that their work spaces are clean. Remember, environmental services is only required to clean any given area once per day, and we must question if this is enough given the high traffic in hospitals. All staff should clean and disinfect work spaces at least once per shift as well as clean and disinfect any patient care equipment after each use. With many environmental services departments short staffed, it's important that office workers do their part by cleaning and disinfecting their desk areas and high-touch items such as telephones and printer control panels.
A sanitary environment is key to infection prevention and control efforts, regardless of pathogen. Hopefully, the next normal for cleaning and disinfection in healthcare will mean more collaboration among disciplines as well as more appreciation for infection preventionists and environmental services professionals.
References
1 Pan-American Health Organization. (2021). Epidemiological Alert: Candida auris outbreaks in health care services in the context of the COVID-19 pandemic – 6 February 2021. [Internet]. [Cited 2021 Sep 13]. Available from https://www.paho.org/en/documents/epidemiological-alert-candida-auris-outbreaks-health-care-services-context-covid-19
2 CDC. (2021). Tracking Candida auris. [Internet]. [Cited 2021 Sep 13]. Available from https://www.cdc.gov/fungal/candida-auris/tracking-c-auris.html
3 Wenzel R, Edmond M. Infection Control: The Case for Horizontal Rather than Vertical Interventional Programs. International Journal of Infectious Diseases. 2010; S3-5.