Meet the Change Maker: Ezequiel de la Riva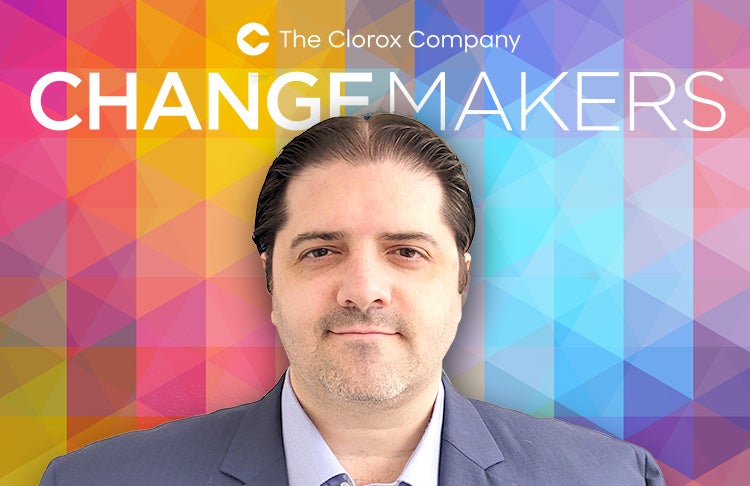 The Clorox Change Makers initiative spotlights people who actively celebrate diversity and promote inclusion, making a positive impact on our business and culture. This week we focus on Ezequiel de la Riva, group manager in our Product Supply Organization.
Throughout his career, Ezequiel — known as EZ in English or Eze in Spanish to his friends and teammates — has made a point to begin each day with a "good morning" for his colleagues, and his meetings with a sincere "how are you?" His ability to make connections and learn about others became the foundation for how this native Argentinian has been leading U.S.-based teams through conversations about inclusion and celebrated cultures as a leader of the HOLA ERG.
Can you share how you think about I&D and what shaped this for you?
I learned about a campaign called "Inclusion starts with I" that I really loved. It encouraged me to think about what I can do for the people I work with, as well as realize that silence is NOT an option.
There have also been moments like the murder of George Floyd and the Uvalde school shooting where several Latin children were tragically killed that were personal triggers for me. They made me realize we cannot be on the sidelines. We have to participate and be involved if we want a real change.
How have you seen your I&D work help a business?
As we were recruiting new team members over the last year, we quickly realized that it was too easy to make the mistake to just hire people that look and think like us, or to make decisions with a distance or experience bias.
Our team was willing to have difficult conversations about how to make correct hiring decisions. We talked about wanting to improve the diversity on our team. We asked the tough questions about why we wanted to make a specific hire. We pushed ourselves to make decisions that would bring great talent and lead to more diverse thinking on our team.
It worked! Not only have we have improved our metrics of diversity, but we can see benefits in how the team helps each other, approaches work and solves problems, making the team a preferred destination and a great platform to advance their careers.
Can you tell me about an accomplishment on HOLA (Latin/Hispanic ERG) that you're proud of?
Launching our Microsoft Teams channel brought us closer to share things that energize our days. An example of this is the passion we have as a community for our Latin music, so we start sharing at the end of every week the #OneFridaySong to celebrate our roots and culture, putting us in a good mood to enjoy the weekend with our friends and families.
Do you have tips/advice on small actions to bring inclusivity into the everyday?
You don't have to do BIG things to bring inclusivity into every day. There are simple things we can all do to build awareness and make an impact on our surroundings, like ask for someone's opinion who you wouldn't normally ask, avoid assumptions about others, bring together people with diverse experiences and stretch our comfort zone to talk about differences with others.
I&D at Clorox
To live our purpose and values, we must build a workplace where every person can feel respected, valued and fully able to participate in our Clorox community. We aim to lead by example, at every level within the company, and to continually challenge ourselves to do better. Learn more about our inclusion and diversity efforts here.