Meet the Change Maker: Erica Jacobs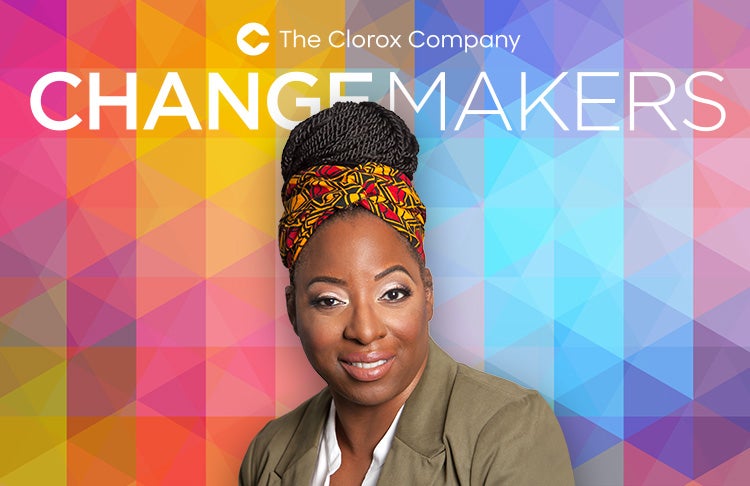 The Clorox Change Makers initiative spotlights people who actively celebrate diversity, practice allyship and promote inclusion, making a positive impact on our business and culture. This week we focus on Erica Jacobs, associate director of brand diversity and social impact – cultural.
As Clorox continues to build brands that meet the needs of a diverse consumer base, leadership realized the importance of having cultural experts embedded in its business units. Cleaning was the first business to create the cultural marketing role and an opportunity for Erica Jacobs to help shape how our brands market to diverse consumers. Combined with her responsibilities as IDEA co-lead for the Marketing team, she drives impactful changes for her business, the Clorox culture, consumers and colleagues. The convergence of these roles helps drive the true intent of IDEA both inside and outside the company.
Can you share how you think about IDEA and what shaped this for you?
We live in a world where diverse voices and points of view are often muted. I believe IDEA is a community effort where we can each make impact. Purposeful change requires vulnerability, empathy, cultural sensitivity and awareness. The unique nature of my job gives me the space to embed this philosophy into how I partner with teams to build better work that resonates with consumers, improves our culture and enables each of us to be our best selves.
How have you seen your IDEA work help business growth?
In partnership with our internal and agency teams, we have purposely embedded IDEA principals across the marketing funnel to create culturally authentic campaigns. We consistently build on a foundation of human insights to ensure our work resonates with diverse consumers. Our ability to do this requires diversity across teams, cultural sensitivity, valuing every voice and a desire to learn what we do not know.
Through our collective efforts, we continue to produce some amazing, culturally authentic and resonant work. This can be seen in our recent Start Clean campaigns for back-to-school and cold-and-flu season.
How have you seen our culture change because of your IDEA work?
I've used this role as a platform to influence change across Marketing. As a result, we're beginning to foster more open dialogue between teams to improve cultural awareness and sensitivity. There is a willingness to listen, support and learn from colleagues from diverse backgrounds. This shift is essential to our growth as people and as a company. Cultural change demands that everyone contribute something, whether big or small — it all counts.
What has helped enable you to be a Change Maker?
Clorox's commitment to create a culture where all teammates know they can be themselves, their voice matters, and they belong. I would not be able to contribute in the ways I have without the support of leadership, managers and peers. We are all Change Makers, and for that I am grateful.
Do you have tips/advice on small actions to bring inclusivity into the everyday?
Your voice matters. The only way to find your voice is to use it. Stop pressing your mute button.
Make every effort to listen to and learn from others who come from diverse backgrounds.
Always be yourself and never apologize for who you are.
IDEA at Clorox
To live our purpose and values, we must build a workplace where every person can feel respected, valued and fully able to participate in our Clorox community. We aim to lead by example, at every level within the company, and to continually challenge ourselves to do better. Learn more about our inclusion, diversity, equity and allyship efforts .