Houston Plant Gives in Times of Need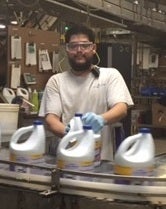 By Arnold Mallett, Clorox Houston Plant Manager
The Clorox Company is a proud supporter of the American Red Cross and other nonprofits that aid in disaster recovery efforts. While all of our facilities are proud to donate product in times of need, our bleach plant in Houston, Texas, has played an outsized role in providing bleach in the wake of natural disasters across the U.S. Recently, devastating floods have inundated Texas, and Clorox has donated two truckloads of Glad® trash bags and three truckloads of Clorox® bleach at the request of the American Red Cross. Here, we catch up with Arnold Mallett, our Houston plant manager, for a first-hand account of how it feels to manufacture the bleach used in disaster recovery and why the Houston plant is so quick to give back.
When you make a product like bleach that has deep roots in public health, it not only feels good to donate, it's the right thing to do.
Bleach is very effective and can kill many waterborne diseases. Can you imagine dealing with loss of property and all the dangers of flooding and then having to deal with mold and diseases on top of that? I'm glad we make an affordable product that can help people get things cleaned up and start to return to normal.
We've seen our share of floods and hurricanes in Houston, and usually people want to pick themselves up quickly and return to normal as soon as possible. Getting things cleaned up is usually one of the first steps.
Employees here at the Clorox plant in Houston are proud to help, and we're proud of the product we make. Every bottle that leaves the plant, whether to be donated or purchased, represents us, so they are all of the same high quality.
While we don't necessarily know which bleach production is going to be donated or sold when we're manufacturing it, we do know that regular bleach and germicidal bleach orders increase when there's a crisis in the area. If the American Red Cross or one of the other charities pick up an order, we know then that our product is going to aid in disaster recovery. We sometimes have to have crews available outside normal operating times to ensure we get the shipments off on-time.
Whatever the ultimate use of the product, making top-quality bleach that helps people is just what we do.
Our employees here in Houston are big-hearted. We have a long history of giving back, to disaster relief efforts, as with the recent Texas floods, and also through GIFT, our employee giving program. Our plant has a perfect participation record, with 100 percent of employees donating money to the charity of their choice through Clorox's matching giving program. Our employees love to help when people are in need. It feels good.