Get a kick out of the latest HVR collab: Ranch+This Little Goat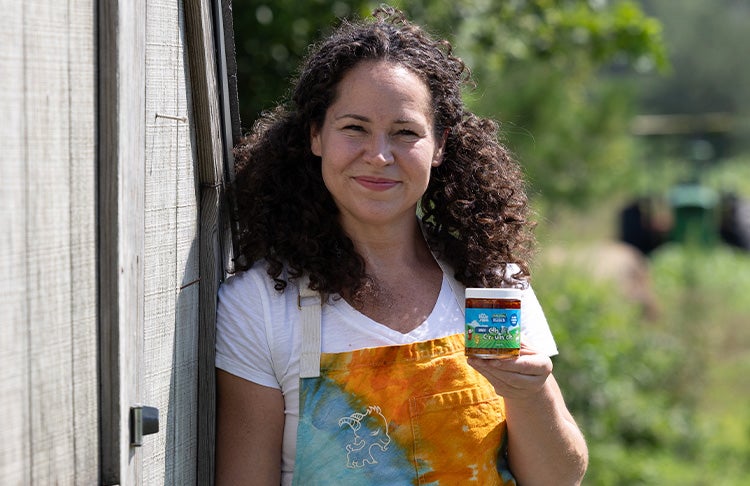 By Vicki Haber, Brand Experience Lead – Marketing
Peanut butter and jelly. Baseball and apple pie. Ranch and pizza. These are just a few of the pairings we can't do without. But there's a new collab in town.
Hidden Valley Ranch is joining forces with This Little Goat by chef Stephanie Izard, marrying our savory perfection with Chili Crunch's umami richness to create Ranch Chili Crunch, available for a limited time only.
This new next-level collab had its genesis not in a board room but from a chance meeting on a trade show floor. The team at Hidden Valley Ranch ran into Izard there and learned she was as big a fan of ours as we were of her! A delicious connection was made.
This Little Goat Ranch Chili Crunch takes the heat from gochugaru chilis; the crunch from puffed red quinoa, fried garlic and masa chips; and the savory notes from sesame oil and chives, combining them with the classic, tangy flavor of Hidden Valley Ranch Seasoning. Ranch Chili Crunch is the perfect way to add an extra kick to just about everything. Amp up your chicken wings, take the most ordinary ramen to a bowl you'd wait in line for, and give all kinds of pizzazz to frozen pizza. The product's versatility offers food enthusiasts the chance to unleash their creativity and elevate everyday meals to a whole new level.
The limited-edition topping will be available exclusively on This Little Goat's website for $12.99, while supplies last.
Get your (This Little) Goat (Ranch Chili Crunch) today!